By Elena del Valle
Photos by Gary Cox and Elena del Valle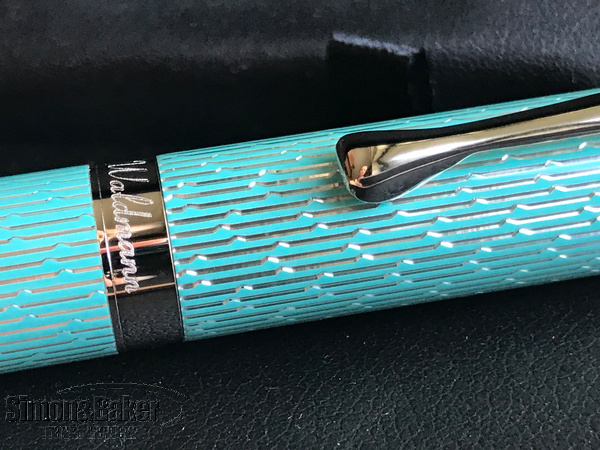 Close ups of the Waldmann Tango Imagination fountain pen with fine stainless steel nib
The folks at Luxury Brands of America (159 Houston Road, Troutman, North Carolina 28166, luxurybrandsusa.com, bryce@luxurybrandsusa.com, +1 980-276-0020) kindly lent us two Waldmann fountain pens for a month. The Tango Imagination and Vela Tuscany pens were made in Germany of 925 sterling silver or metal with rose gold plating and include a 10-year warranty. The Tango Imagination body and cap are made of solid 925 sterling silver. The Tuscany barrel is brass covered in a Physical Vapor Deposition (PVD) brown lacquer and the cap is sterling silver plated in rose gold. The nibs are stainless steel. At the time of this writing retail prices started at $400.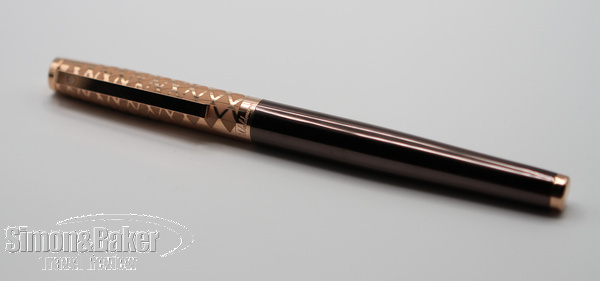 The Waldmann Vela Tuscany barrel is brass covered. The top photo is enlarged to show design detail.
When asked about the pens Bryce Gillett, National Sales & Marketing Manager, Luxury Brands of America said by email: "Tango Imagination: New technique engraving the barrel and cap, then applying colored lacquer over the top of the engraving. Then they shave it down to show both the silver and lacquered parts of the pen then clear lacquer the entire pen for protection. This finish offers a visual effect that the finish is dancing on the pen when the light hits it in different ways. Vela Tuscany: Chocolate Physical Vapor Deposition Lacquered brass barrel with a sterling silver cap plated in rose gold. Vela is a constellation in the southern sky, which Waldmann has incorporated the essence of this into the design of the cap!" He also explained that Physical Vapor Deposition "…Coating refers to a variety of thin film deposition techniques where a solid material is vaporized in a vacuum environment and deposited on substrates as a pure material or alloy composition coating."
The Vela Tuscany stainless steel medium nib
Like the fountain pen concept, a throwback that predates our current era of digital communications. There is something luxurious about handwriting a note. It implies caring enough to make the time to find pen and paper to write a message. Writing with a fountain pen is often a pleasure. It was with these pens. Since the ink can be recharged the fountain pens seem more eco-friendly than common pens, especially disposable pens, which nine times out of ten don't work when I reach for one.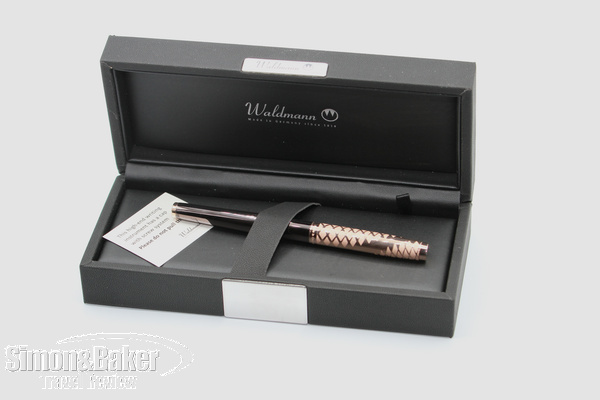 The Vela Tuscany in its case
What makes these two pens special? Several characteristics appeal to me. I liked their distinctive pretty designs and solid feel. Some of my older fountain pen models, decades old, haven't aged well. Invariably it's the resin pens. One is so frail a repair shop declined to attempt to extend its life. I like that the two loaner pens are made of metal, I suspect metal will age better than resin. That they were crafted by skilled artisans seems promising. In that regard the 10 year Waldman warranty is reassuring. I also like that they're available through United States retailers.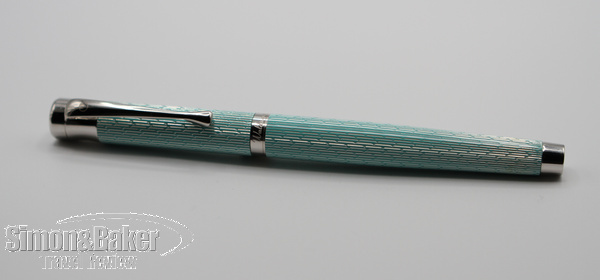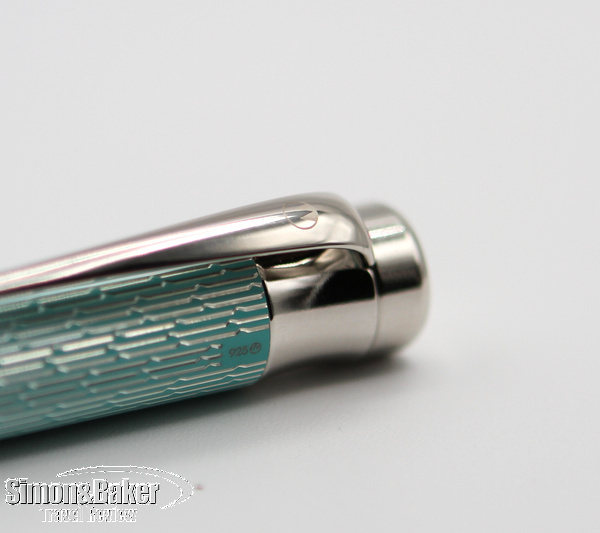 The Tango Imagination body and cap were made of solid 925 sterling silver.
When asked about the pen cases Gillett said they "are leatherette and feature a false bottom which will hide the Waldmann warranty card, sterling silver cap tag, and cartridges as well as any other information cards that that specific to that pen may specifically have. The box also features a metal opening tab of jewelry quality for an elegant look and feel when opening the box."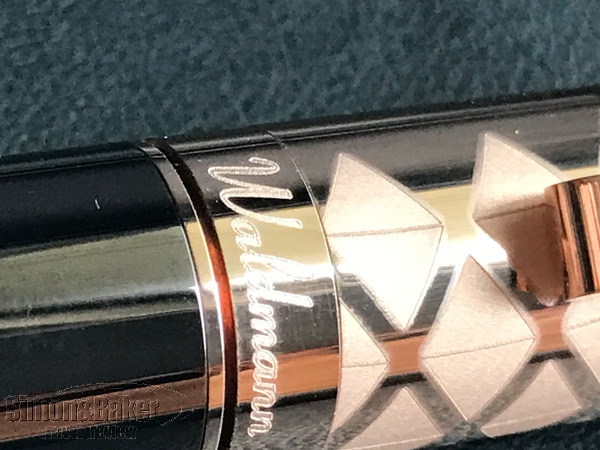 Close ups of the Vela Tuscany
Both wrote well on a variety of paper. The silver and green model (Tango Imagination) was my favorite of the two, eye catching yet elegant.
According to Gillett Waldmann pens are 100 percent made in Pforzheim, Germany by skilled craftsmen. Luxury Brands, founded in 2014, is a family owned and operated distributor of fine writing instruments, fountain pen inks, leather and accessories.