By Elena del Valle
Photos by Gary Cox and Elena del Valle*
The exterior of the Maison Tournaire shop steps away from the famous place Vendome
It was a chilly and clouded Friday afternoon when I arrived at Maison Tournaire (7 place Vendôme, Paris, France, +33 4 77960884, www.philippetournaire.com, mathieu.pallay@philippetournaire.com), a stone's throw from the famous Place Vendome in Paris, France for a small group half-day workshop in French. Perhaps because of the well-known venue and crowded streets it was the kind of activity I suspect most tourists never know exists. It had been raining on and off all day. Despite rushing I was five or ten minutes late. As soon as I entered the boutique the staff made me at ease, explaining the workshop had yet to start. While I was still near the door another attendee arrived, distressed at being late. She had been circling the area in search of a parking place for a long while, she explained, making me feel better about my own tardiness.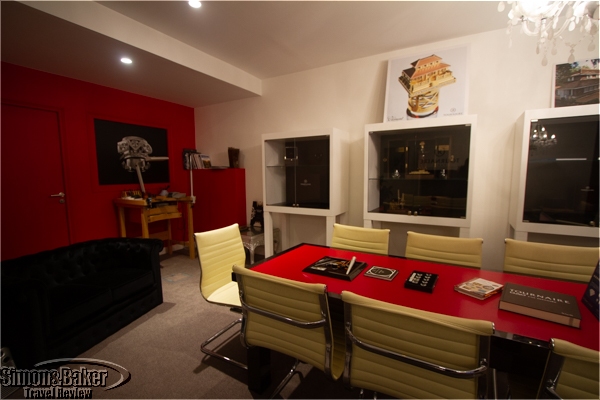 The meeting room where the workshop took place
The interior of the shop was well lit and populated with jewel filled glass cases. It was elegant without being intimidating, adult yet youthful. Marie, one of the two staff members, put away our wet raincoats and umbrellas, offering us welcome hot beverages in exchange.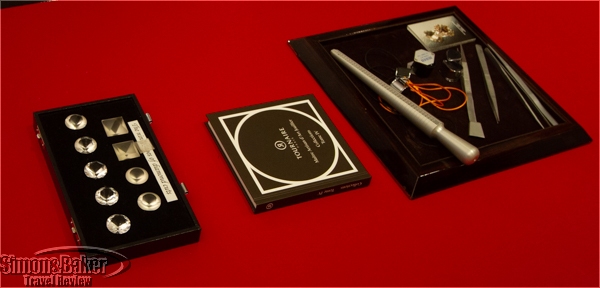 Some of the tools and materials we used during the workshop
After greetings from our host Mathieu Tournaire we climbed one floor upstairs where we sat at a conference table. Mathieu and I had an opportunity to chat earlier that day when he explained everything the company makes is Tournaire-ized. "We don't just make jewelry, we tell stories," he told me with a serious expression in between private appointments with clients. The clean shaven jeweler had a quiet confidence that bellied his youthful appearance and the easy manner of a salesman.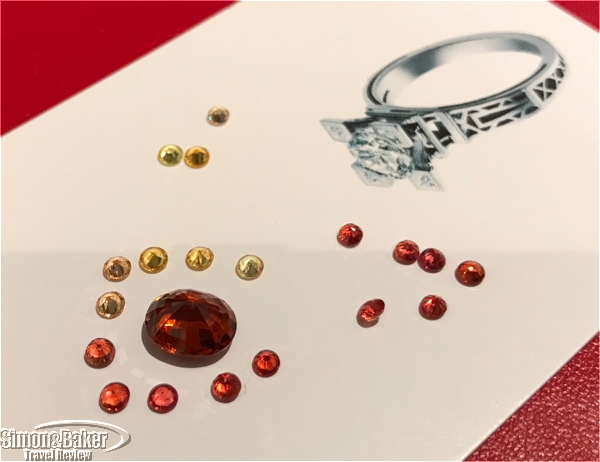 We initially discussed a ring design that could include my yellow and orange sapphires and possibly a large house stone.
Some 15 percent of Tournaire sales were custom orders, he explained. He and his father, Philippe Tournaire, were the creative engines of the firm and both lived outside of Paris. In addition to the Paris location there were stores in Lyon (4 rue Childebert) and Savigneux (2 rue des métiers), where they lived. Whenever he was in town his calendar was full of client appointments.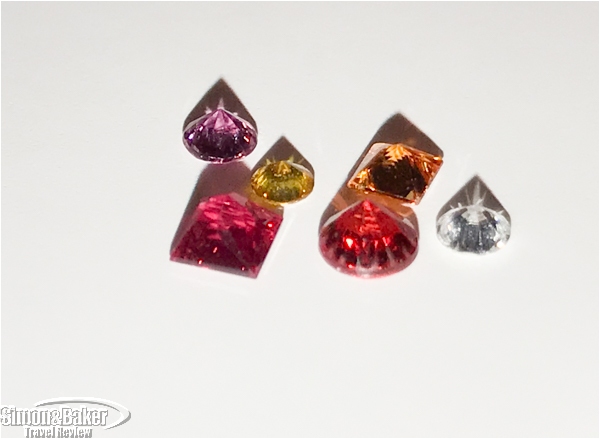 Stones Mathieu selected for the ring
More than half of the attendees had cancelled their workshop reservations because of the soggy weather or the ongoing Yellow Vest demonstrations that riddled France for weeks and peaked on weekends so in lieu of the original nine we were only four. The small group and easy manner of the other attendees made the workshop intimate, allowing each of us to hold tools, rough stones and gemstones in our hands, and observe them with loopes.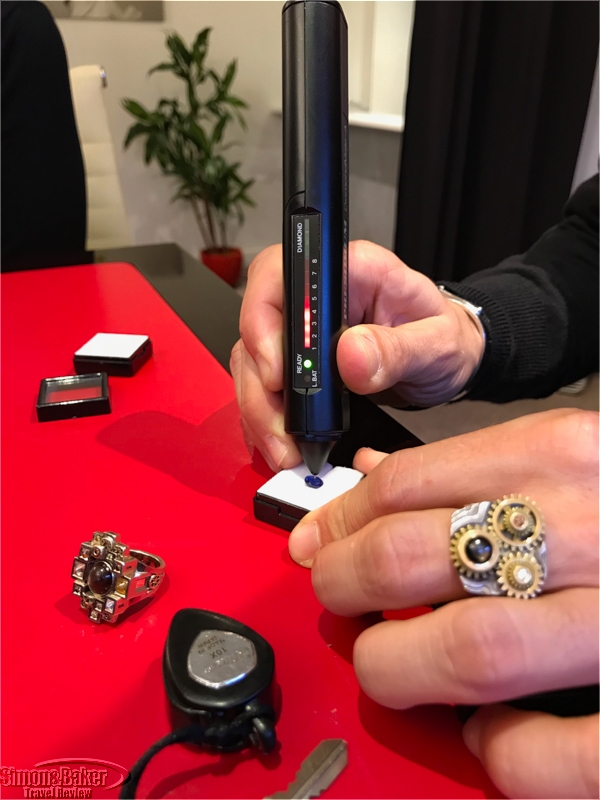 Mathieu demonstrated the use of a device to test diamonds
Mathieu held up a tablet to show us photos, discussing weights, measures, gemstone classifications, varieties and hardness, diamond colors, cuts and facets and demonstrated how to test a diamond with an electronic device. He explained that in France only diamonds, emeralds and sapphires (including rubies) are precious stones. He also discussed opals and star sapphires in passing. Time flew and before I realized it the workshop had ended. At its conclusion we each received a stamped certificate or Certificat de Participation as a souvenir.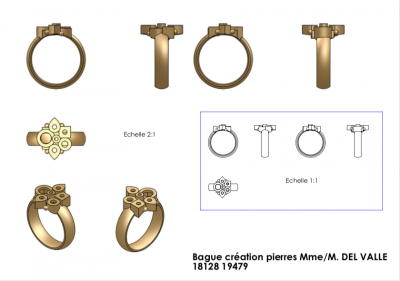 An image of the 3D model for the ring Mathieu designed (*courtesy of Maison Tournaire)
The ring setting Mathieu designed without stones, just the yellow gold part
Once the workshop was over Mathieu spent private time with several of the attendees. Earlier in the day he and I had discussed an idea for a custom made ring. He had drawn a Tournaire-ized concept on a piece of paper and shown me some small gemstones for possible inclusion (diplomatically rejecting my own stones). If all went well, he would share a 3D design via email before making a ring to show me before I left France.
Outside it was dark, but at least the rain had slowed to a drizzle. I didn't mind the rush hour crowds and wet pavement so much as I walked back to the rue de Rivoli and south toward the Left Bank remembering my fun afternoon.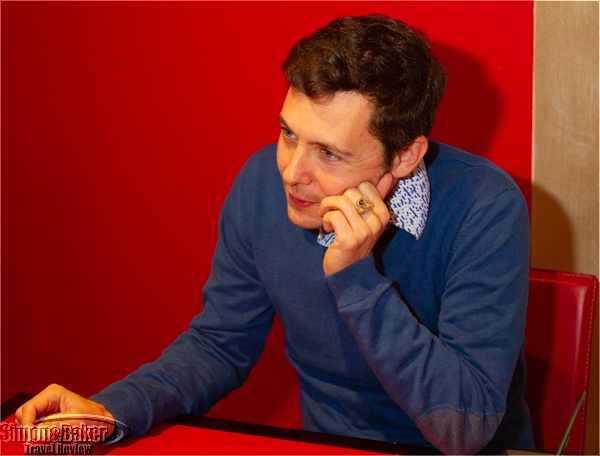 Mathieu Tournaire, artistic director, Maison Tournaire
Maison Tournaire was founded by Philippe Tournaire, a self taught jeweler, in 1973. Mathieu, the artistic director, joined the team in 2008. Maison Tournaire creations were designed to be easily recognized. I had an opportunity to see several of the lines and try on some of the pieces at the shop such as Engrenage (Mathieu wore a distinctive ring of that line), Alchimie, Pensée Sauvage, French Kiss, and Architecture. The ring he created reminded me of the Marélie line, a favorite along with French Kiss.
I liked that Tournaire products were made 100 percent in-house and in France. I appreciated the warm authentic service and efficient follow through. Where attendants at other shops I visited in the place Vendome area were solicitous their welcome was superficial, their demeanor stiff and cool. For example, an eager saleslady on the rue de la Paix offered tax free processing, but could not answer simple questions about the treatment or provenance of her gemstones. Mathieu answered my queries quickly and candidly. One overly inquisitive vendor at a nearby luxury boutique promised to email me information about items they expected to receive, but I never heard from him. In contrast Mathieu and his staff were helpful and responsive without ever being pushy. After the workshop he followed up promptly with the drawing and 3D design we had discussed. Likewise Marie was in touch promptly to schedule a new appointment.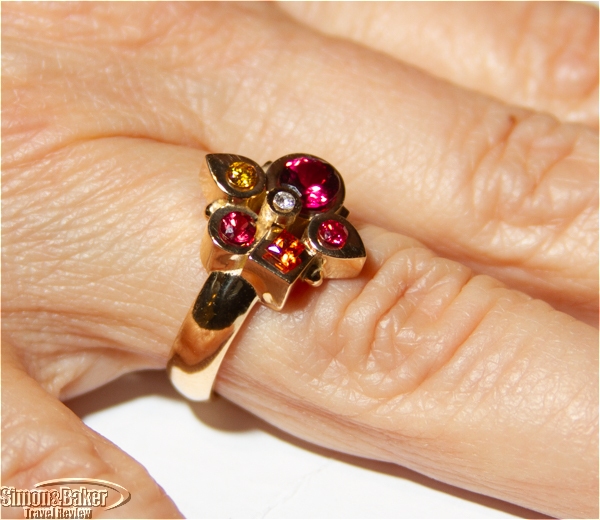 The stones resting on the setting allowed us to see how the finished ring might look.
Two weeks later when Mathieu returned to Paris he brought a 12 by 15 millimeter 18 karat yellow gold ring to show me. It weighed 8 grams and was priced at 3,900 euros. The stones he selected were: 5 millimeter tourmaline rubellite (a red tourmaline), 3 millimeter round red sapphire, 3 square millimeter orange sapphire, two color diamonds of 0.06 carats each, and a white 0.04 diamond. The ring was unfinished, but by placing the gems in their settings it was easy to imagine what it would look like. I especially liked that the diamonds were slightly elevated to protect the other stones. As the hardest stones diamonds would take the brunt of any impact if the wearer banged the ring by accident.
The ring was temptingly pretty. It reminded me of a friend's redesigned and repurposed wedding ring after her divorce. Every time she looked at it her eyes sparkled with delight. Despite my interest by then my budget had already been fully allocated. Who knows, the next time I am in Paris and have a milestone to celebrate I might pop into Tournaire and say hello. I wouldn't hesitate to recommend the workshop to friends with an interest in French jewelry wanting an off the beaten track experience in Paris. I would also recommend the shop to those in the market for the brand's distinctive style.