By Elena del Valle
Photos by Gary Cox, performance photos courtesy Opera National de Paris (OnP)*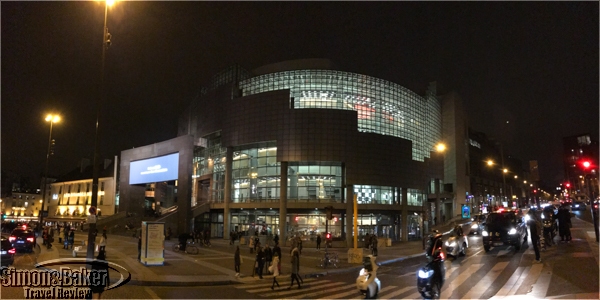 The exterior of the Opera Bastille (click for full size)
In December we attended a most enjoyable sold out performance of La Traviata at the Paris Opera Bastille. The opera by Giuseppe Verdi with the orchestra and chorus of the Opera National de Paris began at 7:30 p.m. and concluded at approximately 10:40 p.m. Ticket prices ranged from 5 euros to 231 euros. Our tickets were in Optima Class in the Parterre section (7A97 and 7A98). In order to have an clear view of the stage I had to switch sweats.
The modern architecture of the Opera Bastille viewed from near the stage (click for full size)
The opera was divided into three acts. The first act lasted 35 minutes followed by a 30 minute intermission. The second part lasted just over one hour and was followed by a 25 minute intermission. The final act lasted 35 minutes.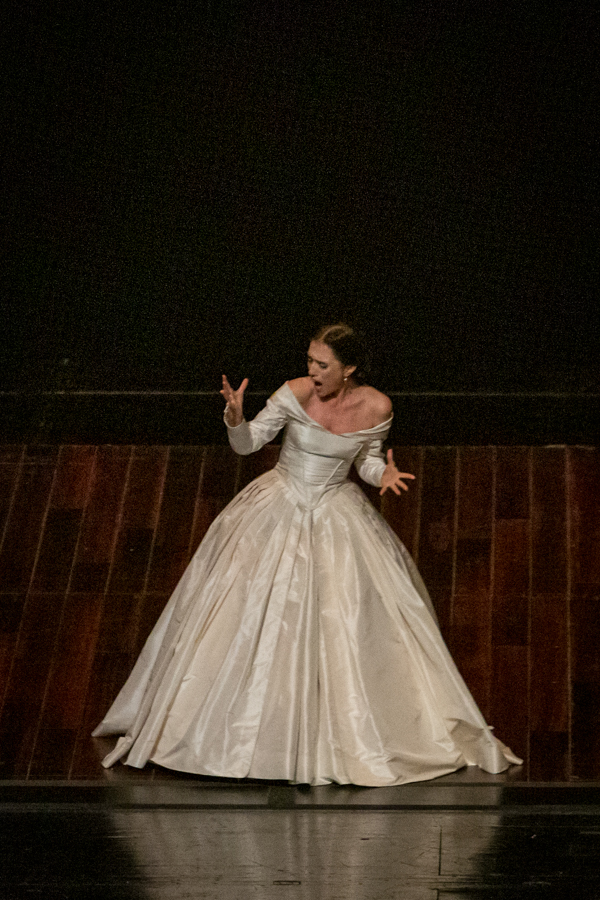 Ermonela Jaho was Violetta  – (c) Sébastien Mathé – OnP
While the first act was the biggest crowd pleaser we, and judging by the enthusiastic applause the rest of the attendees, liked the entire opera. There was a gender bending scene that raised some eyebrows. A man seated next to us took exception to the orchestra, booing on multiple occasions.
It was toasty warm inside the theater. The only sour notes were the hard to find box office, where we had to run at the last minute due to processing issues with our credit card, and the pungent urine smell in the ladies room nearest to our seats.
Dramatic staging for a confrontation – (c) Sébastien Mathé – OnP
The program was in French and English. Supra-titles high above the stage and on screens on either side of it provided French and English translations of the original Italian. We could watch the stage or read the supra-titles at any one time. We could only read the text above the stage. After a few minutes our necks tired from holding them at an angle to read the supra-titles at the top.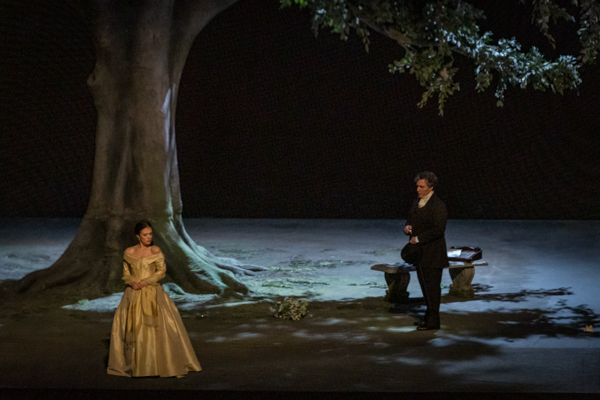 Giorgio asking Violetta to forsake his son. – (c) Sébastien Mathé – OnP
The following contributed to the production: Karel Mark Chichon, conductor; Benoit Jacquot, director; Sylvain Chauvelot, set designer; Chrisian Gasc, costume designer; Andre Diot, in charge of lighting design; Philippe Giraudeau, choreography; and Alessandro Di Stefano, chorus master.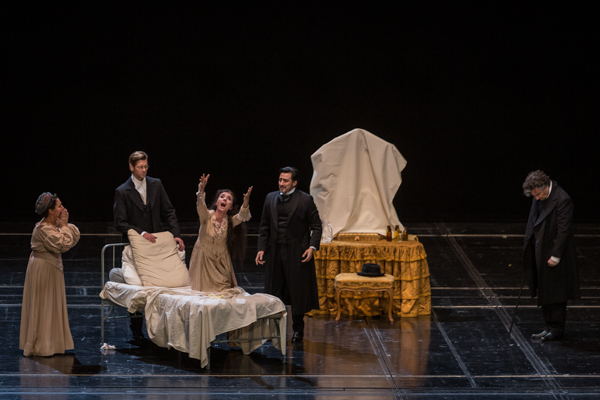 The dramatic final scenes – (c) Sébastien Mathé – OnP
Ermonela Jaho's Violetta was energetic and moving. Ludovic Tezier enhanced the performance with his powerful Giorgio. At the conclusion the audience clapped for several minutes. It was a superb evening of entertainment and one that will draw me back to the Opera Bastille in the future.
*The Opera National de Paris did not allow photography during the performance. The photos they provided were dated from the Dec 11th, 2018 performance.