Information provided by our Event Partner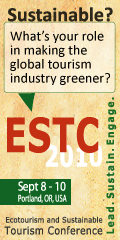 Ecotourism and Sustainable Tourism Conference (ESTC) 2010
September 8-10, 2010
Portland, Oregon (USA)
The Ecotourism and Sustainable Tourism Conference (ESTC) 2010 (www.ecotourismconference.org) (September 8-10, 2010) will bring together 500+ business leaders, travel and tourism professionals and community stakeholders from around the world, providing THE meeting place to share the latest trends in sustainable tourism, practical ideas and solutions to the sustainability challenges facing the tourism industry.
Hosted in Portland, Oregon, a leading U.S. city that has been consistently rated "the most sustainable city" in the country, the ESTC 2010 will feature dynamic panel discussions and field sessions, public forums and social functions that offer eye-opening insights into the latest on sustainable business strategies and unparalleled networking and knowledge-sharing experiences. The ESTC is organized by The International Ecotourism Society (TIES), with the support of conference sponsors and partners.
TIES welcomes Simon & Baker Tourism Review as a Media & Communications Partner for the ESTC 2010, and is pleased to extend a special partner discount (10% off regular registration rates) to all SBTR subscribers. To take advantage of this discount, please use this code ESTC10SBTR when registering for the conference (www.ecotourismconference.org/register).