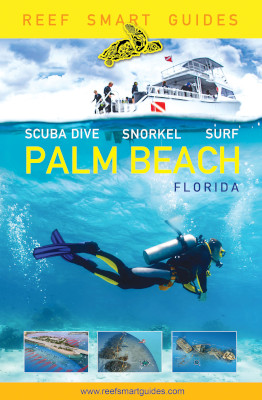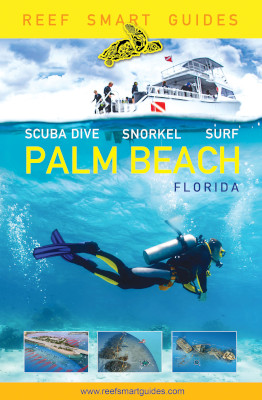 Palm Beach Florida Scuba Dive, Snorkel, Surf (Mango Publishing Group, $34.99) features detailed descriptions, photos and crisp 3D images of waterscapes, including underwater maps and even a ghost ship recreation for a wreck dive description. The 287-page softcover color book by Peter McDougall, Ian Popple and Otto Wagner, part of the Reef Smart Guides series, was published in 2019. The authors are part of the Reef Smart Guides management team.
Why Palm Beach county? "We're looking for hidden gems and Palm Beach was one of those areas," Popple, credited in the book for series concept and writing, said by phone from Canada. "Most of the diving you do in Palm Beach County is drift diving."
The marine biologist explained that the conditions in Palm Beach County required the team to change their techniques. The three men rely on global positioning systems and photogrammetry (using photos to make maps and surveys) to create 3D images. Those images are converted into 2D images in the book. They took a series of photos from which they created a 360 degree view of each underwater area highlighted.
Print books are popular because electronic devices can't get wet and are easily stolen, he explained. Having a clear idea of snorkel and dive sites ahead of time is helpful because planning is an important element in diving, he added.
Following an introduction to Palm Beach County the book is divided into two main sections Surf breaks and Diving and snorkeling. It also has information on area sea turtles and dozens of fish profiles. The diving and snorkeling section is much longer than the surfing section. The book features detailed information of individual surf, dive and snorkel sites. Each dive site description includes computer generated images, access, reef and wreck details and a rating from one to three for difficulty, current and depth as well as one to three star ratings for reef and fauna.
The Palm beach guidebook contains 46 photos, 15 illustrations, 92 species profiles and 71 3D maps featuring 31 dive and snorkel sites, some of which are sites with multiple wrecks. The Blue Heron Bridge snorkel and dive site featured in the book is "One of the best shore dives in the world," Popple said.
Reef Smart offers marine and shipwreck guides for divers, surfers and snorkelers. The first Reef Guide book was about Bonaire, "the shore diving capital of the world," according to Popple. The company also offers services and training to resorts. The authors received support (flights and accommodations) from Discover the Palm Beaches, the county's tourism promotion entity, and some dive operators.
At our request Popple shared his thoughts on the top three surf, snorkel and dive sites in Palm Beach. For surfing, "Reef Road is the spot that most people both inside and outside of Palm Beach will have heard of," he said. "It's by far the best spot in county. It's a location better suited to more experienced surfers though, especially the adjacent site across the inlet called Pump House, which may only peak on a couple of day of the year, but when it does it's the place to be." He also mentioned Lake worth Pier for its consistency and Juno Pier (and the stretch up to Jupiter inlet) for decent breaks when the conditions are right.
For snorkeling: Blue Heron Bridge, Ocean Reef Park and The Lofthus wreck were his picks. About the Blue Heron Bridge he said, "You never know what you're going to find at this site, anything from seahorses to eagle rays and it's all located within a protected swimming area."
"Just off the public beach is a several small patch reefs that support a surprising amount of marine life, including stingrays, small morays and schooling of grunts and snapper," he said about Ocean Reef Park, adding that there is plenty of parking, a life guard tower, and showers.
About the Lofthus wreck he said, "It's a hike up the beach, but it's a fun site to explore and there's an interesting history to the site (it's one of Florida's archaeological preserves) and there's always the chance of running into something large (e.g. barracuda, nurse shark, sting ray). The downside is that shifting sand bars mean that sometimes large parts of the wreck can be obscured by sediment."
His top diving picks are: Blue Heron Bridge, The Mitzpah corridor and MV Castor. About the Blue Heron Bridge he said, "This shore dive has to be one of the best in the world and you might be surprised to find it in Palm Beach. It's a protected area with tons of cryptic species like frogfish, seahorses, and batfish. Because it's so shallow you can spend a long time underwater exploring the site."
The Mitzpah corridor is "the mother of all wreck treks," he said. "Starting at the Ana Ceceilia you can drift for the whole dive from one wreck to the next, a total of five, ranging in size; the largest being the massive Amaryllis, which is 440 feet in length."
MV Castor "is the wreck that most people want to visit when they dive Palm Beach," he said. "The ship was a freighter sunk in 2001. The ship has broke into separate bow and stern sections with a debris field of hull plates between. The wreck is famous for it's giant goliath grouper and during spawning season there can be over 50 present there. You literally never know what you might find when you enter the water here."
When asked how much influence the tourism authority, hotels and dive operators his team worked with had on the editorial content of the book he replied, "They didn't. The tourism authority helped facilitate our mapping trip, by organizing flights and places to stay locally, but had no say on the content of the book and neither did the hotels where we stayed. The dive centers advised us on which sites we should map, but again, had no editorial input."
Palm beach is the team's fourth guidebook. Next are Grand Cayman in the spring, and the Florida panhandle in the fall; followed by guide books on the sister islands Little Cayman and Cayman Brac, Florida keys, Grenada, and Curaçao.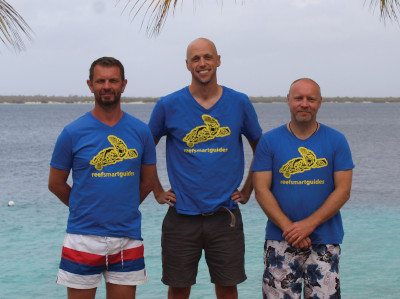 The Reef Smart team
Born and raised in Canada, McDougall received his undergraduate and master's degrees from McGill University. His focus on behavioral ecology and coral reef ecology led him to two field seasons at Bellairs Research Institute in Barbados, in 1999 and 2002. After graduating in 2003, he moved to the United States and began a career in science communication and writing, publishing in peer-reviewed academic journals and the popular press. He has written on a variety of coastal ecosystem issues, including extensive work surrounding the science of ocean acidification. He is a PADI Rescue Diver with over 300 dives in 19 years of experience.
Popple was born and raised in the United Kingdom, where he earned his undergraduate degree in oceanography from the University of Plymouth in 1994. He worked for five years at Bellairs Research Institute in Barbados, supporting research projects across the region, before completing his master's in marine biology at McGill University in 2004. He co-founded a marine biology education company, Beautiful Oceans, before founding Reef Smart in 2015 to raise awareness and encourage people to explore the underwater world. He has published in the scientific and mainstream media, including National Geographic, Scuba Diver Magazine and The Globe and Mail. He is a PADI Dive Master with over 3,000 dives in 25 years of diving experience.
Wagner was born and raised in Romania. He graduated from the University of Art and Design in Cluj, Romania in 1991. In 1999, he moved to Canada, where he studied Film Animation at Concordia University in Montreal. In 2006, he turned to underwater cartography and pioneered new techniques in 3D visual mapping. He co-founded Art to Media and began mapping underwater habitats around the world. He received the Prize of Excellence in Design from the Salon International du Design de Montréal. He has also illustrated seven books. Wagner is a PADI Advanced Diver with over 500 dives in 15 years of diving experience.
Photos courtesy Reef Smart
---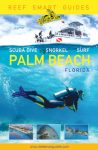 Click to buy Reef Smart Guides Florida: Palm Beach: Scuba Dive. Snorkel. Surf.
---