By Elena del Valle

Photos by Gary Cox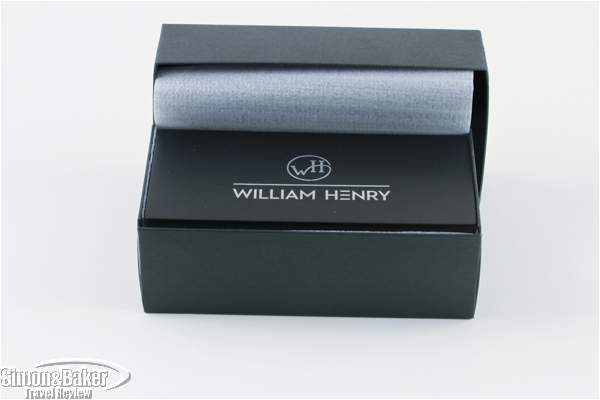 Each pen was packaged in an attractive, sturdy box.
While electronic devices have reduced our need for handwriting to almost nothing they can't replace the pleasure of holding a fine writing instrument. A tiny bit of joy fills me with every letter I write using a pen or better yet a fountain pen. There is something about the weight of a pen resting between my fingers and the smooth flow of ink onto paper that transports me to a higher plane.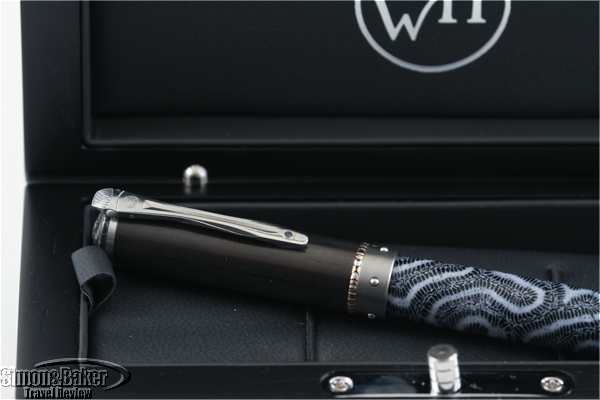 The pocket clip was set with a tiny blue sapphire from Swarovski Gems.
Usually disposable pens are safest when traveling. At the same time, leisure trips sometimes provide opportunities to indulge in writing for pleasure and I miss my nice pens. So it was that I chanced on an idea recently: to take a matching set of handcrafted pens, a rollerball and a fountain pen, William Henry Cabernet RB8-1101 and William Henry Cabernet F8-1101 respectively, from William Henry (William Henry, 3200 NE Rivergate St, McMinnville, Oregon 97128, +1 503 434-9700, www.williamhenry.com, sales@williamhenry.com) on a local trip. As of this writing the fountain pen has been discontinued.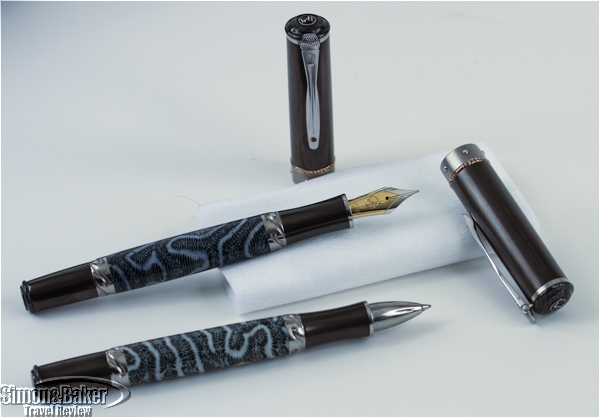 With their caps on I was unable to tell the two pens apart. Once the caps were off it was immediately clear which was which.
I tried the rollerball pen, which retails for $1,600, first. It felt solid yet not heavy and wrote with ease. When a road trip popped up I decided to take both pens rather than leave the untested fountain pen behind. I happened to have a fuchsia leather pen case for two in which they fit.

One of my favorite features was the patent-pending Wavelock™ cap closure system.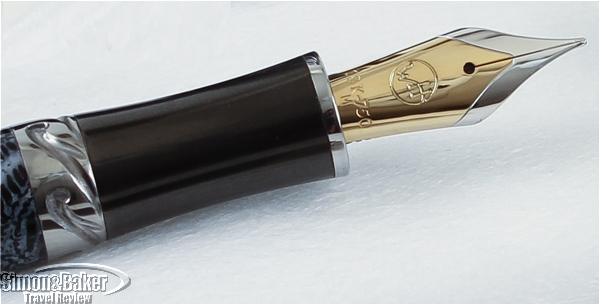 The fountain pen (now discontinued) had a dual tone white and yellow 18 karat gold nib.
During the trip, I charged the fountain pen with the single black ink cartridge that came in the case. It took a couple of tries until the ink came out. And, it seemed to require more pressure than I use on my other fountain pens. Once I became accustomed to it I liked the fine elegant letters I was able to form thanks to the German made dual tone white and yellow 18 karat gold medium nib. After a few hours it required several tries to get the fountain pen ink to flow. Placing it in a sealed snack size plastic bag when not using helped a bit, but as of today it still requires scribbling for a few minutes with little to show for it or placing the tip in cold water or running water. This has happened to a lesser extent with other fountain pens.
I liked the understated unisex style of the pens, which require four months to make. Stabilizing the coral takes time, a spokesperson explained by email. In both pens the pocket clip was set with a tiny blue sapphire from Swarovski Gems. The sapphires are from Nigeria, Madagascar or Sri Lanka.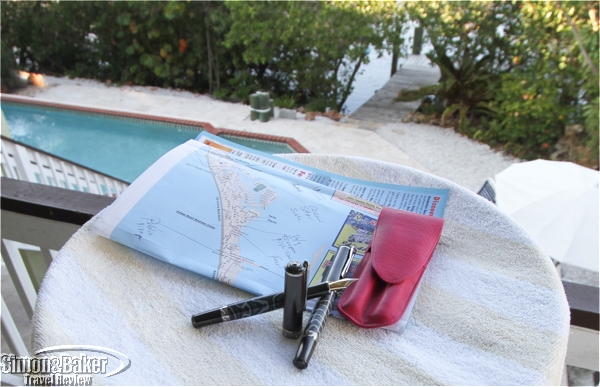 I took both pens on a road trip in a fuchsia leather pen case for two I had.
The pens were made with rare materials, 100,000 year-old fossil coral from the Florida Keys for the barrel and aerospace grade titanium and aluminum. The accents on the carbon fiber cap were from Mokume Gane, a Japanese metalworking procedure, which produces a mixed-metal laminate with distinctive layered patterns, and hand forged Damascus steel. William Henry only manufactured 250 pens in each of the two models.
One of my favorite features was the patent-pending Wavelock™ cap closure system, "a ring of chromium steel balls embedded in a titanium ring captured in wave-shaped grooves in titanium collars for closed and post positions." The design meant there was always a place for the pen caps, which if I paid attention when I attached them to the pen body always remained secure in place whether the pen was open or closed.
Ink spills and stained leather cases have taught me to avoid flying with fountain pens. Still I miss them during extended trips. Perhaps in the future I will take only the rollerball when I fly, hoping its outer appearance will keep me from missing its fountain pen partner too much.
I was hesitant about selecting a product from a men's catalog, wondering if the pens would be masculine, heavy or bulky. I need not have given it a thought. I later discovered that about 23 percent of William Henry customers are women. According to a spokesperson, some 75 percent of them purchase a gift, while one quarter purchase for themselves.
There were many features I appreciated about the pens and the company behind them. It began with the distinctive limited production pens themselves as well as the company policies. One of the first to catch my attention was that the products were completed and shipped from the William Henry studio in Oregon. From the hefty case each pen arrived in to the details of the sapphire on the clip and a WH on the top of the pen cap the products were as pretty in person as on the website. And they felt solid yet well balanced when writing. The rollerball is now the first pen I reach for among the many writing instruments on my desk.
William Henry, a small maker of artisan products in Oregon, was founded in 1997 by Matt Conable, the brand's creative director. The company seeks to work with "some of the most skilled and talented craftsmen, artists and engravers in the world to create products that are timeless, exclusive and strike a personal chord with their owners." William and Henry are the middle names of the two company founders.