By Elena del Valle
Photos by Gary Cox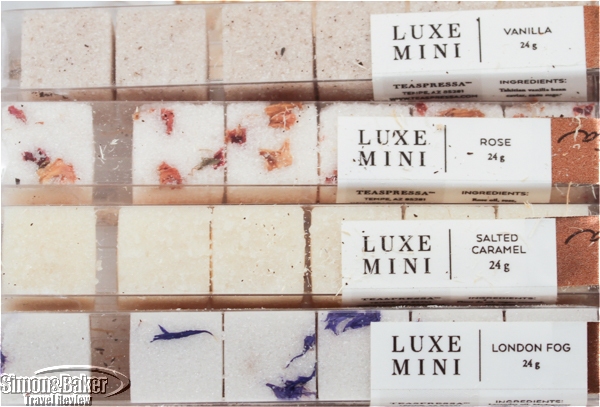 Flavored sugar cubes from the Teaspressa Starter Kit
Years ago in a small cafe in Stellenbosch, South Africa I had a memorable red tea made like an espresso. The resulting beverage was concentrated and small with the rich flavor of South African red tea. Recently, an at home tasting of four loose leaf teas from the Teaspressa Starter Kit reminded me of that delicious beverage. Teaspressa (Arcadia Signature Cafe, 4628 E Indian School Road, Phoenix, Arizona 85018, +1 917-710-5748, www.teaspresssa.com, info@teaspressa.com) is a new Arizona company founded by Allison DeVane. She created Teaspressa's proprietary Tea Concentration Technology that uses a pressure extraction method to produce tea blends that, like espresso, can be used to make Tea Lattes, tea-based drinks comparable to gourmet coffee beverages.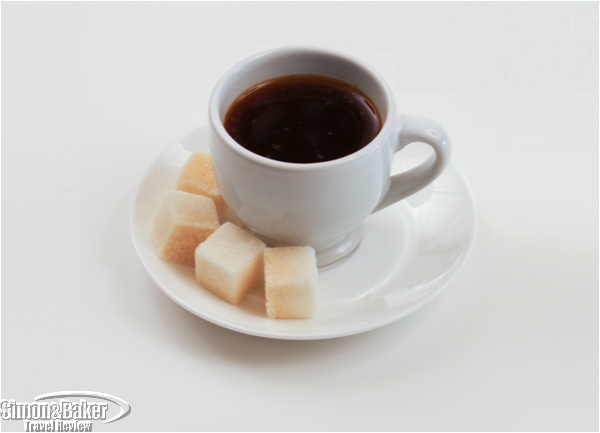 A tea shot and flavored sugar cubes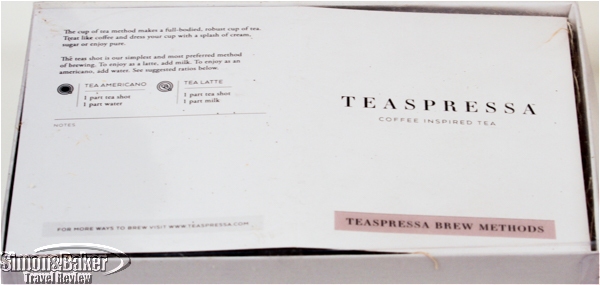 Our Starter Kit arrived in the mail with a black espresso pot, four teas, and four packages of flavored sugar cubes. 
"Teaspressa is the first and only beverage that is a hybrid of tea and coffee, resulting in a healthy alternative to traditional caffeine drinks," DeVane, who is also owner of the company, said by email via her publicist when asked what is special about her company's teas. "Using a patented production process, Teaspressa is concentrated tea that contains as much caffeine as an espresso shot, but provides consumers the health benefits of traditional tea blends.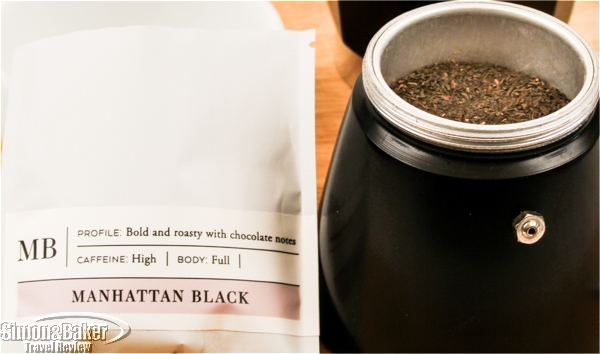 Manhattan Black, one of four teas in the Starter Kit.
Teaspressa is made similar to a shot of espresso, and has the same amount of caffeine; however, Teaspressa does not contain coffee, it is a concentrated tea that is made using a pressure extraction method, resulting in Teaspressa's products containing all of the health benefits found in traditional tea. Just like espresso, Teaspressa can mixed with milk and more to create lattes and other gourmet coffee-like beverages, but with tea. Teaspressa can be made at home easily and similarly to traditional coffee, so consumers don't lose their morning coffee ritual."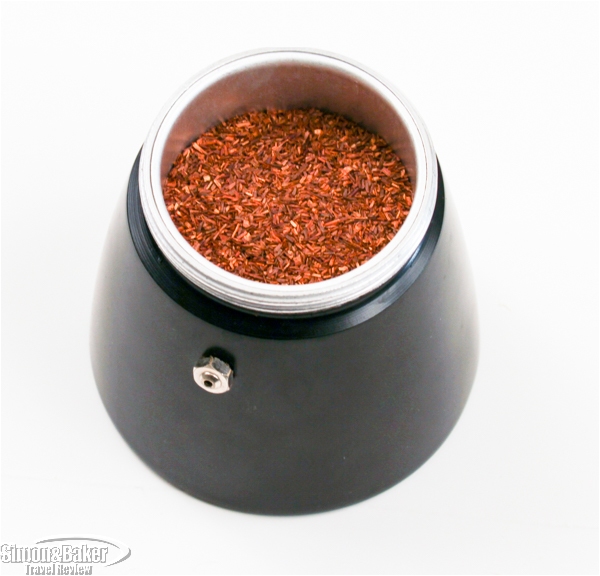 Red tea, naturally free of stimulants, in the espresso pot before brewing
Our Starter Kit arrived in the mail with a black espresso pot, four bags with several servings of tea each, and four packages of flavored sugar cubes. The teas, blended in Phoenix, were Manhattan Black, proprietary black tea and German rye; Cape Town, naturally caffeine-free rooibos and rye; Green Gold, proprietary green tea blend; and Charles Grey. There were four Luxe Sugar Stick flavors, handcrafted by Teaspressa using all-natural ingredients: London Fog, Rose (recommended by DeVane with champagne), Salted Caramel and Vanilla.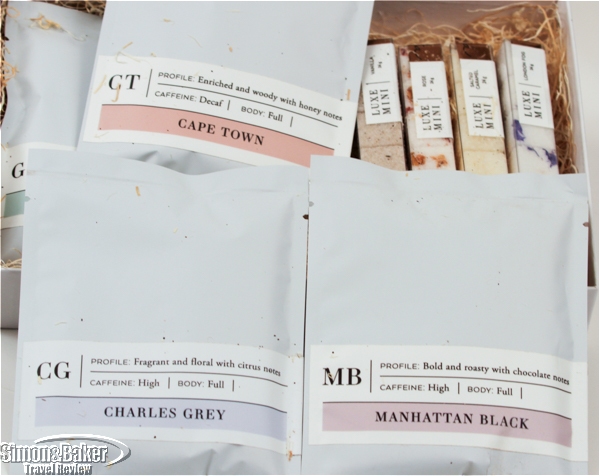 The teas, blended in Phoenix, were Manhattan Black, Cape Town, Green Gold, and Charles Grey.
According to DeVane, Teaspressa's products are certified organic by the United States Department of Agriculture and made from "all natural, artisan loose-leaf tea blends, authentically sourced from China, Germany, South Africa, India and Japan." She explained that the signature tea blends "underwent multiple phases of testing and are specialty curated for the brewing method that is similar to coffee brewing."
Three of us, all tea fans, sampled and liked the teas and their concentrated flavor. We made them using the espresso pot per the instructions that came with the package. While none of us sweetens our tea we tried the sugar cubes, each less than 10 calories per cube and made with sugar from Hawaii, according to DeVane, on their own and also liked them. My favorites were London Fog and Rose in that order. The two men preferred Salted Caramel and Vanilla.
The Green Gold
The Teaspressa tea shots were especially appealing when time was limited such as at the end of a meal and when in the company of espresso drinkers. In lieu of the longer time it takes to savor and drink a cup of tea or a pot of tea sometimes it would be nice to have a tea shot. The teas were available via the company website as well as at Teaspressa Ann Arbor Signature Cafe (414 S Main St #115b, Ann Arbor, Michigan 48104) and Teaspressa Frank Lloyd Wright Kiosk (12621 N Frank Lloyd Wright Blvd, Scottsdale, Arizona 85259).