By Elena del Valle and photos by Gary Cox
A unique view of Paris from atop Notre Dame. (click to enlarge)
Paris, France is an exceptional city when it comes to restaurants and food. In addition to a variety of neighborhood size supermarket stores, specialized food shops small and large, single and chain owned, domestic and foreign can be found across the city. As if that wasn't enough street market vendors sell fresh seafood, ethnic foods, produce, flowers, dairy products and merchandise several times a week in various city neighborhoods.
A variety of salts at the Galeries Lafayette Maison
Yuzu citrus from Japan
Prices are high and the shelf life of fresh products short so it pays to shop often and with care, and to pay attention when making purchases lest the produce wilt or spoil in the refrigerator before we consume it. Over the years we have discovered that the best way to shop for us is to pick and choose favorite products from a variety of vendors in our area. For example, we usually find a neighborhood bakery and grocer for regular purchases. In addition, for special occasions and when we just want to treat ourselves to something out of the ordinary there are a number of sellers we find are worth a special trip or detour.
The Bellota Bellota shop and eatery in the Latin Quarter
Slicing bellota ham requires skill (click to enlarge)
For over the top wonderful bellota ham from Spain and related products we like the Bellota Bellota store on rue de Seine in the Latin Quarter (see Paris Latin Quarter gourmet shop new favorite). They offered eat in (though we found it too chilly to eat there on cold days) and take out options as well as freshly sliced and vacuum packed options. Most recently we tried Le Royal sandwich made with slices of master cortador cut bellota, manchego cheese and homemade smashed tomatoes. The single slice of cheese and single slice of bellota tasted best after removing one of the halves of the thick and crunchy bread.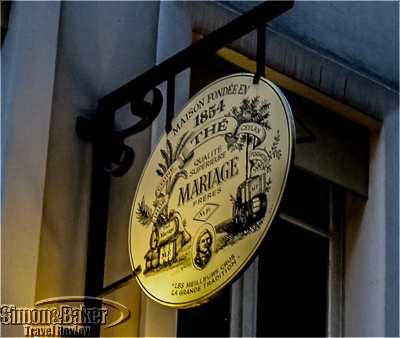 The distinctive Marriage Freres sign marked the location of fine teas
A turkey club at the Carrousel du Louvre location of Mariage Freres
When we are in the mood for tea and a light meal at a teashop we make our way to Mariage Freres on rue Bourg-Tibourg in the Right Bank for their Snob Salad and Louvre sandwich (see Superb gourmet lunch at Paris tea salon). Although on our most recent visit the service was slower and less attentive in the tea salon and shop by far than in past occasions the food was good. We generally stay away from the too touristy Carrousel du Louvre location, especially in cold weather. We have found the underground shopping center next to the Louvre Museum to be overcrowded, and the only bathroom for teashop customers was an equally crowded pay for use mall facility outside the eatery. Although clean and maintained by onsite staff it required exiting the tea shop and walking over public bathroom, payment of 1.50 euros and standing in line.
The Snob Salad at the Grand Augustin shop (click to enlarge)
A cup of matcha tea whipped and served in a special cup
On our most recent stay in the City of Lights, we visited the shop and tea salon at Grands Augustins on the Left Bank. While we were disappointed the shop did not carry the match tea flavor we liked from the tea salon or offer any date for its availability (the staff person responded stiffly when we asked) the tea salon experience was pleasant and the service attentive. The Snob Salad was slightly different and less to our liking than the one on rue Bourg-Tibourg.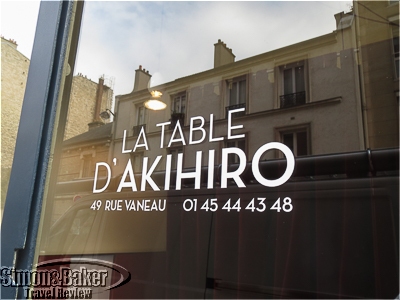 Table D'Aki changed its name to La Table d'Akihiro
The scallops with white truffles were outstanding
A delicate fish served with caramelized endive (click to enlarge)
For dependable, fresh, beautifully prepared and presented seafood we beeline our way to Table d'Akihiro in the Left Bank (see Same outstanding seafood Paris restaurant, updated name). While advance reservations have been a must, and menu selection in the past was limited to one or two appetizers, one or two mains and one dessert, the meals have always been exceptional and outstanding value for money.