By Elena del Valle
Photos by Gary Cox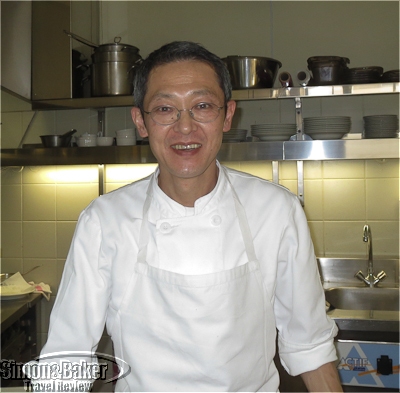 Chef Akihiro Horikoshi in the kitchen
A little over a year ago we visited Table d'Aki (see New Paris restaurant offered exceptional seafood in unassuming setting), a small Left Bank restaurant in Paris, France, and were impressed with the chef's fish and seafood dishes. On our return to the restaurant almost a year later, we were pleased to enjoy an outstanding seafood meal.
When we arrived for our early lunch (12 noon) we noticed the restaurant had a new name. Instead of Table d'Aki it was Table d'Akihiro. When we asked about the change the chef explained that Aki is a diminutive of his first name and Akihiro is his full first name. That day, we found the chef alone and hard at work.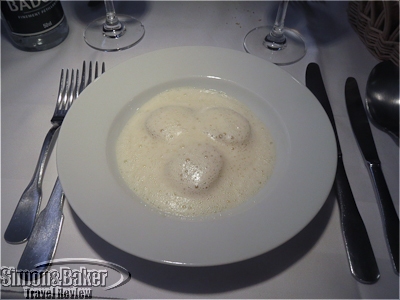 Perfectly prepared delicate scallops
It was Chef Akihiro Horikoshi who opened the door and welcomed us in; he took our coats, settled us down in a corner table and provided us menus. Moments later he took our order. He remained alone, cooking and serving, until we left. None of the other diners who arrived after we did seemed to mind.
The closely placed tables were set with all the necessary implements such as spotless tablecloths, napkins, cutlery and glasses. The small dining room ended in the chef's open kitchen. It looked pristine. Single bulbs hung from the ceiling and heaters kept the place comfortable. The bathroom was immaculate.
We ordered the sole with a touch of flavorful curry
As before, the menu was limited to seafood and fish. That day, the choices were one appetizer option, two main course options and one dessert, all prepared by the chef himself.
We ordered one appetizer each, the same main course and shared a dessert which the chef kindly split in the kitchen. The appetizer was a scallop dish with a vegetable puree foam and three perfectly cooked scallops. The main dish was sole  with Asian spices and a touch of curry. Dessert was a dacquoise, two layers of thin and light cake with a vanilla cream center.
A light dessert was perfect to complete lunch
Every dish was superlative, especially the scallop and fish. Had we realized how good the dessert would be we would have ordered one each. Table d'Akihiro (49, rue Vaneau, 75007, Paris, France, +33 1 45 44 43 48) is on our list of Paris seafood favorites for future visits. I would recommend it to our friends who are more concerned with the meal than an elaborate delivery and famous setting. What Chef Akihiro Horikoshi's restaurant lacked in staff and elegant amenities it made up for manifold in outstanding food.  In a city known for its many dining venues this small restaurant stood out for its perfectly prepared fare.