By Elena del Valle and photos by Gary Cox
The Prunier shop on Place de la Madeleine, Paris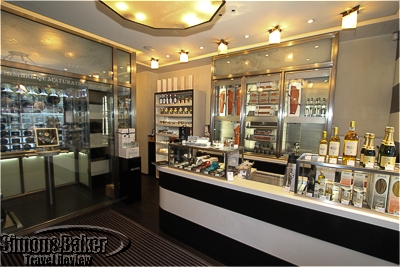 Inside the Prunier shop – click to enlarge
Tasting more than one type of caviar at a time is not ideal, the sales lady at Prunier, a specialty shop on the ritzy Place de la Madeleine in Paris, France, said when I asked about sampling several varieties of the delicate seafood. She went on to explain that most people's palate has trouble distinguishing the flavors in the same way that after sampling several wines it becomes difficult to taste the nuances of each consecutive one.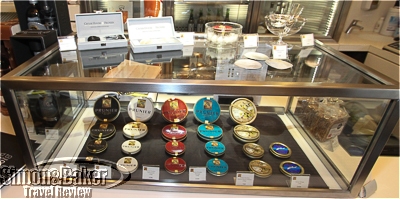 The Prunier shop had a selection of caviar cans on display.
So it was that we settled on only one kind of the four caviar types sold at the shop instead of the two or more varieties we had anticipated when we planned a caviar tasting. We also sampled some Norwegian farm raised Balik salmon which she said tasted "like candy."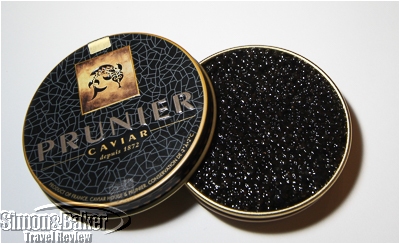 The Prunier Tradition Caviar we sampled. (click to enlarge)
She recommended the Tradition Caviar, explaining that it accounted for as much as 60 percent of the company's caviar production. Ours was from the most recent production of September 2014 and had been aged one month. We took home a 30 gram tin of Tradition, a farmed caviar from Montpon Menesterol in France, for each of us. We also took a 120 gram vacuum pack of Balik Norwegian farmed salmon smoked in Ebersol, Switzerland. They came in insulated sealed plastic bags with small frozen packs.
A box of Balik salmon for one.
The products would be at their best if we refrigerated them within five hours so we made our way back to our place with alacrity, arriving within an hour and placing the bags in the refrigerator immediately. They sat in the corner while we fretted with anticipation until the following afternoon when we sampled them with a glass of well chilled brut champagne.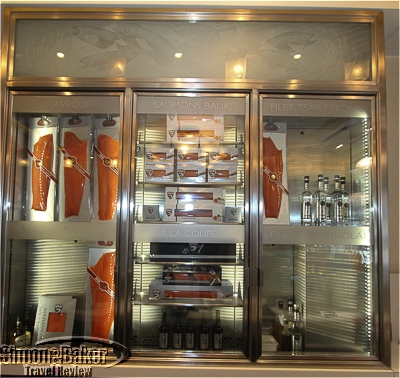 The salmon display case with a variety of cuts and sizes.
Following her advice we had the caviar by itself first. It was buttery with a pleasing texture, a mild flavor and just the right amount of salt to highlight its natural taste without being too salty. There was also a hint of nuttiness and a pleasant aftertaste but no fishiness.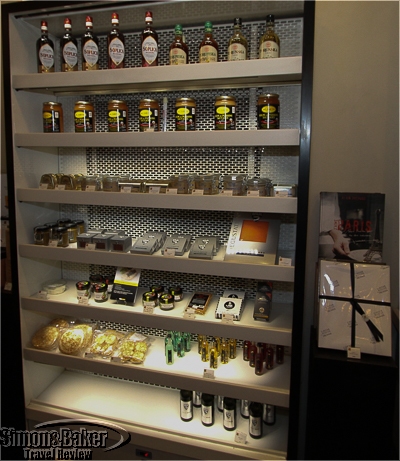 There was a case containing other products like foie gras and blinis. 
The salmon too was subtle and had a buttery melt-in-your-mouth texture. We sliced it into bite size chunks and ate it by itself with no garnishes or condiments. Each package was a single serving which was plenty, yet it seemed to disappear as if by magic. I would buy both products again and recommend them to friends, especially if it is their first time tasting caviar and salmon. Boutique Prunier (15 place de la Madeleine, 75008 Paris, France, +33 147429898, www.prunier.com, info@prunier.com),  a 50 square meter ground level shop, was established in 2005.