By Elena del Valle
Photos by Gary Cox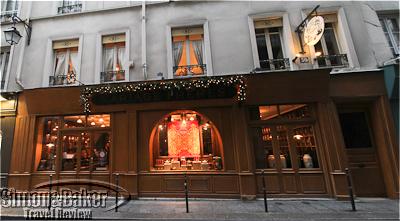 The Mariage Freres Marais shop and tea room
On a chilly winter Friday we skipped lunch in order to sample the offerings, in the late afternoon, at Tea Salon Mariage Freres Marais, a popular tea salon (and shop) on the Right Bank of Paris, France. While we were well acquainted with the company for its eternally crowded street facing tea shop it was the first time we ventured into the 150 meter establishment behind the shop. The tea salon, which occupied space on the ground and first floors and employed 20 staff, could accommodate up 32 people.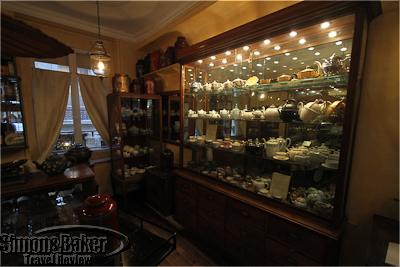 A collection of teapots from the tea museum
Before sitting down, we took a few minutes to climb up a narrow spiral staircase on the left side of the shop to a first floor tea museum where the company displayed items from the early days when the founders, Henri and Edouard Mariage, traveled the world in search of tea, as well as antiques donated by clients and friends. We were on the site of the original shop from the foundation of the company in 1854, a staff person explain.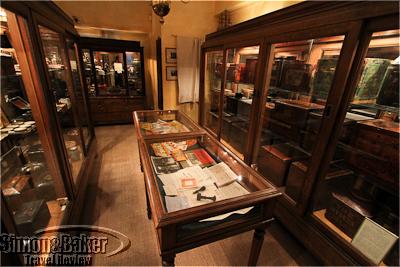 Documents and memorabilia of Mariage Freres early days
The Marais tea salon we visited was established in 1986. Over the years, three others opened their doors in Paris: Mariage Freres Rive Gauche, 13 rue des Grands-Augustins, 75006; Mariage Freres Louvre, Carrousel du Louvre, 99 rue de Rivoli, 75001; and Mariage Freres Etoile, 260 rue du Faubourg St-Honore, 75008.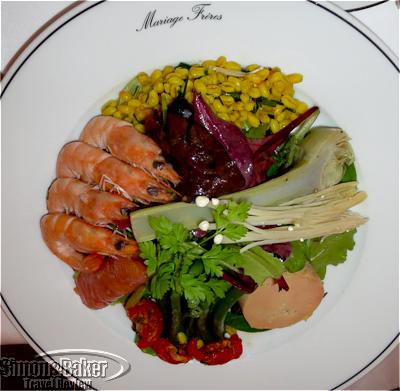 The Snob Salad (click to enlarge)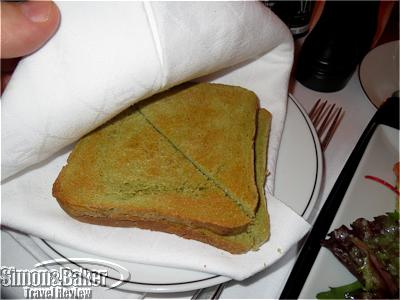 Delicious match toast were served with the Snob Salad
In the tea salon, as in the shop, young men dressed in tailored pale linen suits, provided attentive and polite service. A limited menu was on offer from midday into the early evening. On the ground floor, the rear wall featured a tea canister display and counter. Small tables scrunched together in groupings of two or more made up the rest of the salon. A glass ceiling allowed the dim winter light in, making us wonder how pleasant the room would be in spring. After taking our coats one of the servers escorted us to a table on the right side of the room. An English speaking server provided us with a house copy The French Art of Tea which featured information on the nearly 700 teas on offer.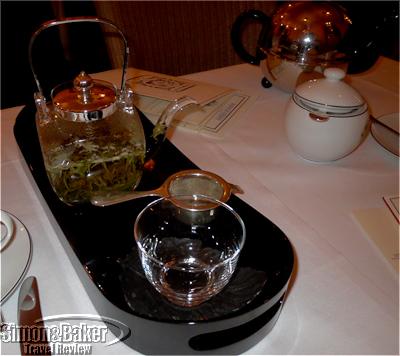 In the foreground, the glass teapot and glass teacups in a black tray while the more common teapot is in the background, filled with Marco Polo black tea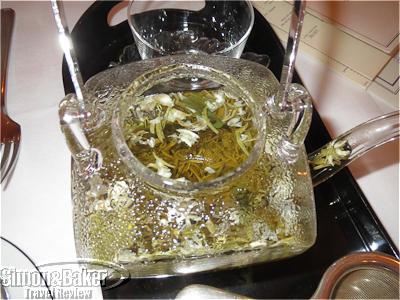 The Neige de Jasmin (Jasmine Snow) green tea was served in a glass teapot
I had a Snob Salad and my companion had a Nostalgie de Pondichery, both house specialties. His dish was served only between 3 p.m. and 6:30 p.m. It consisted of an assortment of mini sandwiches: duck foie gras, Empereur Chen Nung flavoured smoked chicken, Vert Provence tea flavoured vegetables, mini smoked salmon croque monsieur served with tea and a pastry from the Chariot Colonial. The Snob Salad consisted of duck foie gras, smoked salmon, shrimp, enoki mushrooms, saffron wheat, haricots verts (green beans), violet artichoke hearts and mesclun, Paris-Singapour tea vinaigrette, and Matcha green tea toast covered with a napkin and served on its own plate. On a subsequent visit, we ordered the Snob Salad (I couldn't help myself), and a Louvre Club sandwich with smoked chicken, fromage frais flavoured with Empereur Chen Nung tea and coriander, crushed tomato spread, mesclun side salad with toasted pine nuts and bacon with tea and a pastry from the Chariot Colonial.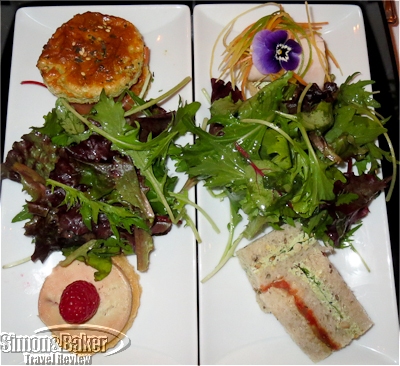 Nostalgie de Pondichery, a selection of tea sandwiches (click to enlarge)
Selecting a tea was a daunting experience given the vast selection on offer. On our first visit, we shared two types of tea. First, with the savory course, we had Neige de Jasmin (Jasmine Snow), a delicate green tea with Jasmin blossoms from China served in a glass tea pot. Glass tea pots were reserved for "spectacular teas" such as yellow teas, teas with flowers or teas with silver or gold, a staff person explained.
With the sweet course we had Marco Polo, a black tea with a mysterious blend of fruit and flowers from China and Tibet. There was also a Marco Polo Rouge made with red tea although we didn't sample it that day. The Marco Polo was served in a French ceramic pot with a metal cover which kept the tea hot for up to one hour. A tea pot consisted of four cups of tea. Those with the tea leaves still in the pot, like our green tea, could be refreshed with hot water.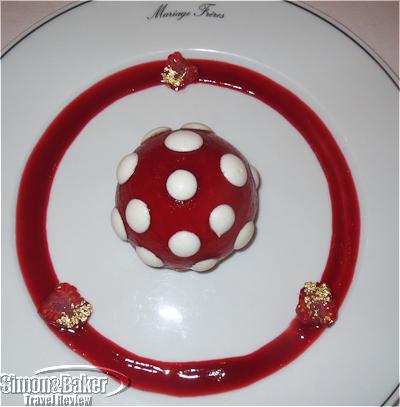 Etoile Mysteriuse Breton shortbread cheesecake with French meringue morsels, and raspberry coulis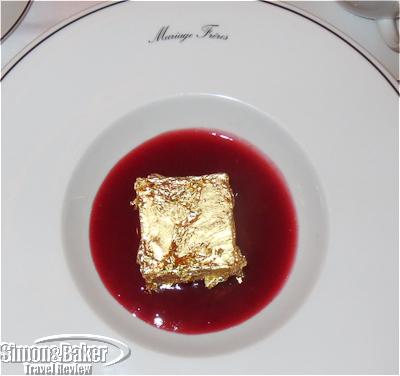 Gold wrapped chocolate in raspberry sauce
We sampled the Carre D'Or 24 carats Dark chocolate entremets flavoured with Black Magic tea, salted butter caramel and chocolate cake wrapped with gold leaf, red currant coulis; Splendeur du Tibet Marco Polo tea infused creme brulee; and Etoile Mysteriuse Breton shortbread cheesecake glazed with "Very Beautiful" Fruit Tea, authentic French meringue morsels, and raspberry coulis. We liked everything prepared by Daniel Milliner, executive chef, and his team.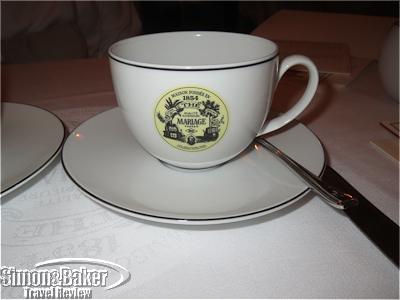 The salon's teacup was branded as was the dinnerware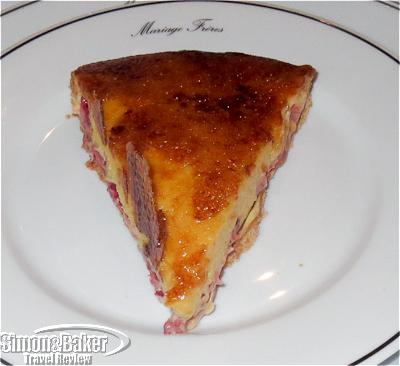 The Splendeur du Tibet Marco Polo tea infused creme brulee was our favorite dessert
The foie gras with the Matcha toast was the most memorable. Of the three salty dishes my favorite was the salad and my companion's was the Nostalgie de Pondichery. Of the three desserts, our favorite was the creme brulee. We liked the Mariage Freres tea salon because in addition to an intimidating selection of world class teas and gourmet treats it offered us the flexibility of eating at the time of our choosing (assuming there was availability) rather than at the strict restaurant meal times. This was a convenient option when we had a busy day. While the selection was limited the quality was outstanding. We plan to return at the first opportunity. Tea Salon Mariage Freres Marais, 30 rue du Bourg-Tibourg,75004 Paris, France, www.mariagefreres.com, info@mariagefreres.com,+33 1 42 72 28 11