Article and photos by Scott S. Smith
The entrance to the recently remodeled Hilton Santa Barbara Beachfront Resort
The first Hilton my wife, Sandra Wells, and I ever stayed at was the Hilton Santa Barbara Beachfront Resort (633 East Cabrillo Boulevard, Santa Barbara, California 93103, +1 805 – 564-4333, text +1 805 – 465-9770, fax +1 805 – 564-4964, reservations 800/879-2929, https://www.hiltonsantabarbarabeachfrontresort.com/) in June 2019. In 2018, it had undergone a $15 million redesign and renovation. It had previously been a Double Tree, a Hilton brand, part of its 30-year partnership with the family of actor Fess Parker. The location was where a roundhouse for the Southern Pacific Railroad was built in 1911 and demolished in 1982 to make way for the resort, opened in 1986 (hence, the name of the hotel's breakfast room, The Roundhouse).
The initial view of the hotel was striking: it had three levels and was spread out over 24 acres with large lawns, with a pale exterior and red tile roof, a design inspired from the Spanish heritage of California. Santa Barbarans like their buildings to fit into the environment, rather than being tall monuments to corporate egos that demand the highest possible viewpoint. The hotel was within easy walking distance (about one mile) of Santa Barbara's quaint downtown.
The lobby was open, airy and spacious with white and pastel colors.
Our check-in went smoothly, with well-informed and courteous associates trained, as general manager Chris Inman told us, "to get to know our guests so we can provide exceptional service with sincerity and authenticity." Because we were two hours early for the hotel's 4 p.m. check-in time (for an extra charge it was possible to book a room as early as 7 a.m.) we had to wait an hour while the staff completed the cleaning of Room 336. It was a King Bed Resort View Balcony in the Gardenia building connected to the lobby, priced at $335 that particular night. It came with a Daily Resort Charge card listing amenities, such as a two-hour bicycle rental ($30 value), basic Internet access for two (worth $12.95 and premium was available for an extra $15.95). Standard WiFi was ubiquitous throughout the hotel. Our room rate also included two bottles of bottled water in the room (a $7 value). Self-parking cost $25 a day (valet parking was $35). Shuttles provided complimentary transport from the Amtrak station and the Santa Barbara International Airport from 5 a.m. to 9 p.m. There was an electric vehicle charging station.
The view of East Beach from the Rotunda outside the lobby
The lobby was open, airy and spacious with white and pastel colors, perhaps an appropriate entry for a destination renowned for its mild climate and sophisticated, artsy culture. The hallway walls and carpets also were in subdued hues of turquoise, gold, gray, white with seascape paintings on the walls of public spaces and our room (the hallway walls were bare). The design was meant to provide a feeling of being in a calming oasis from the turbulence of the outside world, according to promotional materials.
Beyond the far doors of the lobby was the 20,000-square-foot open-air Plaza del Sol, suitable for dining and dancing, with stairs to the second level Rotunda, providing views of East Beach just beyond the lawn and highway (on the other side of the property are the low and lovely Santa Ynez Mountains).
Our spacious (450 square feet) Hilton room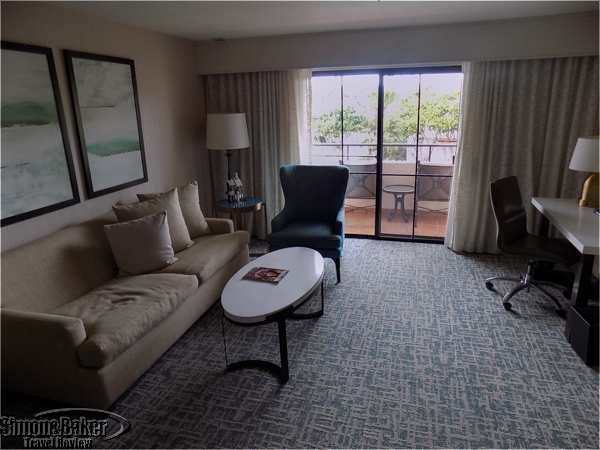 Some of the furniture in our room
In the lobby was the Fess Parker Wine Tasting Room with a self-service wine dispenser. At The Set restaurant there were photos from Parker's career on the walls. He is best-remembered as the star of Disney's Davy Crockett mini-series on ABC in 1955-56 (he was discovered by Walt himself and in 1991 was named a Disney Legend); and portraying Daniel Boone in an NBC series 1964-70. He bought hotels and a winery, which now has 1,500 acres of vineyards. His son and daughter run the company. He passed away in 2010. The logo on their bottles is a golden coonskin cap, a reminder of his most famous roles. The winery appeared under another name in the movie Sideways.
Partial view of the fitness center
The main floor had: business desk with a computer and printer, ATM, car rental desk, concierge, gift shop, fitness center, and salon and spa. The resort was pet-friendly. There was a $50 non-refundable cleaning charge per pet.
Our room was 450 square feet in size with an open design. It had the following security features: an automatic door closer, electronic locks, a secondary locking device, a thumb dead bolt, a wide-angle door viewer, and a hidden safe. We found the king-size mattress and pillows comfortable. We requested that our room not be cleaned during our overnight stay. We dispensed with the turn-down service, and noted the commendable policy that unless otherwise requested, linens were changed every three days to minimize impact on the environment.
Furnishings included beige oversized loveseat sofa bed, armchair, desk with chair, and large chest of drawers. In the closet there was an iron and full-size ironing board. Among the amenities was a landline with speaker phone and voicemail. In addition to the empty mini refrigerator, there was a bucket for the ice machine in the hallway next to the elevator. The flat-screen TV was a 55 inches LG LED with HBO, ESPN, and other premium cable channels. It was easy to use and turned on quickly.
The walls, ceiling, and carpet in our room adhered to the resort's color scheme of white, beige, tan, gray, and turquoise. We liked that drawing the drapes made the room dark for sound sleeping (we had to cover the lighted clock when we were not using it as a night light). There were copies of USA Today and Santa Barbara Magazine in our room. There was a complimentary welcome tray with nuts, dried fruit, and cheese.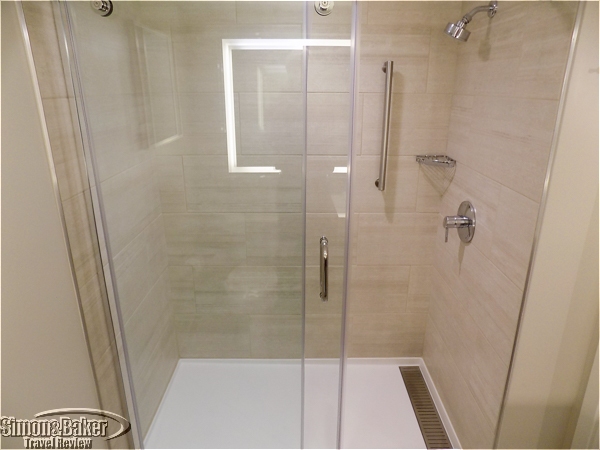 Our bathroom
The sink was deep and wide (9 inches x 14 inches), the water turned hot immediately, and there was plenty of counter space. The toilet flushed strongly. I found the bathroom lighting fine, while some hotels try to be sophisticated by setting it too soft. Sandra felt it was too bright and would have liked to have a magnifying mirror for makeup. The shower was easy to use (unlike some at top hotels that are annoyingly complicated), powerful, and the water came out hot quickly. Sandra would have preferred a wider spray option. The hairdryer was the powerful Conair 1875. The shampoo, conditioner, and soap were Crabtree & Evelyn. We forgot to bring toothbrushes, toothpaste, and a nail file. It would have been helpful to find those amenities in our room.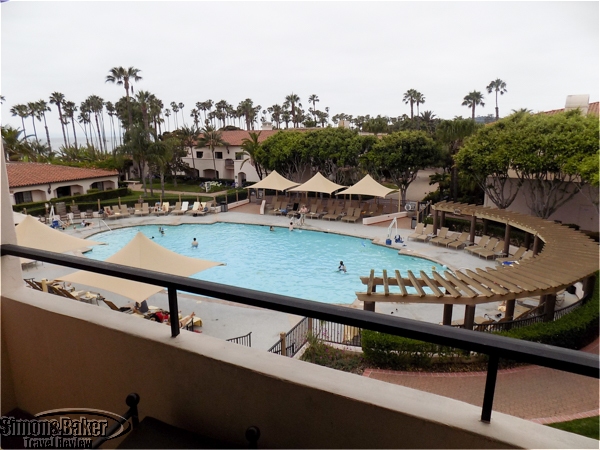 The pool view from our balcony
From our private balcony, furnished with a small round table and two chairs, we had a partial view of East Beach on the Pacific Ocean. The 85 feet by 50 feet swimming pool, was by far the largest we have ever seen at any hotel we have stayed at. The pool was open from 7 a.m. to 11 p.m. We had to delay our normal bedtime to 10 p.m. because the noise from the pool was so loud.
According to promotional materials, the hotel complied with the guidelines of Americans with Disabilities Act in guest and public areas from the restaurants to the fitness center. There was a handicapped lift for those who needed help entering the pool. Our room had a 32 inch clearance width; there were Braille room numbers and closed-captioning on TV; we understood that flashing lights would accompany the sound of fire alarms in public areas.
The Set was a bistro-style restaurant and full bar (featuring Fess Parker photos on the walls), with a patio for al fresco dining overlooking, in the background, the sea, and ever-burning outdoor fire pits. It was open from 11:30 a.m. to 11 p.m., including a Yappy Hour at 4 p.m. when pooches received complimentary dog biscuits (Happy Hour was 5 p.m. to 7 p.m.). The food was locally-sourced and inventive. The restaurant did not accept reservations. Because we were on a tight schedule, we had pre-ordered some menu items. We arrived early and changed our order. Anthony Fanella, director of food and beverage for the resort, ensured our new choices were prepared on time (he answered some of our questions about the hotel in general and introduced us to the Rotunda, which we might have overlooked, the perfect vantage point for a photo of East Beach).
Al fresco dining
We shared a delicious and Tomato Soup au Gratin with aged cheddar ($12). We also tried the Tomato and Peach Salad, with Burrata mozzarella, pickled cherry tomato, arugula, mint, preserved lemon, olive oil, and aged balsamic ($17). I had the Kobe Burger with the plant-based Hungry Planet patty. I found it to be a perfect knock-off of a beef burger ($20). Sandra ordered the Quinoa Fricassee, with toy-box tomatoes, olives, caramelized onions, haricots verts, carrots, cauliflower, preserved lemon, piquillo peppers coulis, and thyme ($19). Our wait-person, Jay, was friendly and helpful. She had only been there a week and came from a popular high-end restaurant. We had a tasty and pleasant meal.
We shared a delicious Tomato Soup au Gratin with aged cheddar.
For breakfast we had the buffet in The Roundhouse ($58 for two plus tax and tip). I liked the Royal Coffee, while Sandra liked the chamomile and green tea blend. She enjoyed a custom-made vegetable-and-cheese omelet. She found the toaster too slow, yet it could suddenly burn, if not watched carefully. I liked the organic granola blend and honey milk, the granola and berry yogurt parfait, plain Greek yogurt with honey, and something I had never tried, overnight oats, which had been soaked in milk. We also sampled some of the ripe fruit and juices.
In the morning we had the buffet in The Roundhouse.
The property was a promising introduction to the new Hilton brand because the location and design were matched to support a relaxing and enjoyable experience with friendly and helpful staff, rather than formal and purely reactive, as at some top hotels. We are eager to try out some of the many other types of properties within the brand and the amenities we did not have an opportunity to experience this time.