Article and photos by Elena del Valle
Cardrona Valley lamb neck, garlic yoghurt, pea, umami served with Amisfield Pinot Noir 2016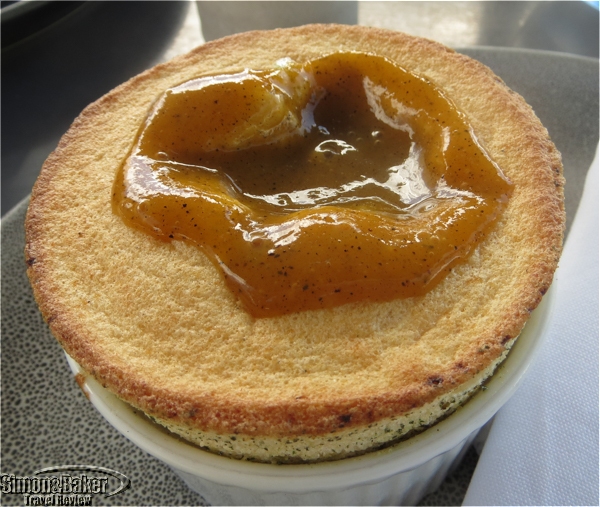 Grilled apricot souffle, lemon verbena
Because I spent most of my trip off the beaten track, on a private Aroha Intrepid tour, my main impression of New Zealand fine dining was derived from lunch at Amisfield Bistro & Cellar Door (10 Lake Hayes Road, RD 1, Queenstown 9371, +64 3 442 0556, amisfield.co.nz, bistro@amisfield.co.nz, cellardoor@amisfield.co.nz), a South Island bistro near Queenstown, where I spent one night. The vineyard side meal was well prepared and well presented, the setting pleasant and pretty. Should I be in the area and in search of a fine dining option I would return, and I would recommend the restaurant to friends and acquaintances traveling to the area.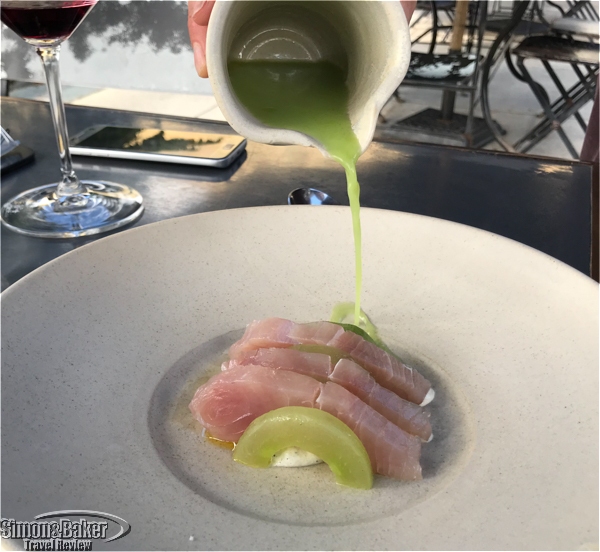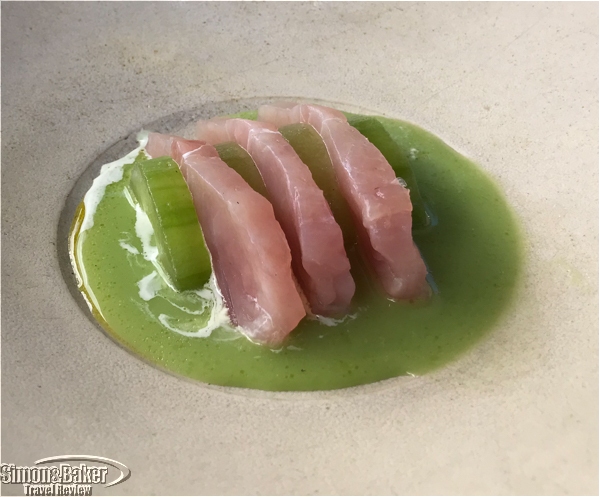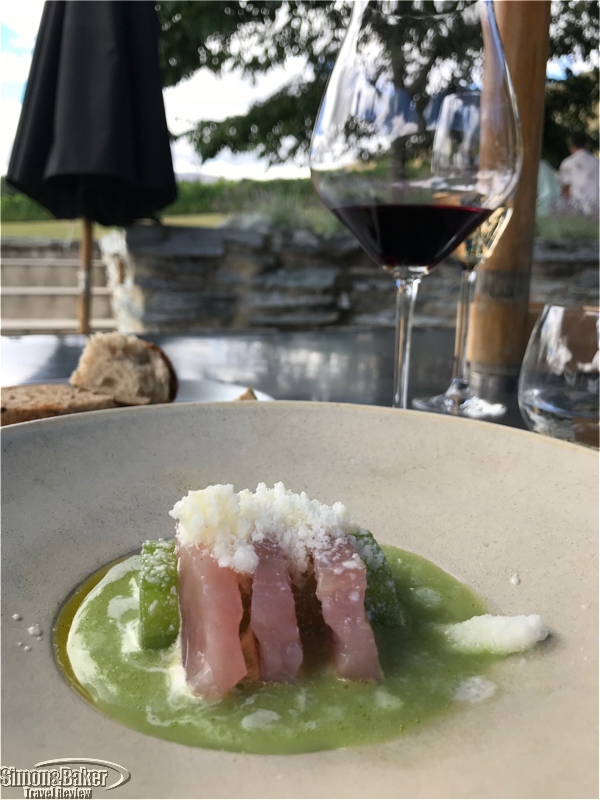 Kingfish, Horseradish, Cucumber
My travel companion and I had lunch there on a breezy and sunny summer day. It was crowded. The restaurant could accommodate up to 100 guests at lunch and 40 at dinner. There were people indoors and outdoors. All the tables I could see from where we sat in the terrace, thankful for the shade of a large umbrella, were occupied. Our table faced a water feature on one side and a green lawn adjacent to the estate vineyards. Despite a mild chill in the air I saw more than one guest take advantage of the respite offered by stacks of sunhats on the edge of the water feature.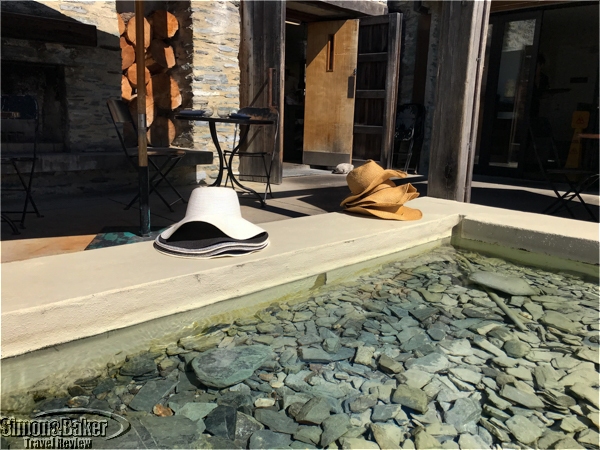 Guests took advantage of the respite offered by sunhats on the edge of the water feature.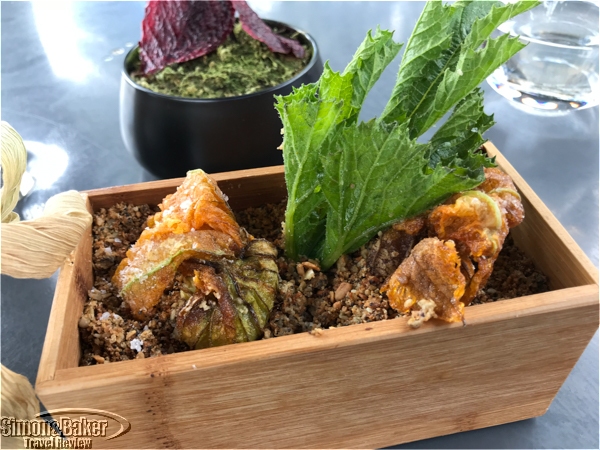 This dish included edible "soil"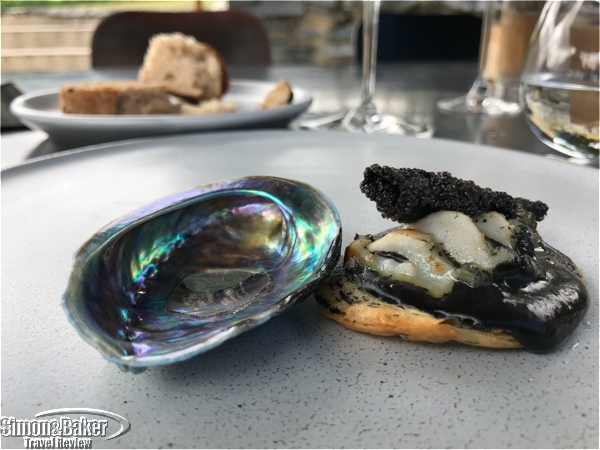 A shellfish delicacy
We both had the 5 Course Trust the Chef tasting menu with a partial wine pairing and a couple of extra bites sent from the kitchen: Zucchini flower Toasted corn; Amisfield Brut 2016, Amisfield breads; Tomato sandwich Amisfield Pinot Gris 2018; The paua pie, Amisfield Fume Blanc 2016; Kingfish, Horseradish, Cucumber, Amisfield Chenin Blanc 2018; Cardrona Valley lamb neck, garlic yoghurt, pea, umami, Amisfield Pinot Noir 2015; Grilled apricot souffle, lemon verbena. Several staff rotated at our table. Whenever a server brought a dish he or she listed the ingredients. Some staff were friendly although service was sluggish. Lunch was inventive, aesthetically oriented and satisfying.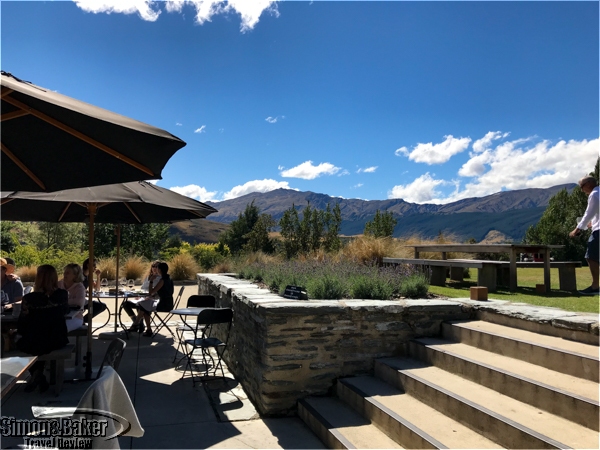 The terrace where we sat for lunch was popular
A view of the restaurant built with 1,500 tons of Glenorchy schist and railway sleepers
The two story building was constructed with 1,500 tons of Glenorchy schist and railway sleepers salvaged from a deconstructed bridge in Southland. Headed by Vaughan Mabee, executive chef, the restaurant offered seasonal dishes made from one hundred percent New Zealand ingredients. All meat on offer was grass fed, according to a restaurant spokesperson who responded to questions by email. I liked that the restaurant had an organic produce supplier. The staff only bought sustainable species of fish. Everything was made from fresh, never frozen, ingredients, and the only wines on offer were produced by Amisfield, according to the spokesperson. In 2013, Amisfield began an organic conversion, using as little intervention as possible. The winemaker produced two wines of the natural expression: Amisfield Burn Pinot Gris, an orange wine, and Amisfield Pétillant Naturel.