By Elena del Valle
Photos by Gary Cox and Elena del Valle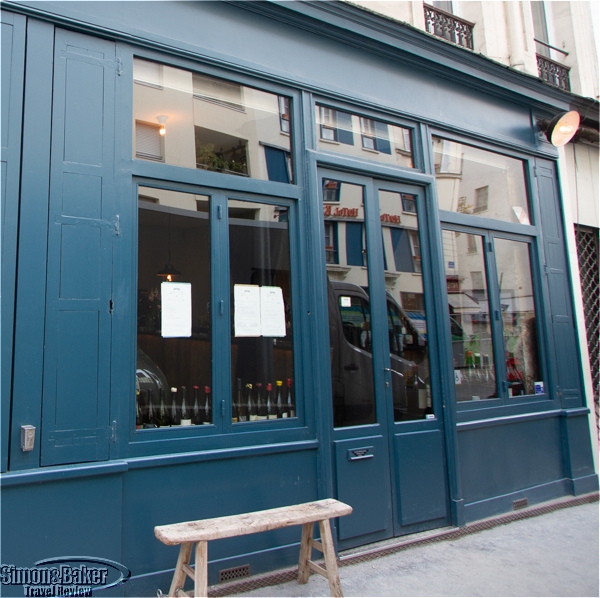 The Septime facade on rue de Charonne in the 11 arrondissement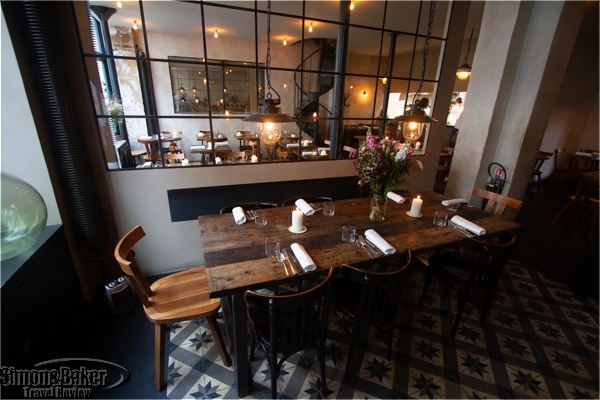 The restaurant was divided into three sections, entrance, main dining area and open kitchen.
Reserving a table at Septime (80, rue de Charonne, 75011 Paris, France, +33 01 43 67 38 29, www.septime-charonne.fr) was an adventurous act because we would only find out the menu at the moment it was served the day of the meal. The emphasis in the kitchen was on seasonal ingredients. Beside that all we knew when we booked our seats was the hour, number of courses and price. And getting there was not so much difficult as out of the well tread tourist circuit, well as much as any neighborhood in Paris, France is out of the tourist circuit.
The bar was the first area of the restaurant we saw once we entered.
We liked the young, hip vibe of the unpretentious venue with such an understated facade we almost missed it. Large glass windows allowed passersby a view of the interior, which quickly became crowded. All the tables, even the bar stools, were taken when we were first there. Septime could accommodate a maximum of 38 diners with a staff of 15. The interior of the 62 square meter restaurant was tidy and clean, the young staff welcoming. Glasses, silverware and rolled up cloth napkins sat atop bare wood tables. Lively music filled the air.
The dishes were visually appealing and well balanced.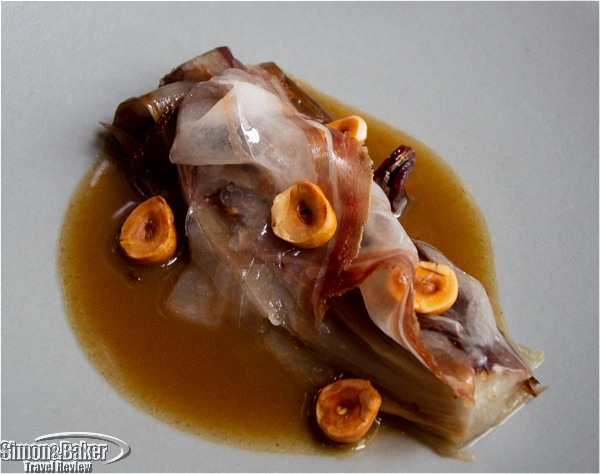 There were two surprise appetizers, two choices for the main course and a surprise dessert.
Natural light filled the dining room. It was toasty warm (we were there in the fall), making it possible to remove jackets and rain gear. The décor was polished and upscale yet urban contemporary. Perhaps because there was a high ceiling it felt spacious although it was full. The tables were close enough to hear neighbor's conversations without trying. Other features included bare light bulbs, spiral metal staircase (for staff only), unisex bathrooms with a single sink and wood chairs (after a while the lack of cushions made the seats uncomfortable). The dining audience skewed young, diverse and international. An open kitchen allowed us to observe the chefs at work without the cooking smells overwhelming us.
An open kitchen allowed us to observe the chefs at work
We appreciated that the staff offered a description of the ingredients in English.
The staff were friendly, well informed and helpful. Many were fluent in English, translating the menu and ingredients for us and other diners with ease. And the food? Delicious and outstanding value for money. We paid 42 euros per person per lunch menu, excluding beverages and gratuity.
Our four course menu was satisfying. There were two surprise appetizers, two choices for the main course and a surprise dessert. On our first lunch there was a choice of brill fish in lemon sauce with raw cabbage or young chicken with potatoes in coffee oil, meat juice. We also had raw scallops from Saint Malo, picked squash, squash seeds and black cardamom.
One of the most memorable items was a hodgepodge hot beverage option served in a see through glass container. The bartender made it using whatever fresh fruit was available. Although it was not included in the set menu many of our neighbors ordered it. One infusion was made with apple, yuzu, mandarin orange, thyme and coriander. Another was made with mandarin orange, apple, pear, and verbena and served. The resulting blend of flavors were subtle. On request it was served with honey.
Soon after we sat down our server brought crispy bread sticks with a foamy Gouda cheese dip. There was also crunchy country bread (without butter). Before long someone brought us chilled raw fish with vegetable shavings and celery oil dressing. We appreciated that the staff offered a description of the ingredients in English. The dish had a "clean" refreshing flavor. Warm beets served with black pig from Bigor, smoked lard, Greek Yogurt and mustard seeds was next. Hay infused (who knew you could use hay to infuse flavor?) red sweetbreads served with Paris mushrooms, carrots and shallots in a creamy sauce were next. It was sauteed just right, flavorful yet delicate at once. For dessert there was caramelized ice cream with apple mousseline, quince and fig leaf oil.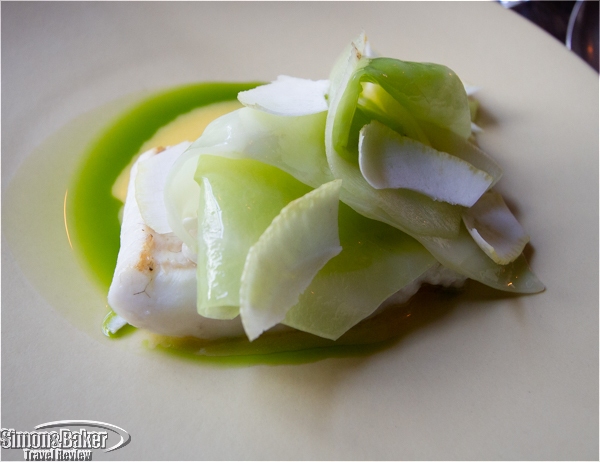 Chilled raw fish with vegetable shaving and celery oil dressing.
For dessert there was ice cream.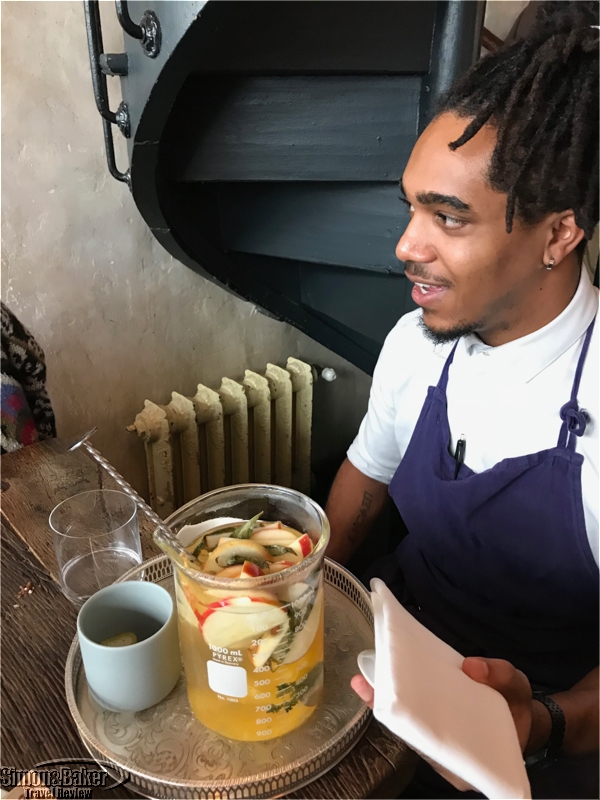 The bartender made a hot beverage with fresh fruit.
The restaurant opened in the spring of 2011 and was named as a tongue-in-cheek homage of the old-fashioned chef from the 1966 movie Le Grand Restaurant starring Louis de Funès. The owners strive to "keep a respectful distance from the all-French ways and means of classical fine dining – while honoring that heritage in our own way," according to promotional information provided by email by a restaurant representative. "Here at Septime, the sometimes uptight ceremony of  "Auteur cuisine" is brought to you with a spirit of lightness."
The restaurant was owned by Bertrand Grébaut, chef, and Theo Pourriat, sommelier. We later found out that 100 percent of ingredients used in the restaurant were French, organic, and fresh (never frozen). It was noteworthy that 98 percent of the 200 wines on offer were natural, including organic and biodynamic.