By Elena del Valle
Photos by Gary Cox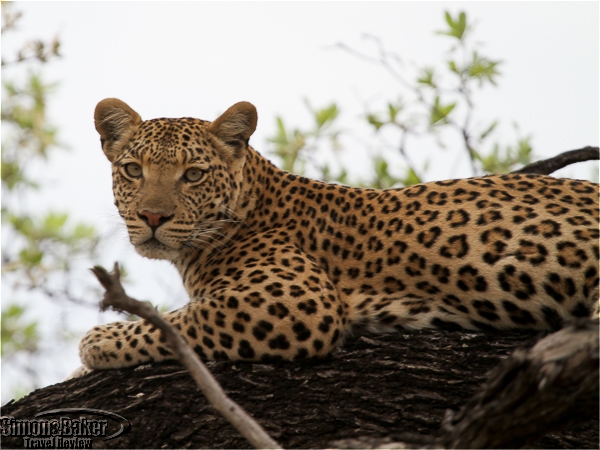 A leopard in a tree near Camp Moremi
On our most recent safari trip to Southern Africa we stayed at six Desert & Delta Safari properties, five in Botswana and one in the Caprivi Strip of Namibia. Traveling to properties within the same company offered advantages. The management similarities provided us an idea of what to expect before arriving at each subsequent property. For example, they all had eco-friendly policies; offered us moist refresher towels on arrival and when we returned from game drives as well as welcome back staff greetings when we returned from our activities; with only one exception, they all served buffet meals of similar styles at shared communal tables; the camps that depended on generators for electricity had battery operated lights for times when the generators were off at night; and most were run by a four-person management team, many of whom were friendly and helpful when asked.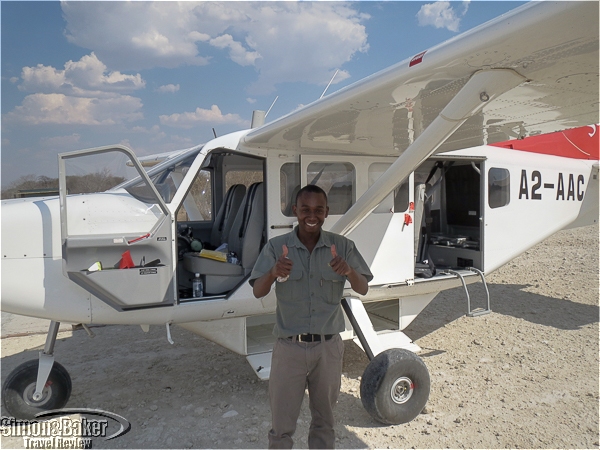 Our pilot bids us farewell after our arrival at Leroo La Tau from Maun to start the adventure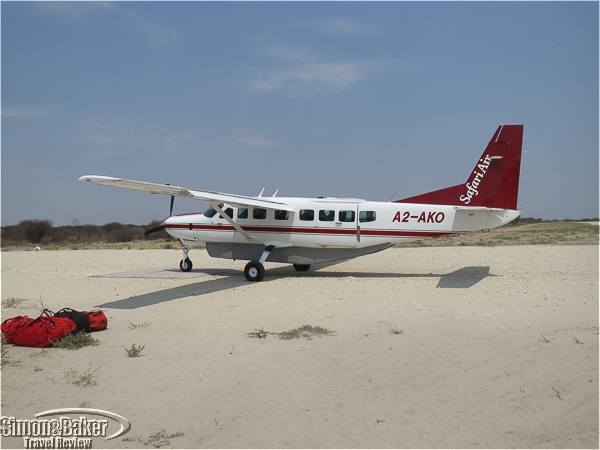 Safari Air had several comfortable Caravan aircraft
Another advantage of traveling to Desert & Delta Safaris properties was their shared charter air service. Since Chobe Holdings Limited owned Desert & Delta Safaris and Safari Air (Desert & Delta Safaris, Private bag 310, Maun, Botswana, +267 6861243, http://www.desertdelta.com, info@desertdelta.com), a non scheduled charter safari airline founded in 1992 and based out of Maun, they coordinated our transfers between the Desert & Delta Safaris properties and between our international arrival and departure airports. The company owned five GA8 Airvan, three Cessna Caravan and one Quest Kodiak. We appreciated the convenience of the well organized and on time service.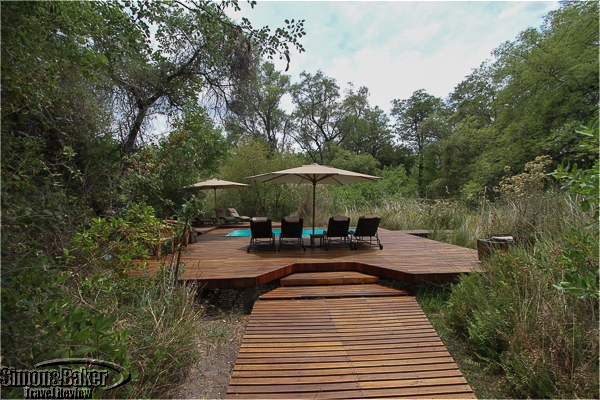 The heat drove many poolside in the afternoons
Our stay was hampered in part by a regional heat wave that stretched all the way to South Africa. Four of the six properties ran on generators. Because the rooms remained sealed most of the day they became over hot around the clock. More than once we or our fellow travelers became ill from the heat and dehydration. Thankfully, the game viewing vehicles had partial shade. In addition, wet face cloths and pool dips were helpful in reducing our body temperature.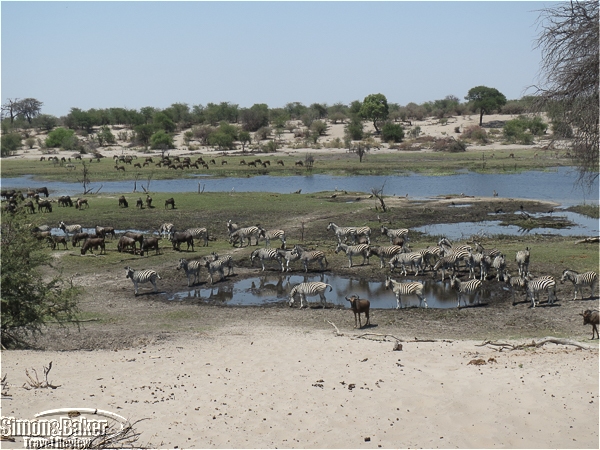 The wildlife was centered around the Boteti River banks near Leroo LaTau
Leroo LaTau, on the edge of the Makgadikgadi National Park, was our favorite for game viewing and views of the Boteti River from our rooms and the common areas. This was in part because Slade, our guide, was one of the most passionate and engaged of the guides we spent time with on that three country multi week itinerary. We enjoyed seeing a bit of the regional zebra migration and predators such as lions and wild dogs as well as brilliant sunsets over the shallow waters of the river.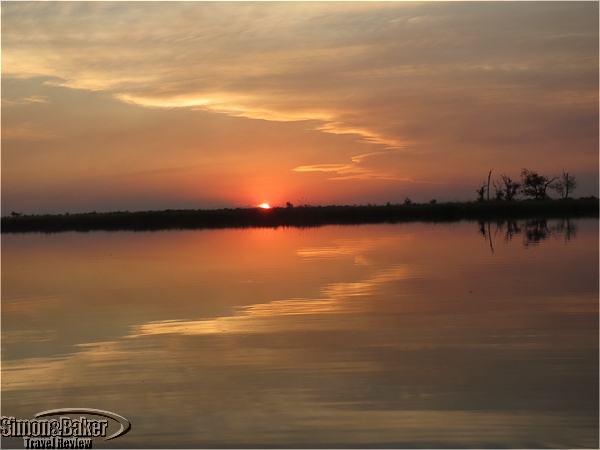 Sunset over the Okavango Delta
Time for a drink before dinner at Xugana Island Lodge
In Camp Moremi (see Tented camp offered good game viewing, creature comforts on edge of Okavango Delta) we liked the expansive views from the elevated deck. At Xugana Island Lodge, we delighted in the birding within the island, the sense of remoteness within the famous Okavango Delta, and pretty water setting as well as many boat outings and occasional hippo sightings. Savute Safari Lodge had the prettiest rooms and some of the tastiest and most abundant meals. We especially liked the views of the man made waterholes from the dining area and our tented rooms.
Breakfast at the Chobe Game Lodge with a view of the Chobe River
At the Chobe Savanna Lodge and Chobe Game Lodge, situated on opposite sides of the Chobe River and in separate countries, we were thankful for the air conditioned rooms. Although the border crossing from Botswana to Chobe Savanna Lodge on the Namibia side of the Chobe River was time consuming, hot and tedious we enjoyed the shady leisurely river rides on the pontoon boat. We particularly liked it when our boat was one of few on the river and we were alone with our local guide. The flat river water and quiet when the motor was off were particularly appealing. At the Chobe Game Lodge, we appreciated the three daily game viewing activities, and luxury amenities such as plated meals at private tables, in-room phones, WiFi internet access, work out room, spa room and its innovative electric safari vehicle.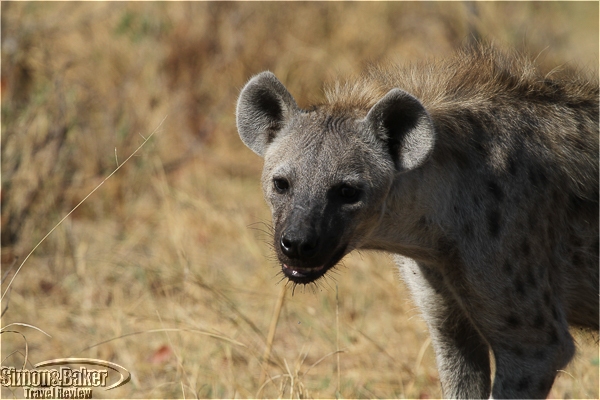 A hyena in the Chobe Game Reserve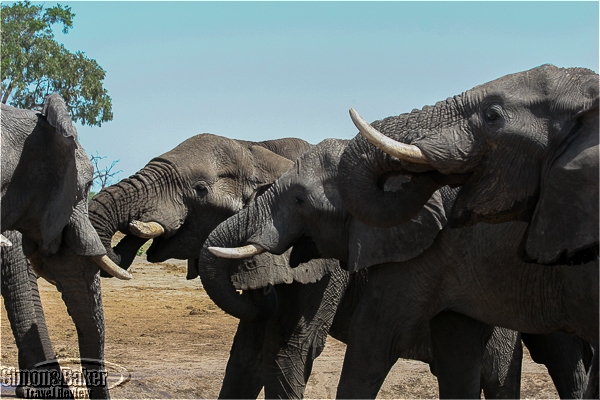 Elephants sharing a waterhole near Savute Safari Lodge in Chobe
Overall we had a fun trip and numerous bird and wildlife sightings of common species such as zebra, wildebeest, giraffe, impala, red lechwe (at Xugana), including elephant, buffalo, leopard and lion from the coveted Big Five. We saw beautiful birds, including the elusive paradise flycatchers, fish eagles multiple times, and particularly remember pairs of fish eagles relatively close to our boat at the Chobe Savanna Lodge. During the trip, we had extraordinary sightings such as wild dogs at Leroo La tau, crocodiles hunting, interactions between lions and elephants and numerous striking landscape and waterscape moments that will linger in our memories for years to come, and draw us back to Botswana and Africa in the future.