By Elena del Valle
Photos by Gary Cox
Camp Moremi, a luxury tented camp in Botswana, Southern Africa
Our greeting committee was a coalition of lions.
During a recent multi-country safari itinerary we spent three nights at Camp Moremi (Desert & Delta Safaris, Private bag 310, Maun, Botswana, +267 6861243 and +267 6861418, Fax +267 6861791, http://www.desertdelta.com, camp.moremi@dds.co.bw), a luxury tented camp within Botswana's Chobe Game Reserve in Southern Africa. To reach the property we flew on a small plane from Lerro LaTau, its sister Desert & Delta Safaris property on the Boteti River adjacent to the Makgadikgadi Pans. Our first impression driving from the landing strip through a mopane forest was of the vegetation and color contrast from the dry straw colored patches and scrawny plants of the Kalahari area to the south and the bushier greener area near camp.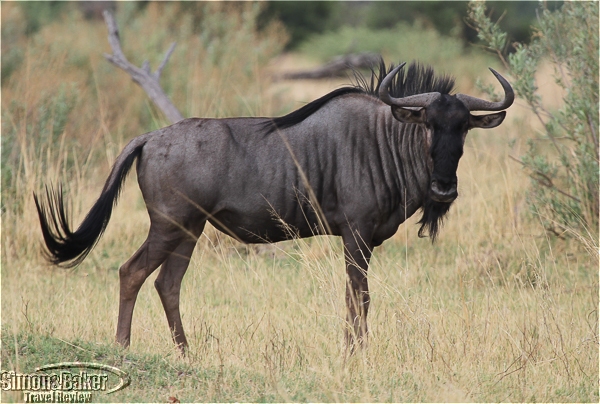 A wildebeest watched us briefly before running off into the bush
A wattled crane
Arriving at the camp's central lawn we heard the cacophony cries of dozens of Burchell's starlings calling in the midday heat in the tree canopy above us. The game viewing property overlooked the Xakanaka Lagoon to the west and the inland mopane forest and open grasslands to the east. During our twice daily game drives in the reserve on partly open vehicles we saw three of the Big Five and many birds, as well as a number of other fauna. Our guide also identified some flora. Since visits to the park were limited to daytime hours, in the mornings, we entered the park immediately after sunrise and in the afternoons we exited right before sunset. At night, we had to be escorted by a staff member from our tents to dinner and back in case we encountered animals within the camp.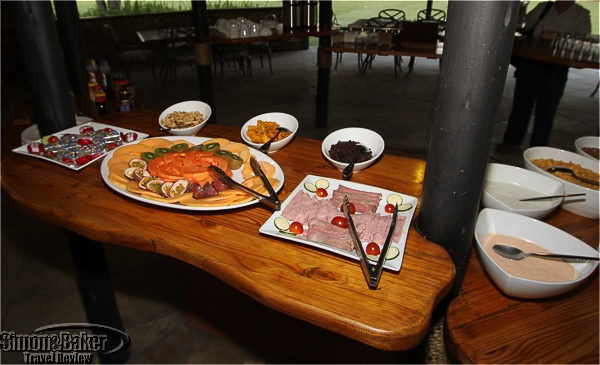 Our breakfast included a cold buffet.
Camp Moremi was established in 1984 and completely renovated in 2012. It had 12 luxury tents on a five hectare generator powered camp with 32 Setswana staff. Bruce Petty was the general manager. While we were there Thuso, Frank, Lydia, and Lettie shared management duties. The property, which had Ecotourism status from the Botswana Tourism Organisation, received a TripAdvisor 2015 Certificate of Excellence.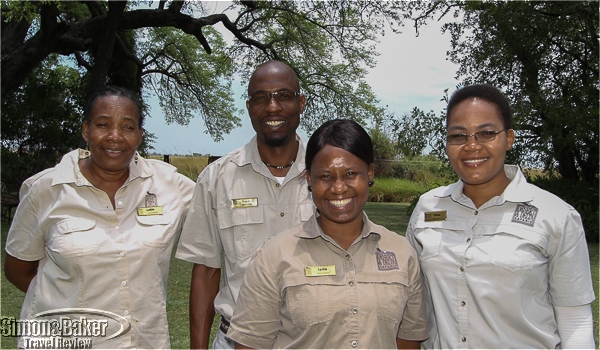 Thuso, Frank, Lydia, and Lettie managed Camp Moremi

Our accommodations consisted of 5 meter by 5 meter tents atop wood platforms set slightly above the bush. Each of our tents had four distinct areas: a spacious entry foyer with a writing desk and mirror; a bathroom with a walk in shower with hot and cold running water, and a flush toilet; a bedroom; and a covered bush facing deck.
The entry sitting space with mirror, desk and chair.
At a previous Desert and Delta Safaris property the staff provided a metal container for each of us to fill up with bottled water from a common area cooler. This method was designed to cut back on the number of plastic bottles discarded. Because of the high temperatures (reaching 45 Celsius while we were there) the water in that container heated up soon after filling it up. Our ice buckets were replenished once a day in the morning, but the ice melted within minutes. Refilling our bottles also required queuing up at the single water cooler when everyone was preparing for departure and time was limited. The water chilled from the cooler became warm within minutes. Also, carrying the bottles from our rooms to refill them in the main building was inconvenient, especially during the rest period between activities when it was hot and uncomfortable everywhere and we sought water to lower our body temperature and became thirsty. Although we liked the conservation minded concept behind the refillable non thermos metallic bottles, in practice the idea did not work well at all.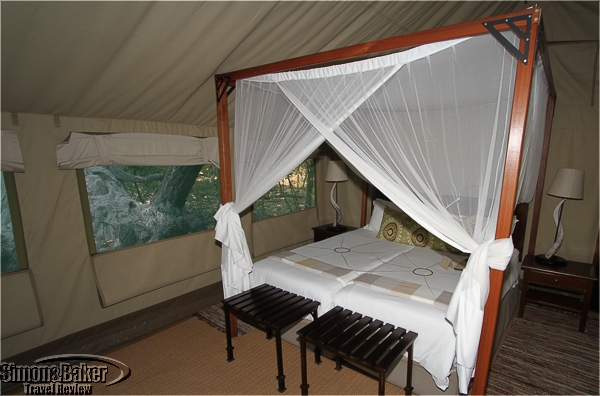 At night, the staff spread mosquito netting around the two single beds set next to each.
The bathroom in the tent had a bush view.
Meals and game drives were included in the nightly rates. Tent amenities included: two cotton bathrobes, Charlotte Rhys Refillable toiletries (conditioning shampoo, shower gel and body lotion), two umbrellas, insect repellent, insect spray, flashlight, and shower caps. There was no soap (only shower gel). There was a dining area with a bar and a library corner that included a popular computer for guest use with a very slow (1 megabyte, 1-100 kilobytes per second) connection, a curio shop, an elevated viewing deck facing the lagoon, and an outdoor pool.
Our best leopard sighting in Botswana
During our summer visit, the 1.5 meter deep plunge pool deck was the most comfortable place in the property in the middle hours of the day between brunch and tea time. The pool area had eight cushioned lounge chairs with rolled up towels on every chair and two large umbrellas. The pool floor was slick, requiring care to avoid slipping. There was also a cooler with bottled beverages although it had no ice so the beverages were almost at ambient temperature.
The pool was the place to find relief from the blistering heat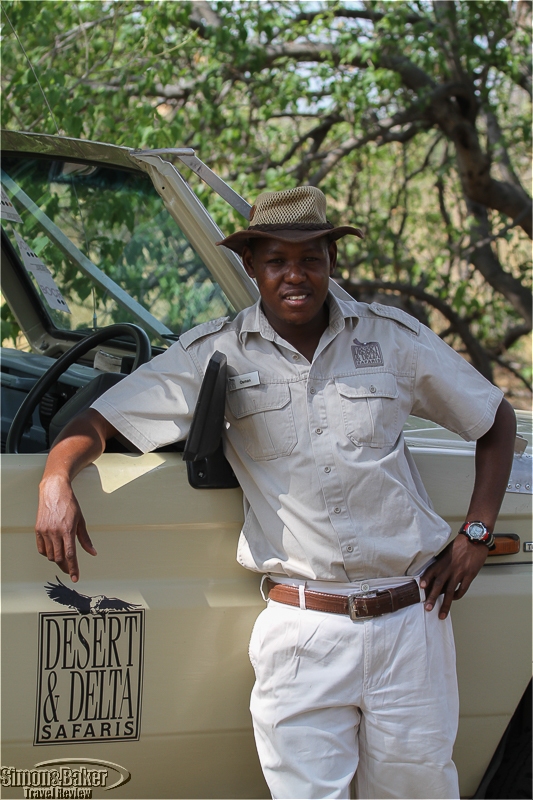 Our guide Osman in front of our safari vehicle
Our very bumpy game drives were aboard a canvas topped Toyota Landcruiser with three rows that could accommodate two passengers in each of the front rows and three in the rear row. Osman, our Setswana guide, had three years of experience. In his company we saw Kalahari apple-leaf, baobab, jackal-berry, leadwood, marula, sausage trees, blue water lily flowers and papyrus as well as baboon, bushbuck, elephants, giraffe, hippopotamus, brown hyena, lechwe, leopard, lion, banded mongoose, Selous mongoose, vervet monkey, reedbuck, sitatunga, South African ground squirrel, tsessebe, waterbuck warthog, wildebeest, and zebra. We also saw Nile crocodile, Nile monitor and Okavango hinged terrapin. He pointed out hippo tracks and mole rat holes.
A mother lion and her cub
The entrance to our tents was lit at night.
Birds we saw or heard included: arrow-marked babbler, black-collared barbet, crested barbet, bateleur, Southern carmine bee-eater, swamp boubou, reed cormorant, wattled crane, African darter, fork-tailed drongo, white-faced duck, yellow-billed duck, cattle egret, great egret, little egret, slaty egret, African fish-eagle, go-away-bird, Egyptian goose, spur-winged goose, Southern ground-hornbill, grey heron, purple heron, squacco heron, red-billed hoopoe, African hoopoe, African grey hornbill, red-billed hornbill, glossy hornbill, pied kingfisher, woodland kingfisher, yellow-billed kite, blacksmith lapwing, crowned lapwing, Meyer's parrot, Kittlitz's plover, broad-billed roller, brown snake-eagle, red-billed spurfowl, Burchell's starling, Cape glossy starling, black-winged stilt, African stonechat, saddle-billed stork, yellow-billed stork, barn swallow, water thick-knee, hammerkop, wattled crane and golden-tailed woodpecker.