Article and photos by Elena del Valle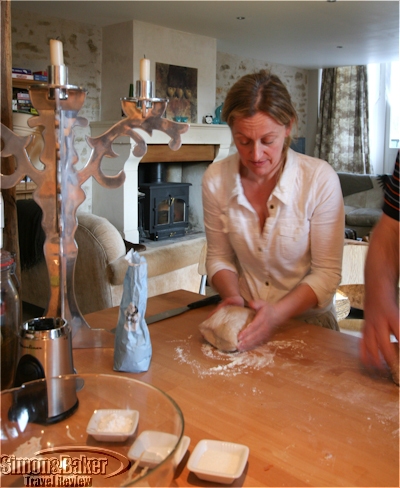 Katherine in class
In late April, I traveled to Burgundy, France for a six-night introductory cooking and culinary small group program with some behind-the-scenes features. Included in the English language program were comfortable and modern accommodations with daily room cleaning, meals, cooking demonstrations, transportation and activities with English speaking guides (a service tip was suggested though not required). As part of the program six of us shared Frelon's Fabulous France, a five bedroom two-story recently renovated house with a working fireplace, complimentary WiFi connectivity, a private swimming pool and two enclosed courtyards (because of the cold that week the pool remained covered and the courtyards empty of guests).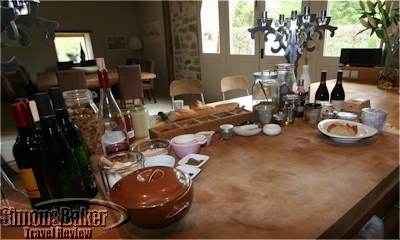 Prime space at the kitchen counter
The house, formerly used as horse stables, had been lovingly renovated by the owners, Katherine and Yannick Frelon, over an intensive 18 month period. The culinary program was led by Katherine, an English cook, and a group of her associates from the same country. It consisted of her cooking demonstrations with some hands on cooking opportunities for those so inclined, daily culinary or wine related excursions, and three non home cooked meals (one a la carte cafe lunch and two set menu gourmet restaurant meals, one lunch and one dinner).
Katherine and Yannick in the kitchen
The house itself, especially the kitchen, was well appointed, spacious and comfortable. Located in Marigny Le Cahouet, a pretty and quiet country village fronting a brook and the famed Burgundy Canal, it provided a placid setting in spite of a rain filled week. The upside of the weather were the uncrowded Dijon market and tourist attractions we visited.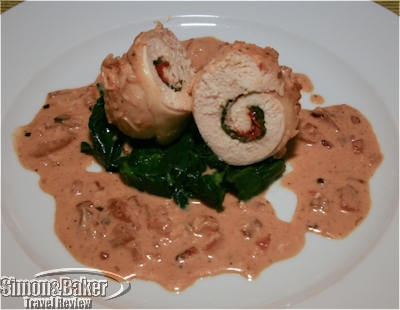 One of Katherine's many dishes
Katherine, a part-time river barge and freelance cook who had lived in France for many years, dedicated time on four days to cooking demonstrations which resulted in lunch buffets and plated dinners for our group. The meals were prepared from regional fresh ingredients (some from her garden) by her, while we watched and sometimes participated, from her own recipes which she provided in a 72-page printed spiral bound handout on our arrival. Her cooking style, she explained when I asked at the conclusion of the week, is "seasonal, local, fresh and inspired" with recipes designed to translate to cooking students homes on their return to their country of residence.
Our first activity was a wine tasting
At the beginning of the week, we were provided with a final itinerary without times or activity duration. Katherine would inform us of times and durations just before the activities on a daily basis or by leaving a printed card atop the kitchen counter. We ate most meals in the house dining room on the ground floor. Breakfast and lunch were self service buffet style and dinner was prepared and plated in the kitchen and served by Katherine or an assistant at the dinner table. Meal times varied depending on the day's activities. A continental breakfast (hot beverages, self squeezed orange juice, bread, deli meats, cheeses, fresh fruit, yogurt, cold cereal, honey and jams) was usually available an hour or less before departure; lunch was usually served between 1 p.m. and 2:30 p.m. Dinner, usually after 8 p.m., lasted two or more hours.
Katherine demonstrated a cooking technique in class
Our days, spent mostly in each other's company and with Katherine or a guide, were busier than I had anticipated. From breakfast through the end of dinner the majority of our waking hours were taken up by cooking demonstrations, scheduled activities or meals. That week I was reminded that spending time in close quarters with strangers with varied cultural and social backgrounds may be challenging. At times some of the attitudes and behaviors of other guests, particularly those who seemed to monopolize the conversation, complain and make unsolicited and unwelcome critical remarks, were grating and more than once spoiled the moment.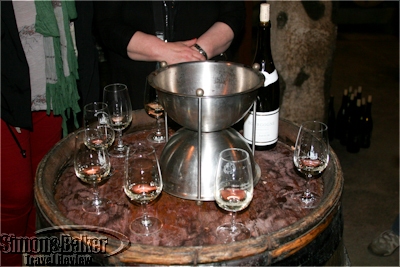 There were several wine tasting opportunities
During the week, there were two wine activities with different guides and visits with tastings to three small family owned wine makers. My favorite experiences by far were the introduction to Burgundy wines by Nancy, a knowledgeable Englishwoman with a ready smile, the first afternoon; and the behind the scenes visit and wine tasting at a Flavigny winery also in her company.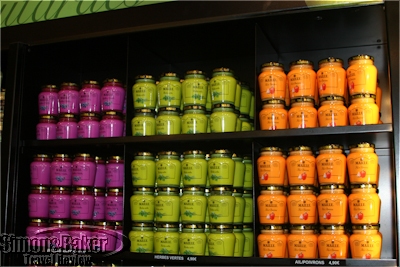 A stop at the Maille mustard shop in Dijon was included
There was a kitchen side cooking demonstration with guest participation at a gourmet restaurant, a visit to Dijon focusing on a market experience and cafe break, a mustard shop stop, a croissant making demonstration by the village baker in the house, and a chocolate shop visit with complimentary hot cocoa and a couple of bite size samples.
Ingredients for a recipe
On our last full day we went to two wine tastings. We also stopped in Beaune for a light lunch at a central cafe, an optional 30-minute visit with our wine guide to the Hospice de Beaune, a historic building and popular tourist attraction, and an hour at leisure for shopping enthusiasts (most of the shops were closed for 30 minutes of that time).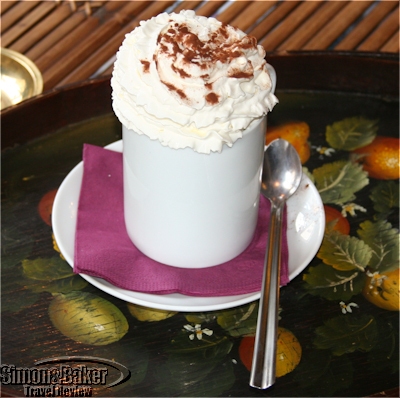 Hot cocoa at the Comptoir des Colonies near the Dijon market
The day after our arrival we drove to a gourmet restaurant in a pretty vineyard setting for a cooking demonstration with the chef followed by a kitchen-side lunch (not a favorite). Unfortunately the chef was in Singapore so the demonstration was conducted in English by one of his staff cooks, a personable Asian woman. Some of the ingredients were unavailable, she informed us at the beginning of the class and had to be substituted in the recipe. Although she tried several times she was unable to demonstrate the foam technique that was central to the recipe; instead of foam the device, when pressed, delivered liquid.
A visit of a cobble stoned street town
Our much anticipated final gourmet meal was at a highly rated restaurant about 30 minutes from the house. On our arrival we were greeted, in charming French accented English, by the owner. Although the restaurant dining room where we were seated faced a lovely garden, our corner table was near the rear of the room rather than the window and my seat faced the wall. A flute of champagne unexpectedly flavored with pear and laurel and a warm cheese pastry amouse bouche distracted me from my initial disappointment of the view. The highlight of the set dinner menu with two house wines was a raw shrimp appetizer and a well cooked river fish. The pigeon was well prepared and presented. I especially liked the tiny but savory thighbone.
Bubbly was on offer in the afternoons
Following dessert the restaurant manager graciously invited us to the kitchen to meet the chef. While we enjoyed hot beverages in a lounge at the dining room entrance we were presented with a copy each of our menu with photos taken during our brief kitchen visit on the front cover as a memento of the night's dinner, the closing activity for the week. By midnight we were back at the house and I was busy preparing for my early morning departure to catch the only daily train to the Charles de Gaulle Airport at the nearby Montbard station, a 20-minute drive from the house.
Cassoulet, one of my favorite dishes that week
I would recommend La Ferme de la Lochere (6 Rue de la Lochere, 21150 Marigny Le Cahouet, France, +33 672 86 5609, http://lafermedelalochere.com, katherine.frelon@lafermedelalochere.com) Burgundy culinary program to friends and acquaintances seeking an introduction to culinary Burgundy, related cooking demonstrations and behind-the-scenes activities with an English cook and team, in particular to groups wishing to book the program exclusively or to rent the house.