By Elena del Valle
Photos by Gary Cox
Copper color lamps hung above the bar counter
We first patronized Gorgeous by Graham Beck soon after its opening during a stay at Steenberg hotel in Constantia in the outskirts of Cape Town, South Africa. Before dinner at Catharina's, the hotel restaurant located in the same building as Gorgeous, we stopped by to see what all the fuss was about and sample for ourselves some of the tapas and Graham Beck bubbly on offer. When we arrived a handful of guests were scattered in the cozy corners of the Method Cap Classique bar with room for 25 guests. As bubbly aficionados we thoroughly enjoyed our flight and canape tasting and plan to return at the first opportunity.
Our server, Zelda Pretorius
Zelda Pretorius, our server, was welcoming and knowledgeable. She explained, with hard to conceal enthusiasm, the varieties of sparkling wine on offer, all from producer Graham Beck who owned the Steenberg Estate including Gorgeous. Options included vintage and non vintage wines by the glass (125 milliliters or 50 milliliters for tasting menu items) priced between 40 rand and 85 rand per person and by the bottle ranging between 200 rand and 500 rand for each bottle.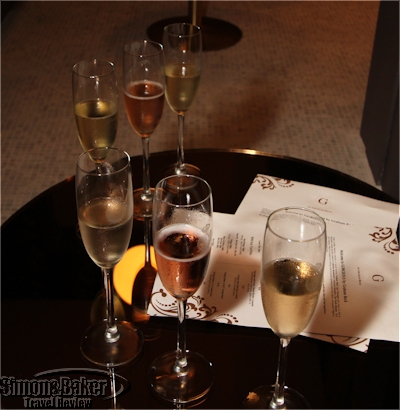 A tasting selection of Graham Beck sparkling wines
Aging in the rack of the pinot noir and chardonnay wines ranged between 18 months and 36 months except for the Cuvee Clive 2005, named for Graham Beck's son and our favorite after a through tasting of seven wines, which had aged five years. The Blanc de Blanc was 100 percent chardonnay, Zelda explained. The Brut Zero was 85 percent chardonnay and 15 pinot noir. In terms of sweetness, there were marked differences between the wines. For example, there were 38 grams of sugar per liter in the Demi and only 2.4 grams of sugar in the Brut Zero; there were 12 grams in the Brut Rose 2009, 8 grams in the Blanc de Blanc and non vintage offerings.
The sparkling wine was expertly served
Bubbly tasting options were by the glass or by the flight. The flight options offered three wines each for non vintage (Brut NV, Brut Rose NV, and Bliss NV) and vintage (Blanc de Blancs 2008, Brut Rose 2009, Brut Zero 2005), and two for rose (Brut Rose NV and Brut Rose 2009). We sampled two flights and a glass of Cuvee Clive 2005.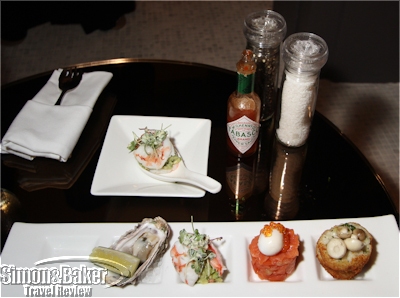 A selection of canapes rounded out the tasting
To accompany our tasting we sampled a platter of five canape appetizers from Catharina's kitchen next door. It came with bite size morsels of mushroom and rice, salmon trout and salmon roe, quail egg, oyster and tiger prawn with avocado.
The Gorgeous bubbly bar
While we awaited the arrival of our order I glanced around curious to observe details of the built-in sections and bar seating that made up the bubbly bar. It was decorated in muted metallic colors with a refined yet youthful designer tone. The bar counter was made of marble by Green Way Interiors and the floor had marble mosaic tiles by Kenzan Tiles. Wallpapered walls, copper color lamps hanging above the bar counter and module division lent depth to the space. Gorgeous by Graham Beck, 10802 Steenberg Estate, Tokai Road, Tokai 7945, +27 21 713 7177, www.gorgeousbygrahambeck.com, info@gorgeousbygrahambeck.co.za