Article by Elena del Valle
Photos by Gary Cox
The One&Only hotel in Cape Town
We arrived by train in Cape Town at the end of the day on a Sunday. After we had finalized our itinerary we discovered the hotel we planned to spend the first night at was miles away from the city and to reach it we had to drive through an area under construction. Rather than drive unfamiliar roads under construction at night we opted to stay in the city. From among several choices, including two new five star properties, we chose the luxurious 131-room One & Only at the touristy and familiar V & A Waterfront area for our first night in the city.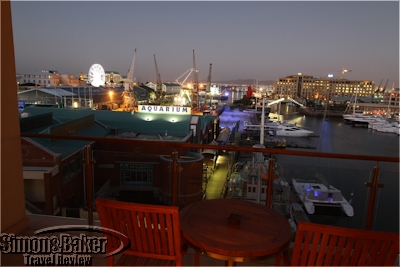 Looking out at the Waterfront from the room
We arrived a bit flustered because our rental car GPS didn't list the hotel or accept its address and we missed the discreet sign of the One&Only as we drove by the building. On our second drive by we found the hotel. As soon as we entered the parking area a uniformed attendant, Charles, welcomed us and took charge of the rental car and luggage. Moments later, Kyle was guiding us through our check in process. We were greeted with a hot towel and soft drinks.
The large bathroom featured tub and shower
We were required to sign a registration form with a disclaimer that indicated the hotel was not responsible for guest property in the room and the hotel required a 1,500 rand reserve on each of our credit cards. No other property we had stayed at in South Africa or elsewhere had required we agree to such a disclaimer or required a signed credit card reserve. At my request my reserve was reversed on our departure the following day. Written confirmation of the reversal required  two hours, the young man at reception explained.
There were welcome amenities in our rooms
After we completed our check in Kyle kindly pointed out the main areas of the property and escorted us to our neighboring marina facing rooms (320 and 321). At my request our dinner reservations at Reuben's (+27 21 431 4511), the hotel's informal restaurant named for Reuben Riffel, a well known South African chef, were moved back 30 minutes to allow us time to freshen up and settle in our rooms.
Sleeping and sitting areas in the spacious room
We liked that the pretty and spacious rooms shared an entrance foyer that could be closed (but not locked from the staff) with a hallway door for added privacy. After a few minutes we resolved, with the help of the hotel staff, a connectivity issue and went online. A few moments exploring my room revealed spotless, well appointed and air conditioned (the in-room materials explained that room temperature controls would be shut down while guests were out of the room) accommodations with two balconies, a large one with furniture one facing the neighboring Two Oceans Aquarium and the marina, and a smaller one facing the hotel spa and Table Mountain in the background. My travel partner's room had one balcony facing the Aquarium.
The flavorful Chalmar steak at Reubens
Dessert at Reubens
At Reuben's, Dorothy welcomed us warmly and led us to our table for the night. The spacious two-story tall restaurant with a built-in three-level glass and steel wine storage wall housing 5,000 bottles and 600 references at the entrance and an open kitchen design was moderately busy. The highlight of dinner was my Chalmar rib eye steak, recommended by Lawrence Chiambah, our attentive waiter from Cameroon, when I asked about signature dishes.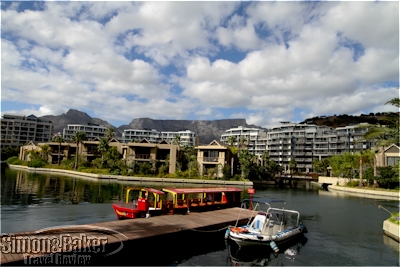 The water taxi just outside the hotel
With dinner behind us the excitement and fatigue of the day caught up with us. I longed for a steamy bath in my stand alone oval bathtub but settled for some time online and the speedy hot shower since we had an early breakfast followed by a spa morning. My room was blessedly quiet and the crisp linen beckoned me. I slept well on the comfortable bed. Due to our brief stay we had little time to enjoy our many room amenities and hotel facilities. Although I managed to take a swim in the pool before leaving there was no time for a work out.
We had a pleasant overnight stay at the service oriented hotel. Highlights included a pleasant (if loud) dinner at Reuben's the night of our arrival, an ample and tempting buffet breakfast at the same venue the following morning and several indulging treatments each at the two-story One & Only Spa. Overall we were happy with our decision to relocate to a city hotel and with our choice of property, the One&Only Cape Town (Victoria & Alfred Waterfront, +27 21 431 5888, 1 888 877 7528, within the United States, +1 954 809 2751, outside the United States, http://oneandonlycapetown.com, reservations@oneandonlycapetown.com).