By Elena del Valle
Photos by Gary Cox
The entrance to BistroSixteen82 was inside the Steenberg wine tasting area
During a recent stay at the Steenberg hotel in Constantia, a verdant wine growing suburb of Cape Town, South Africa we had a good informal dining experience at BistroSixteen82. Catharina's, the hotel's main dining restaurant, was closed Saturday night so we had an early dinner (to accommodate to the eatery's hours of operation) at the bistro.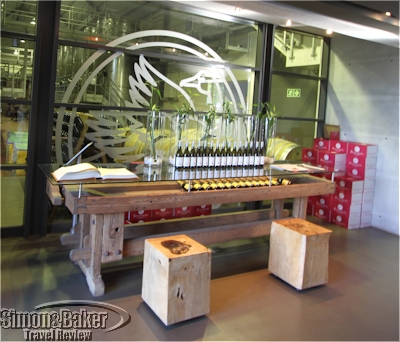 The tasting area had a view into the wine production facility
Although the bistro was on the Steenberg property it was a long walk and the punishing summer heat could still be felt so we climbed aboard the hotel's air conditioned courtesy van and within five minutes we had circled around from the reception building to the wine tasting and BistroSixteen82 building, built after our previous stay.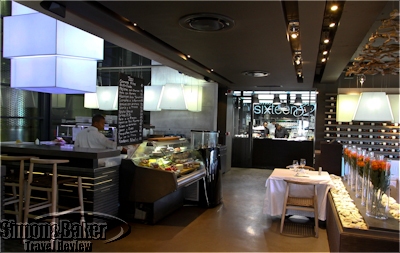 The kitchen and deli areas were at the entrance to the bistro
The bistro and wine tasting area shared a common entrance and both looked out onto an inviting sunny terrace and lawn with water features. While activity in the tasting section was decreasing the restaurant, full of local families and many children, was loud and active. We were supposed to have a wine tasting first but a scheduling error meant it was too late for a tasting. After the tasting area staff explained the situation we made our way to the bistro.
Natalie reviewed the menu with us
We hesitated in approaching the young man at the entrance since we were early for our reservation and it was evident the restaurant was busy. Somehow he managed to find us a table and a few minutes later we were happily contemplating options from the chalkboard menu. Although service was very relaxed Natalie, our server, was friendly and knew the menu well. Her suggestions were helpful.
Deli Platter
Steak Tataki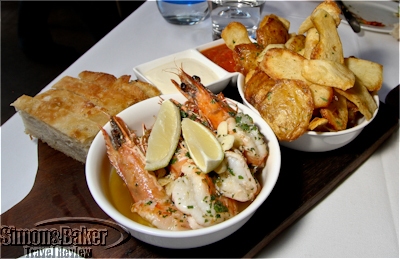 Grilled Gambas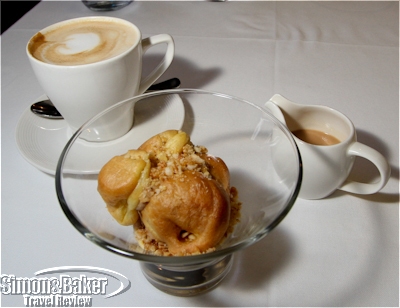 We had profiteroles with a praline base and caramel sauce
We ordered and enjoyed: Bistro dinner Deli Platter with olives, caperberries, assorted local deli meats, small salad, gherkins and bread slices; Grilled Gambas (prawns); Steak Tataki which was delicious with an Asian touch; Papas Bravas served with mayonnaise and pasta sauce; and profiteroles with a praline base and caramel sauce. We washed the meal down with a glass of house wine, Catharina and Nebbiolo. Next time we stay at the Steenberg or in the Constantia area we would gladly return to BistroSixteen82, 10802 Steenberg Estate, Tokai Road, Tokai 7945, +27 21 713 22 11, www.steenberghotel.com/dine/bistro-sixteen82, reservations@bistro1682.co.za.