By Elena del Valle
Photos by Gary Cox
The tapas board
During our visit to the Constantia wine producing area on the outskirts of Cape Town, South Africa earlier this year we dined at La Colombe, a popular gourmet restaurant for many years. Its reputation preceded it. Securing a table on a Saturday night required advance planning before arriving in South Africa. The restaurant was located within the well known Constantia Uitsig Wine Estate. Although it was only a short drive away from our accommodations we made our way there thanks to our hotel's courtesy transport so we wouldn't need to drive and find our way back across the dark and unfamiliar roads following a lengthy tasting menu with wine pairing meal.
Johan, the restaurant manager and Faye, our server
When we arrived the well lit interior of the restaurant revealed a near full dining room. Johan, the restaurant manager, greeted us and moments later we were seated in a corner indoor table in the middle section of the restaurant. There were outdoor tables in a courtyard adjacent to a water feature on the other side of a set of sliding glass doors next to my seat. The staff used those doors for ingress and egress to that part of the restaurant and at times the movement was distracting.
The menu board
After introducing herself our server brought the daily a la carte menu which was written on a black board. The eight course Tasting Menu with wine, with a cost of 850 rand (it was available for 625 rand without wine), we had was presented in a printout sheet.
King crab with apple and crisp kataifi
After ensuring we were settled down with a glass of sparkling Constantia Uitsig wine and pre-appetizers and taking our order Faye, our server, returned to her other tables while we took time to observe our surroundings. From where I sat on an armless chair (less than comfortable) I could see part of the kitchen which was adjacent to the entrance area dining room. The restaurant appeared to be divided into three main areas: the entrance dining room, the central dining room where we were, and a courtyard dining area next to ours. The restaurant's understated décor with earth tones was the first thing I noticed. I had the impression that we were sharing dining space with the many other guests in someone's former home. Background music and kitchen sounds, reminiscent of an urban eatery (a bit too loud for conversation or romance), filled the air.
Salmon carpaccio and tartare
Our tapas of caramelized onion tart with foie gras, Thai seafood veloute, and beef carpaccio with mushroom gnocchi sat atop a wood board. There were three types of bread to temp us, sun dried tomato, French and seeded multigrain. Butter, balsamic vinegar and Willow Creek Virgin Olive Oil were available to accompany our bread.
Quail and foie gras
Our first dinner dishes consisted of Alaskan king crab, apple, cucumber, red onion and pickled ginger, kalamansi veil, lime dressing and crisp kataifi served with 2011 Constantia Uitsig Sauvignon Blanc. Next, there was a salmon Carpaccio and tartare, pickled shitake, avocado, red onion, ginger, yuzu, sesame foam, salsa verde and nori puffs served with 2010 Mellasat White Pinotage from Paarl. Ballontine of quail and foie gras, poached figs, fig dressing, hazelnut chocolate truffle and toasted brioche served with 2011 Cederberg Bukkentraube was next. There were too many flavors for us to enjoy the delicate foie gras taste. Then, there was a salty and crunchy dish of Scallops and confit pork belly, smoked parsnip puree, black forest ham veloute, crisp pork crackling, and lemon and pea dressing served with 2010 Sequillo White Blend from Swartland. A palate cleanser of Pineapple granite, Malibu jelly, and Piña Colada foam followed (a favorite).
Scallops and pork belly
Pan fried springbok topped with foie gras on wilted baby spinach, roasted garlic, shimiji mushrooms, potato fondant and truffle jus served with 2009 Eikendal Charisma from Stellenbosch was next. It was followed by a cheese dish of Pecorino crème Catalan, red onion and port jelly and caraway biscuits. Dessert of Smoked chocolate torte, hazelnut semifreddo, cognac marshmallow, coffee meringue, tobacco caramel served with non vintage Signal Hill Empereur Rouge Natural Sweet wine from Paarl completed the meal.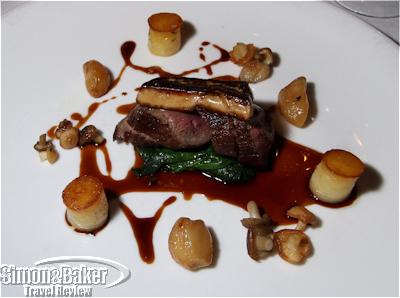 Pan fried springbok with foie gras
Staff were attentive. When a hapless fly dropped in my glass of wine our server replaced the glass with a fresh one. When guests stepped away from their table a staff member folded their napkins. Wines were served well and with care.
Executive Chef  Scot Kirton
At the end of the meal, when things quieted down, we had a chance to meet Scot Kirton, the friendly executive chef who took over the kitchens in 2010. Our Tasting Menu was generous in the number of courses and rich in flavors and variety of ingredients (sometimes to the detriment of a dish). Some of the tables had rose petals strewn about indicating the occupants were celebrating a special occasion. The sold out restaurant evidently remained a popular choice. La Colombe, Constantia Uitsig, Spaanschemat River Road, Constantia, Cape Town, http://www.constantia-uitsig.com/pages/restaurants/la-colombe.php, lacolombe@uitsig.co.za