By Elena del Valle
Photos by Gary Cox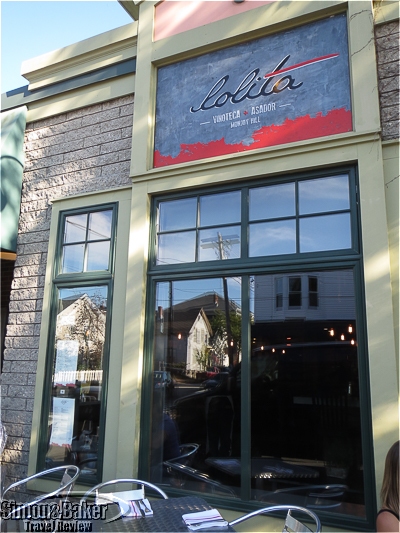 The exterior of Lolita Vinoteca + Asador
Lolita Vinoteca + Asador (90 Congress Street, Portland, Maine 04101, +1 207-775-5652, http://www.lolita-portland.com/, info@lolita-portland.com), a few blocks past the Portland Observatory on one of Portland's main streets, was easy to find. Maine's coastal city had many dining choices from exotic to exclusively local. Lolita, established by Guy (executive chef) and Stella Hernandez and Neil Reiter was the only Spanish themed tapas eatery with a wood fired oven we came across. The 900 square foot eatery with a staff of 12, table seating for 20, and space for 10 at the bar opened its doors in June 2014.
Guy and Stella Hernandez
The menu, described as "American cuisine, guided by Mediterranean and old-world traditions," featured small plates and plates to share with specialty dishes from the wood-fired grill and meats from the eatery's antique prosciutto slicer.
Bread, honey and Consider Bardwell cheese
Prior to Lolita, Guy and Stella owned and operated Bar Lola for seven years. Lolita is a reference to that previous establishment in that the Asador where we had lunch was smaller and less structured than Bar Lola had been. Vinoteca, or wine facility in Spanish, referred to Stella's wine and beverage background. There was a list of 75 wines featuring classic wine regions and varietals, as well as unique selections from around the world. Plans were in place for an extensive by-the-glass program with full, half-glass and flights options. Asador, referring to an establishment that features food cooked over an open fire in Spanish, highlighted the custom grill in the open kitchen.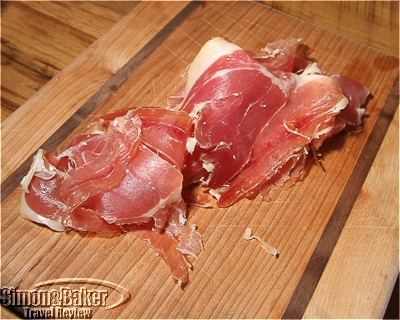 A serving of thinly sliced Serrano ham
Before entering the restaurant industry, Guy held a number of teaching positions in architectural design and technical drawing. In 2006, before opening Bar Lola, Guy was a baker at the One Fifty Ate Bakeshop in South Portland, and assisted with the launch of Scratch Baking.
Stella, general manager and beverage director at Lolita, had more than a decade of experience in the hospitality industry. Prior to working at Lolita, she held the same positions for Bar Lola. She was a member of the Guild of Sommeliers and was taking Court of Master Sommeliers education courses. Stella and Guy were the owners of Hilltop Coffee, nearby.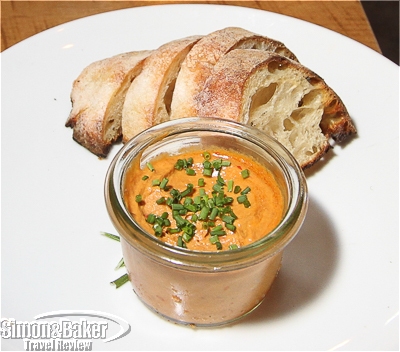 The Sardine Rillette pot with bread
Neil's passion for the restaurant industry grew out of his experience as a silent partner in several successful New York City restaurants and clubs. Previous entrepreneurial experiences included founding and being president of Reiter Marketing Group, Inc., and R & J Partners, LLC.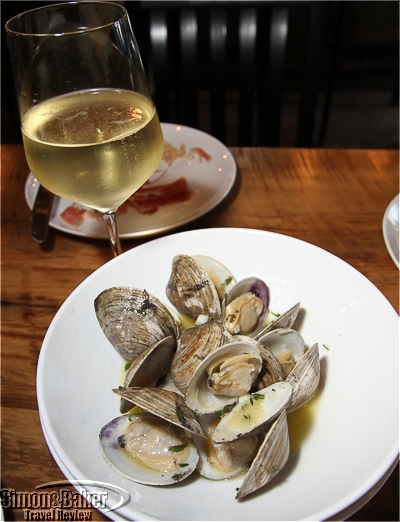 Our order of Wood Roasted Clams
We liked the casual contemporary decor with post industrial features, as well as the friendly and well informed, if slow paced, service. Mostly we enjoyed the food. We sampled a variety of the dishes: Thinly sliced Serrano ham from La Alberca, Spain; the day's special short rib panino; Consider Bardwell, a West Pawlet, Vermont cheese; local Wood Roasted Clams (a favorite); Spicy Sardine Rillette, served in a pot with roasted slices of bread; Grilled Romaine served with Tarragon Vinaigrette and Pecorino cheese shavings (a favorite); and a homemade Apple Tarte Fine for two. We washed it down with a glass of cava and a pale ale.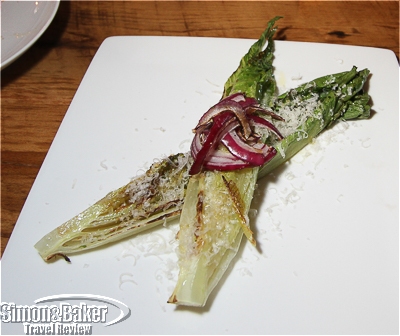 The Grilled Romaine
One of the staff making Grilled Romaine in the Asador
Our only complaint? Parking was difficult to find in the residential neighborhood of Munjoy Hill. It took us ten or more minutes of circling around the eatery to locate a parking space two blocks away where we hoped our car would be safe from the tow trucks announced on many city signs.