Article and photos by Josette King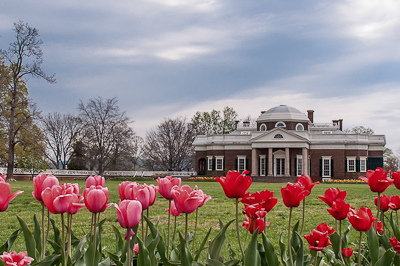 The rear of Monticello overlooked vast expanses of lawns and flower borders
This was my first visit to Charlottesville, Virginia, a small historic city with a big reputation. I admit I approached it with a degree of skepticism. Everyone I knew who had ever visited had come back smitten and daydreaming about settling there. Surely, no place could be that idyllic? Charlottesville was.
Montpelier offered stunning views of the Blue Ridge Mountains
Although a mere 115 miles (185 kilometers) from Washington, D.C. and 70 miles (110 kilometers) from Richmond, this small Central Virginia city nestled in the picturesque rural foothills of the Blue Ridge Mountains had, in spite of its popularity, retained the charm and tranquil pace of earlier times. Its once Main Street was now the Downtown Mall, an eight block tree shaded pedestrian walkway lined with restored historic buildings. There, antique shops, art galleries and all manner of fashion boutiques mingled with café terraces, restaurants, pubs and several movie and live performance theaters. A favorite spot for tourists as well as local people had a Freedom of Expression Wall where passersby could pen (in chalk) what was on their mind, which I was told included the occasional marriage proposal. The wall was erased each night to give others an opportunity to have their say.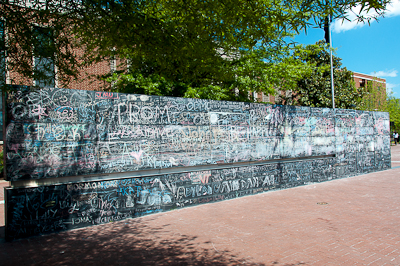 Passersby were welcome to scroll their thoughts on the Freedom of Expression Wall
Charlottesville has conserved to this day the enduring mark imparted upon it two centuries ago by its most illustrious citizen, Thomas Jefferson. In addition to his Monticello home, he founded and designed the University of Virginia. Both of the neoclassical (or Jeffersonian style) masterpieces are now UNESCO World Heritage Sites. Today, Monticello attracts half a million visitors annually and the University of Virginia, with its yearly enrollment of over 23,000 students, contributes significantly to the cultural vitality of the area.
Jefferson also made a significant impact on the landscape of the area, albeit posthumously, when he attempted to establish vineyards on land adjoining Monticello, only to have his efforts thwarted by the start of the Revolutionary War in 1774. In the latter part of the 20 century, a handful of determined growers were inspired to revisit his vision to develop the Central Virginia vineyards.
The tasting room at Jefferson Vineyards Winery
Today, Virginia has over 2,000 acres (810 hectares) of vineyards, half of them around Charlottesville. Almost 30 of the wineries form the Monticello Wine Trail and welcome visitors in their tasting rooms. A well mapped itinerary took me along some of the loveliest back roads of the greater Charlottesville area. One of the oldest, Jefferson Vineyards, was within a stone's throw of Monticello, on the very land where Jefferson made his own wine growing attempt.
In addition to Thomas Jefferson, the Charlottesville area was also home to two more of America's Founding Fathers, James Monroe and James Madison. All three became President of the United States and their respective homes Monticello, Ash Lawn Highland and Montpelier were open to tourists. I combined their visit, in an itinerary known as the Presidents Trail, with that of nearby wineries. Along the way, I soon discovered that the bucolic setting had drawn a large number of talented artists and craftspeople, whose studios and galleries made for an enjoyable visit as well.
Glass artist Cara DiMassimo with some of her recent creations
With its charming rural environment, rich history, vibrant artistic life, inviting vintage downtown, wineries and more than a few notable restaurants to boot, I could see how Charlottesville could be an enjoyable place to live. It was an exceptional place to visit.