By Elena del Valle
Photos courtesy of Underworld Adventures*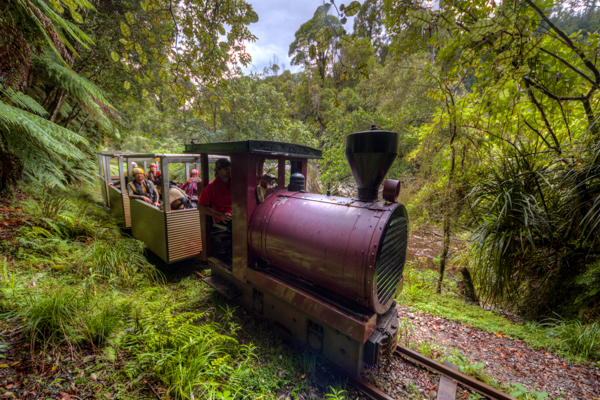 We rode a small train for two kilometers to reach the Metro Cave in the Paparoa National Park in the South Island, New Zealand.
I had been looking forward with a bit of trepidation to Underworld Rafting, a hiking, glowworm viewing and river rafting experience in the Metro Cave Te Ananui Cave of the South Island of New Zealand since Veronika Vermeulen, owner of Aroha New Zealand Tours Ltd. (539C Key Road, RD1, Kinleith, Tokoroa 3491, New Zealand, +64-21-890 611, https://www.arohatours.co.nz/, info@arohatours.co.nz) and my guide in New Zealand, recommended it for inclusion in my custom itinerary. She said if I was open to new experiences and able to hike a short distance in the heat of summer I would like it. I trusted her judgement and agreed to go. When the day arrived I applied liberal amounts of insect repellent to protect me from the New Zealand sandflies as well as sunblock and set aside any concerns. I was glad I did because it was outstanding.
From start to finish the four hour soft adventure within the 430 square kilometer Paparoa National Park in the West Coast was far more fun (and at times more challenging) than I had expected. Following a short drive from Birds Ferry Lodge and Ferry Mans Cottage, where I was staying near Westport, Veronika and I arrived at Underworld Adventures (State Highway 6, Charleston 7892, West Coast, South Island, New Zealand, +64 3 7888 168, www.caverafting.com, contact@caverafting.com) in the late morning.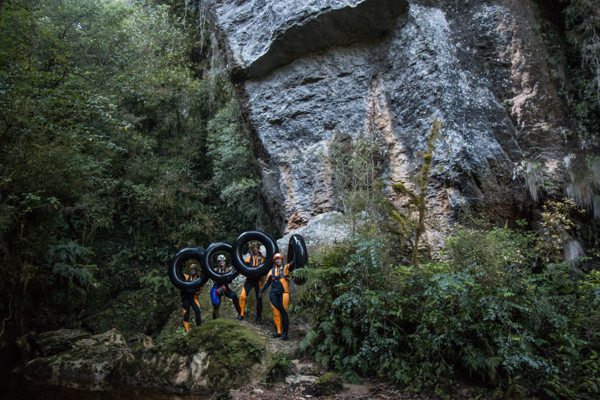 Wearing wet suits we hiked 131 steps to the cave entrance carrying a tube like the ones in the photo.
Mira Schwill, co-manager with Ray Moroney, greeted Veronika warmly. Following introductions we sat at a table in the Underworld Adventures and Café, a sunlit space with a towering ceiling that was the home of Underworld Adventures, to complete our sign-in on a digital tablet. Minutes later we descended to the lower level of the building, where we changed into wet suits and met Peter, our guide. The staff handed each of us a helmet with a light. Although Veronika and I were on private tour with Peter we had to make our way to the cave and back with a tour group. We saw them in the changing area, but they spoke no English and kept their distance when we greeted them. While we waited for the tour group to join us Peter, an energetic and enthusiastic young man who liked to surf as a hobby, outlined our activities and easily answered all my questions.
Once everyone was ready we climbed aboard a weathered van with a small European family. The tour group went on a second van. Ten minutes later most of us boarded a small train with two engines, one gas and another diesel. I later learned the engines, called Dorothy and Cecil, had been built for the company in 2002.
We covered two kilometers with the train. Its leisurely pace allowed me to admire the rain forest vegetation along our path. From the platform we walked about one kilometer along a well marked uneven path to the cave entrance. On the way we picked up large tubes, which while lightweight (they weighed between two and a half and three kilos) were awkward to balance while walking on the slippery ground. This was especially true in the steep last section of 131 steps to the cave entrance and inside.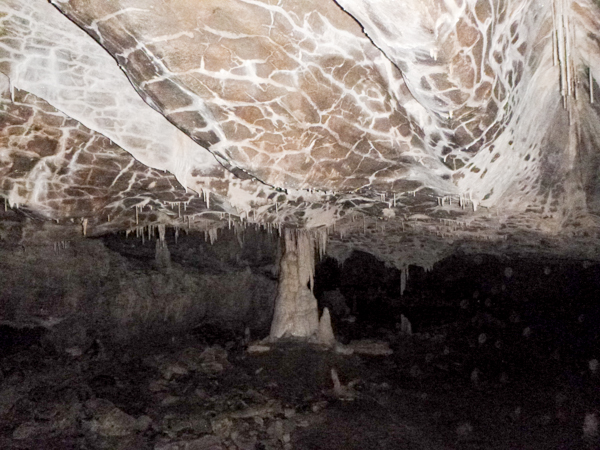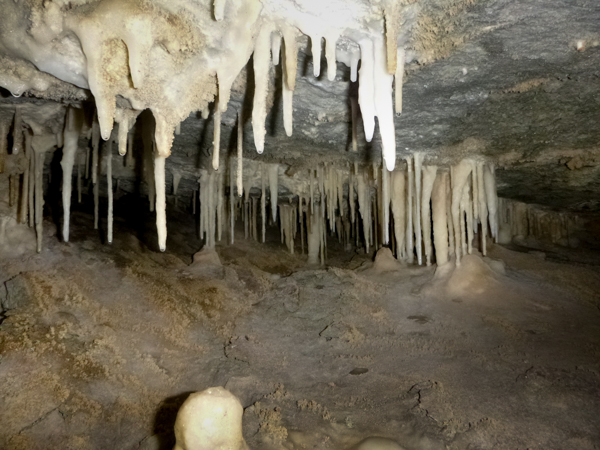 Some of the thousands of stalactites and stalagmites we saw that day
While it had been too warm to zip our wet suits on the way up during the walk inside the cave we could see our breaths in the light of our helmets. It was the only light within the cave. Although I was glad for protection the helmet provided my head It fit loosely and shifted around constantly. We only walked one and a half kilometers of the nine kilometers of the cave. It was slow going due to the low light, pebble strewn uneven surface of the path, shifting helmet, varying height of the cave ceiling and tubes we carried. More than once we were forced to crouch down, while negotiating our balance with the large tube in tow and the helmet moving to an fro.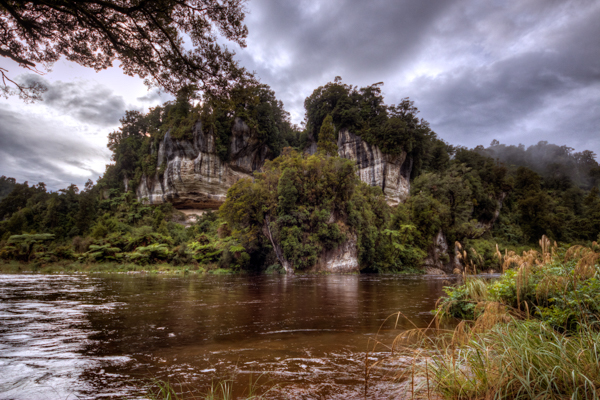 When we exited the cave we floated on our tubes along the Waitakere Nile River.
Inside the cave it was silent and filled in places with thousands of stalactites and stalagmites. There was no sign of the tour group. Peter showed us the cave formations and told us about the man who had discovered the cave. In the serenity of the cave it was as if we were the only ones there like the man who first discovered them carrying matches to break the deep darkness of the unknown within.
Peter watched our slow progress, describing the noteworthy sections of the cave, and offering assistance in particularly tricky segments. After a while I heard the soft sound of moving water. It was almost disappointing because I knew we would soon depart the wondrous world of the cave.
Glowworms in the cave ceiling in the Paparoa National Park in the South Island, New Zealand
But, the glowworms stole the show. We lay atop our tubes, turning off our lights and staring up at the ceiling, which moments earlier had appeared bare. As my eyes adjusted to the dark I began to notice pale worm shapes a few feet above us. When we turned the lights back on I examined the arachnids with interest. From there we walked to the water's edge and climbed aboard our tubes, making our way past thousands more of the glowing creatures. It was unexpectedly moving.
Sun filtered through thick greenery where we floated out of the cave in our tubes.
Peter, our guide, and Charlie, who guided the tour group
I was thankful for the wet suit, which kept the chill of the water from cooling me down too fast. The sound of water grew louder and before long we were back in the early afternoon sunshine. The hot sun felt good. I was glad I had sunblock. Around us the river was clean, the water clear as I ran webbed mittens, too large for my hands, in an inefficient yet effortful attempt at steering over the rapids. Peter reminded us to take care as the current carried us one kilometer down the small rapids to our exit point. I was tired and smiling when I walked out with my tube in hand, glad I had followed Veronika's advice.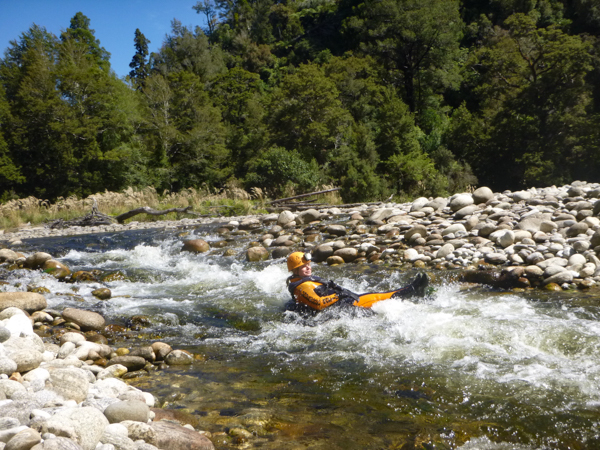 ]
Veronika on her way down the small rapids
Our guide had received company training and worked as a guide for three seasons. Underworld Adventures, established in 1987, was owned by Geoff Schurr, Ray Moroney, Stue Berendt, and Graham Howard. It employed nine staff during the off season and fourteen during the high season.
I would recommend Underworld Rafting to my friends who are steady on their feet (there were numerous places were it would have been easy to twist an ankle or loose my footing) while carrying a three kilo tube and a helmet on their heads and in good health. Emergency aid inside the cave could take one to two hours to arrive. Having shared space with a stand offish group during part of the tour I particularly appreciated that mine had been a private tour.
At the conclusion of the tour Underworld Adventures made the photos from that day available for download free of charge. They also provided me with two small printed souvenir photos in an Underworld Rafting sleeve.
*Because I wore a wet suit and didn't have a waterproof camera I left my camera at the cottage. Additionally, an uneven path and low light conditions in the cave meant special equipment and extra time were necessary for publication worthy photos. Our guide took photos with company equipment during our adventure. The folks at Underworld Adventures kindly allowed us to publish them here along with other photos taken on other dates.