Photos by Gary Cox and Elena del Valle
Despite the subtropical heat the sisters were surprisingly relaxed.
We recently spent a few precious minutes inside an enclosure with Lura and Malee, two female clouded leopard (nebulosa) cubs at Panther Ridge Conservation Center (2341 D Rd Loxahatchee Groves, Florida 33470, +1 561-795-8914, www.pantherridge.org) in Florida. A warning about how sharp their teeth were did little to dampen out enthusiasm once we had caught sight of the junior cats through the chain link fence of their enclosure. Lura, seven months old, and Malee, five months old, looked healthy and were full of energy, mock stalking each other and jumping with ease from one side to another. Despite the heat the sisters were surprisingly relaxed, allowing us to watch them and take photos as they played. Their brother was unable to join us because he was recovering from an injury.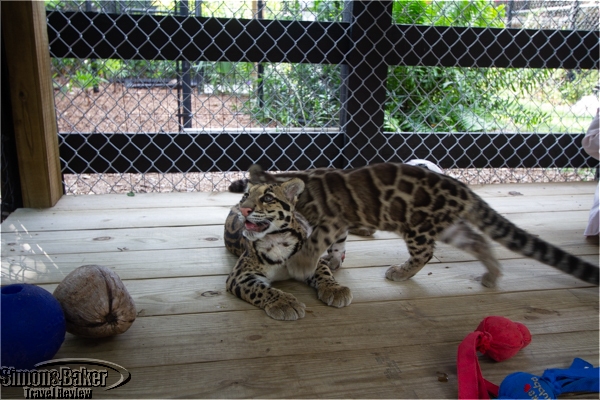 Lura and Malee played while we watched.
Clouded leopards are beautiful and like so many species may be in danger of disappearing in the future. According to CloudedLeopard.org, a Washington State nonprofit (per its website), in 2014 there were only 166 clouded leopards in zoos in the world, including 37 of them in the United States.
Sadie Ryan, head keeper and facilities manager, holding one of the cubs in her lap
To raise funds for its residents and increase feline awareness Panther Ridge offered tours by appointment and private time with the clouded leopards. Special thanks to Sadie Ryan, head keeper and facilities manager, and Barbie Jetter, assistant director, who welcomed our photographers at their center during an especially busy period. The staff and animals were in the midst of a cumbersome move from Wellington to Loxahatchee in Palm Beach County.
Barbie and one of the cubs
According to the International Union for Conservation of Nature Red List (IUCN), clouded leopards are Vulnerable. The Swiss based membership organization defines the term as "facing a high risk of extinction in the wild." Although exact numbers seem elusive one website estimated only 10,000 of them remain in the wild.
According to the IUCN Red List clouded leopards are Vulnerable.
Panther Ridge is a 501(c)(3) nonprofit dedicated to combining "feline husbandry with conservation awareness to educate the public on wild felines."