By Elena del Valle
Photos by Gary Cox
Dunedin mural on a wall
A skip and a jump (25 miles west) from Tampa, Florida we found Dunedin (Done-ee-den), a 28.2 square mile town with a population of just over 35,000 people. It had the unexpected small town feel of another place and time with unique shops and restaurants, picnic movies on the lawn on Friday nights, and a host of special events year round. The weekend we visited there were two street events, the American Classic Car Show Dunedin and Brewery Oktobeerfest.
The beginning of Main Street in Dunedin
The stage downtown hosted family movie night while we were there
The downtown core, half mile long, was six blocks of 15 restaurants and 53 shops on Main Street. The most salient feature on Main Street was the absence of block chain stores, restaurants and franchises. We stayed at the lovingly maintained Meranova Guest Inn and dined at The Black Pearl fine dining restaurant, both in the popular downtown section. Although 60 percent of the downtown buildings date back to circa 1900, construction peppered Main Street, promising fast approaching growth.
Decorated dolphins dotted Main Street
Bon Appetit restaurant faces the water at the end of main street
"Dunedin is very proud of the fact that 100 percent of the down town businesses are Mom and Pop owned," said Bob Ironsmith, director, Economic and Housing Development, City of Dunedin. "This is the very reason that Dunedin maintains the quaint charming life style enjoyed by residents and guests."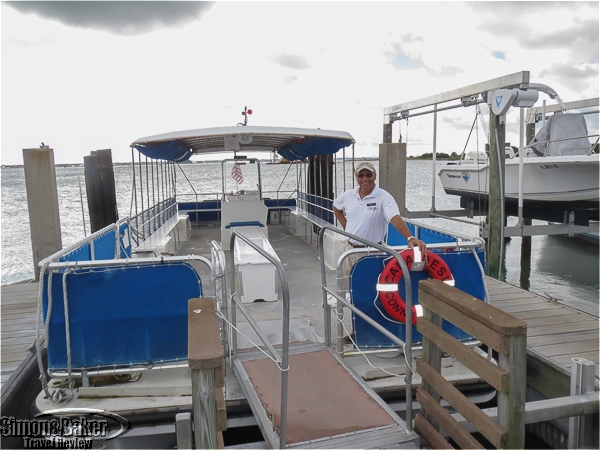 Once an hour boats ran from Honeymoon Island to Caladesi Island and back
A walkway to the beach
The beach in Caladesi State Park
More than half of the Pinellas County town, 17.8 square miles, is water and 10.4 square miles is land. Dunedin's most celebrated ecotourism attractions were Caladesi Island State Park, a popular beach destination, and the undeveloped Honeymoon Island State Park, the state's most visited park, offering bird watching, walking, biking and kayaking opportunities to residents and visitors. We visited both. It was necessary to take a boat from Honeymoon Island to Caladesi Island.
Inactive Osprey nests were visible all over Honeymoon Island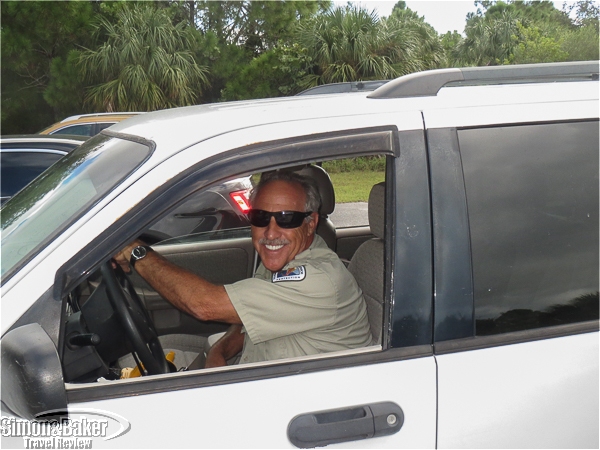 Peter H. Krulder, park manager, Honeymoon Island Administration, showed us around the island
Honeymoon Island averaged between 20 and 25 osprey nests and one eagle nest a year. Caladesi Island often had a few osprey nests and great horned owls a year. Domestic animals on a six foot hand held leash were welcome in the parks and only on one small section of the beach. They were not allowed in food service areas. Access to Caladesi Island was via two 45 foot long boats, one per hour, which took 20 minutes from Honeymoon Island to Caladesi Island.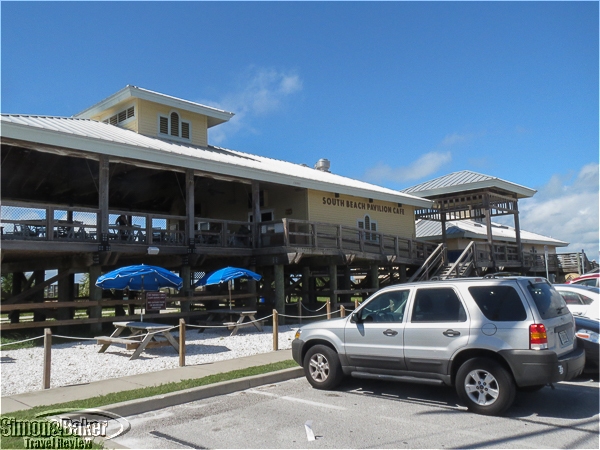 We had lunch at the South Beach Pavilion Cafe on Honeymoon Island
The view from the pavilion
Honeymoon Island had four and a half miles of beach accessible to land visitors, 1,300 acres of uplands and 1,500 submerged acres. Caladesi Island had three miles of beach accessible to land visitors. Each island had hiking trails three mile long. It was no wonder the island parks were popular. More than one million people visit Honeymoon Island annually and 300,000 visit Caladesi Island. The parks are looked after by 12 fields staff and five administrative staff at Honeymoon Island plus five field staff at Caladesi Island.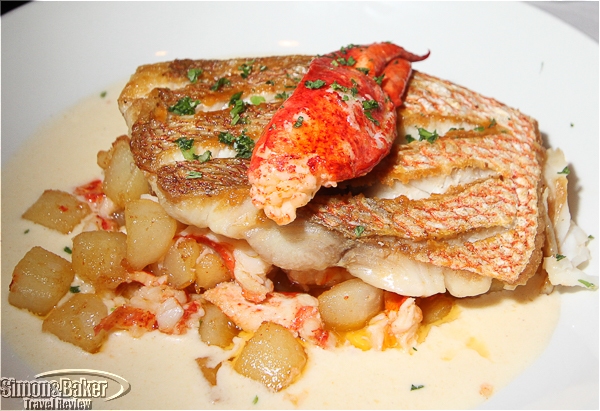 We liked the fresh fish and a view of the ocean from the cafe
Although the surf was too choppy to swim it was fun walking around and exploring the long Caladesi Island beach. On our return from Caladesi Island a fresh fish lunch with a view of the beach on Honeymoon Island from the deck of the South Beach Pavilion Cafe (1 Causeway Boulevard, Dunedin, Florida 34698, https://www.romantichoneymoonisland.com/, +1 727 260-5503) was a treat. We enjoyed our visit to Dunedin (http://www.dunedingov.com) Main Street and both islands and would return for an event oriented or relaxing weekend getaway.