By Elena del Valle
Photos by Gary Cox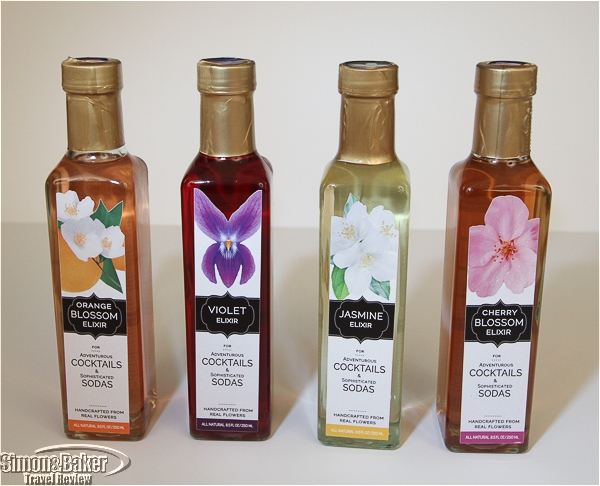 Four of the newest floral drink mixer flavors: Orange Blossom, Violet, Jasmine, and Cherry Blossom
While I find a glass of refreshing spring water to be one of the pleasures of life, over the years I have met many people, including some visitors to my home, who don't like the taste of water. To address their taste preferences in the past I used to stock up on sodas, juices and other flavored beverages until I discovered floral drink mixers. They offer a way to add natural flavors and a hit of sweetness to water (each serving has 9 grams of sugar), sparkling water, sparkling wine, champagne and any other beverage in need of a pick me up.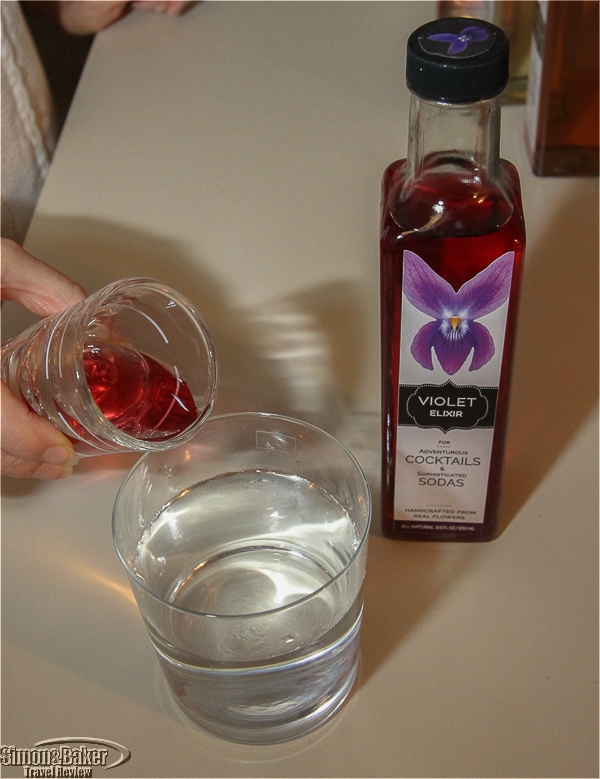 A serving of Violet Elixir added a sweet floral flavor to spring water
The Floral Elixir Company (2100 W 7th Street, Cleveland, Ohio, 44113, +1216-385-0292, www.floralelixir.com, nora@floralelixir.com) offers 13 all natural floral drink mixers: Rose, Lavender, Tropical Orchid, Hibiscus, Elderflower, Cherry Blossom, Orange Blossom, Rose Hip, Juniper Berry, Jasmine, Violet, Prickly Pear, and Lemon Verbena. We liked all the ones we sampled.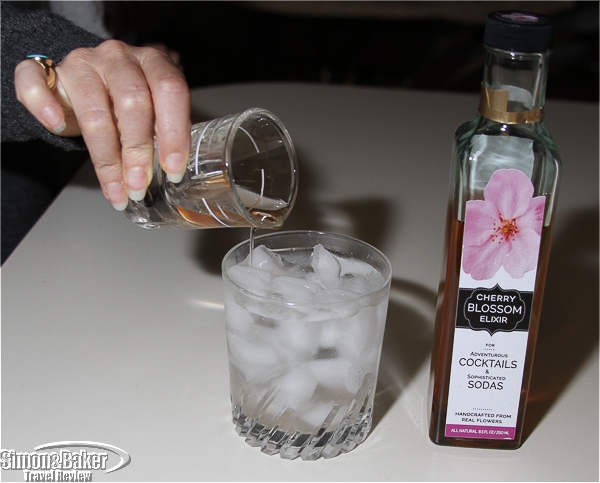 Cherry Blossom Elixir with water on the rocks
I love the Tropical Orchid with brut sparkling wine (see Flower and fruit liquid infusions add flavor, sparkle to special occasions). From the eight new flavors, I sampled Cherry Blossom, Orange Blossom, Jasmine, and Violet. Jasmine was my favorite with brut sparkling wine. I liked them all with water. Next, I plan to try them with iced tea.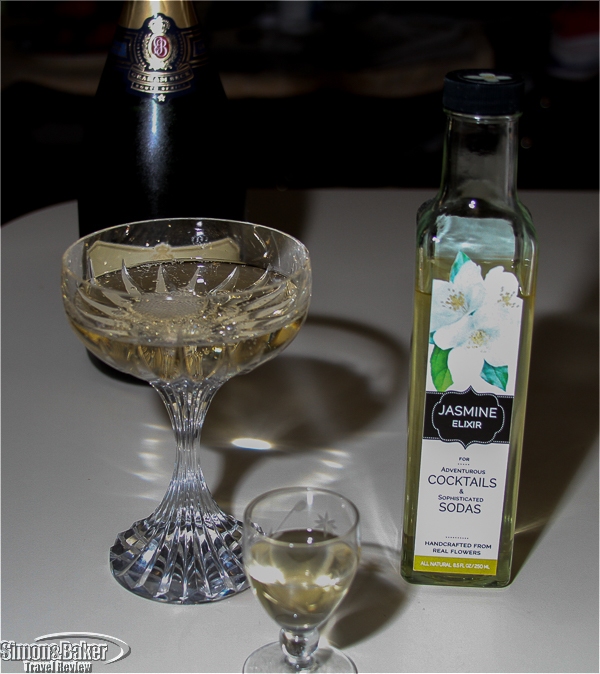 I especially liked the Jasmine with brut sparkling wine or brut champagne
"I handcraft a line of floral drink mixers – all natural – they're made from real flowers blended with a touch of cane sugar that are ideal to create adventurous cocktails and sodas," said Nora Egger, owner, Floral Elixir Company, by email from Goa, India, where she was traveling in search of new flowers for her company. "I choose my Flavors based first on other countries around the world that have historically made beverages and dishes using certain flowers and the spend some time refining the recipes so that they are enjoyable in beverages."
We also tasted Orange Blossom Elixir with brut sparkling wine
The ingredient list for the mixers was short, including pure cane sugar, real flowers and floral extracts, (nothing synthetically produced). They may also include natural plant based dyes, such as red beet for Rose, black carrot for Lavender and spiraling for Lemon Verbena, Egger explained. Most ingredients come from the United States where the mixers are made. Some of the essences, such as the one from Damask Rose from Bulgaria, come from Europe where they are harvested.
Deciding which ones to sample first was challenging. The best selling flavor? Nora says Lavender is quite popular for all beverages, followed by Tropical Orchid and Rose for rum and whiskey based cocktails. After that its a fair split.