By Elena del Valle
Photos by Gary Cox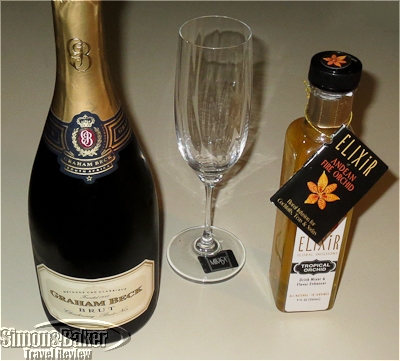 Graham Beck sparkling wine and Tropical Orchid Elixir
When it comes to bubbly I tend to go for brut varieties. I recently added a splash of a new fruit and floral blend to my glass of sparkling wine that made me change my mind. Tropical Orchid Elixir, a hand made exotic infusion of organic mango, orchid and jasmine, made my well chilled high quality brut sparkling wine extraordinary. It took it up a notch to make it a celebratory drink for special occasions and to partake with friends at social gatherings. The blend of the sensual flavors of mango, fragrant jasmine and orchid flowers with champagne (or sparkling wine) is a perfect Valentine's Day beverage.
We particularly enjoyed the Orchid Elixir with sparkling wine
I shared the fruit and flower sweet liquid with friends who prefer non alcoholic beverages. They enjoyed it with sparkling and still water.
The Floral Elixir Company of Cleveland, Ohio makes four handcrafted floral infusions using floral extracts from around the world into Floral Elixirs designed to add a unique twist to foods and drinks including cocktails and non alcoholic beverages.
The Hibiscus Elixir bottle
The other flavors available at the time of this writing were Rose, Lavender, and Hibiscus. Described as all natural and low in sugar, the Floral Elixirs were recommended with champagne, spirits, teas, water and sodas as well as with vinaigrette dressing, marinades, cheeses, desserts and fruit salads.
Beginning in 2009, Nora Egger, a native of Vienna, Austria, wanted to share the exotic and botanical flavors she discovered in her years of international travel with friends and family. She still makes each bottle by hand with a small team.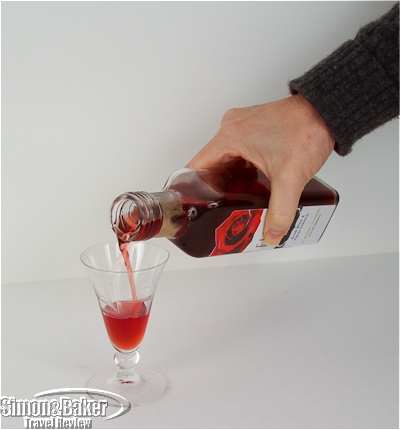 The Rose Elixir
The Rose Elixir was made from Damask Rose extract, harvested only a few weeks every summer before dawn in the Valley of the Roses in Bulgaria. According to promotional materials, the Royal Wedding in the United Kingdom had a signature cocktail with that rose essence and champagne. The Lavender Elixir was an infusion of English lavender with organic blueberry.  The fruit softened the strong floral fragrance and flavor that usually accompany lavender. It was recommended with champagne, vodka and gin martinis as well as with sparkling water and teas.
"I decided on classic flavors such as Rose and Lavender first, as I realized that it was so difficult to find these that were of high quality (not soapy or perfume scented or flavored….)," said Eggers by email when asked how she started to produce the flower beverage enhancers.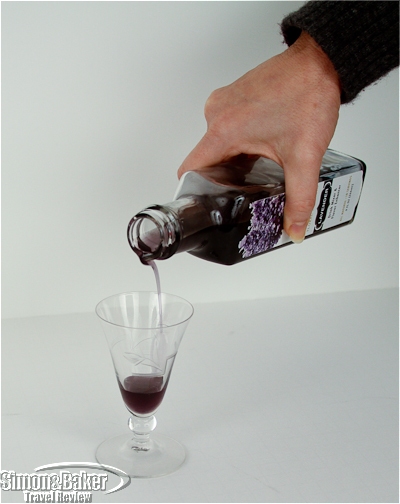 The Lavender Elixir
"Rose and Lavender also have relaxing properties, which I really liked and have been used for centuries in food and drink around the world. After having researched the incredible health properties of hibiscus and that all around the world it is used or consumed in some manner by cultures near the equator, I decided I wanted to make a Hibiscus Elixir. It's full of Vitamin C and antioxidants, helps reduce blood pressure and helps increase the metabolism. Hibiscus literally cools the body in the summer and that's why it's so popular in warmer climates. Tropical Orchid became a playful, exotic Elixir, as it's a tropical combination of citrus notes, mango, jasmine and essence of Andean Fire Orchid. This one is the bold Elixir which is my fantasy creation!"
I sampled the Hibiscus Elixir with organic red tea. Its tart berry sweetness drew out the natural aromas of the South African caffeine free beverage. We added a dash of Hibiscus Elixir to homemade caramels. The tart flavor contrasted well with the lightly sweet buttery flavor of the caramel base. It was made from hand pressed hibiscus flowers. Egger recommended it with vodka martinis, champagne cocktails, mojitos and low calorie sodas.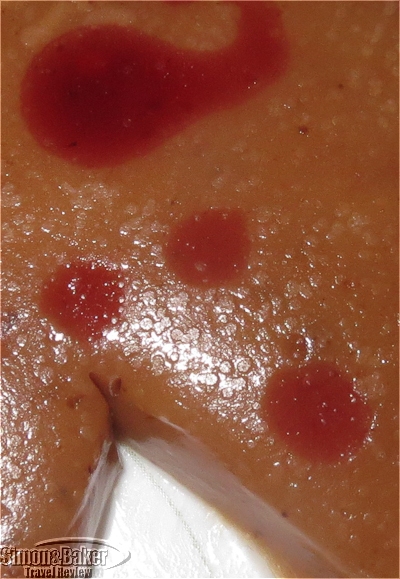 We added Hibiscus Elixir to homemade caramel with a splash on top for decoration
"Lavender is the most popular flavor for those unfamiliar with any flavor in my line, as it's the most recognized. I put a touch of a blueberry undertone to my Lavender Elixir to give it complexity and make it smoother, and it's a big hit with martinis!" Eggers said. "Those with a culinary background or are familiar with the essence and quality of floral notes, my Rose Elixir is always the favorite (also happens to be the most expensive one for me to make because of the Damask Rose Extract! But it's absolutely worth it, as to appreciate Rose, it must be exceptional. Rose Elixir adds a touch of luxury to any drink…). I mull over adding an Elderflower line as St. Germain, an elderflower liqueur, is quite popular, and always reminds me of my childhood in Europe."
The back of the bottle of Lavender Elixir offered preparation suggestions
While my favorite was the Tropical Orchid Elixir for its wow factor with bubbly, the Rose was second thanks to its prominent and well rounded versatile flavor. In the end, I enjoyed all four varieties.
The drink enhancers, made in the United States, were sold in nine ounce glass bottles of 18 servings of 20 calories each. Major retailers such as Williams-Sonoma carried the Floral Elixirs nationwide. They were also available directly from The Floral Elixir Company for $12.95 per bottle at www.floralelixir.com, sales@floralelixir.com.