Article and photos by Josette King
The lodge and swimming pool
In the local Shangaan language, so I had heard, shumbalala means "the place where lions sleep." And I was headed to Shumbalala, the intimate luxury lodge located in the heart of South Africa's Thornybush Game Reserve, known for the density of its resident population of lions as well as other Big Fives species (buffalo, elephant, leopard and rhino). My expectations were high. Even as I transferred from the car that had brought me from nearby Hoedspruit Eastgate Airport to the Shumbalala open game viewing vehicle that met me at the gate (no private vehicles were allowed in Thornybush), I held my camera at the ready for lions.
Rhinos enjoyed a nap in the shade
Moments later, I had forgotten about them. I was staring slack jawed at a scene I had never before experienced in my repeated visits to Africa: a tangle of rhinos, tightly huddled together in search of relief from the searing midday heat under the meager shade of a roadside tree.
Throughout my stay, while I enjoyed plenty of big cat sightings, leopards and cheetahs as well as the eponymous lions, rhinos commanded the limelight. Whether in a breeding herd with young calves grazing in the sunset or in groups of mature males crashing determinedly through the bush, they were an awesome sight. And like the other big game I encountered around Thornybush, these often shy behemoths were sufficiently habituated to humans that they all but ignored our presence, allowing for an outstanding opportunity to observe and photograph them at length and at close range.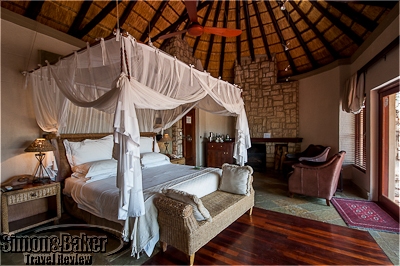 The sleeping area of Suite Number Three
At Shumbalala, game viewing was only the beginning of an exceptional safari experience in the grand South African tradition. Nestled in a shaded grove at the edge of a seasonal river, reduced to a busy water hole when I visited at the height of the dry season, the property was a secluded oasis of classic elegance in the midst of a great swath of pristine open bush. With its spacious main lodge and only five guestrooms, each a cozy free standing thatched structure, Shumbalala offered the opulent comfort of an African country manor of a bygone era and the personalized hospitality to which only an intimate boutique property can aspire.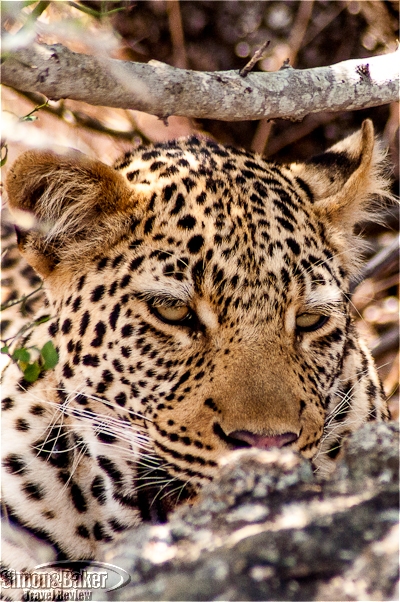 We came across this leopard concealed in the underbrush
The meals  as well as the early morning and late afternoon game drives punctuated  the days with enjoyable convivial interludes. From a hearty late morning brunch, bountiful mid afternoon high tea and elegant five course evening dinner, and some snack opportunities in between, every dish was beautifully prepared and served; and the cuisine was an artful blend of local specialties and international classics.
The wine cellar
Another notable feature of Shumbalala was its state of the art wine cellar. It was a lovely pre-dinner treat to visit the romantic vaulted space and select from a number of excellent South African labels a bottle to enhance my evening's menu.
With its superb accommodations and hospitality, excellent game viewing opportunities and easy road and air access from the international hub of Johannesburg, Shumbalala was an ideal destination for travelers who preferred an easy one stop luxury safari experience. I personally found it an outstanding stop in my regional itinerary of game reserves and national parks.
A Shumbalala sunset