The place setting at Le Balzac
Our arrival at Le Balzac, a few strides away from the famed Champs Elysees Avenue in Paris, France, was easy. A handful of steps led to the rarefied ambiance of one of the city's best known gourmet addresses. Although the restaurant has its own entrance it is shares space and restrooms with a luxury hotel. Inside, we were greeted by a polite staff person who made sure we were in the reservations list. After handing our coats to someone, we followed a staff person, past the bar and through the dining room, to our table.
The crunchy cheese and paprika bites, vegetable lengths with balls wrapped in lettuce
The contemporary dining room, decorated in muted shades of brown with recessed ceiling lights, was divided into two sections, the main dining area and a secondary room a step or two above the larger space. Our small table occupied the corner nearest the steps, affording us a view of the entire dining room and bar. Crisp tablecloths and napkins, elegant dinnerware and glassware set the stage for a special meal.
The amuse bouche of gel cubes, tomato, squid ink and tuna
Initially the staff were efficient and polite, bringing us drinks, a copy of the menu, water and bread (chestnut, milk or baguette choices). Crunchy cheese and paprika bites, vegetable lengths with balls wrapped in lettuce were followed by gel cubes, tomato and squid ink and tuna morsels. The Alsatian bread was to our liking.
The foie gras and accompaniments
Our first course, Foie gras d'oie eau de bortsch en gelee, pate de coing au marc de Gewurztraminer Salade Felicia. Creme glacee tamarillo/Beaujolais nouveau/chou rouge, tranche de rutabaga grille, puntarella (goose foie gras with tomato and beetroot, borsch, beetroot foam and puree and citrus butter) served with a floral wine from Austria was outstanding. After that, the experience and the meal declined in a remarkable manner.
The souffle of haddock
Souffle haddock/Saint-Jacques chou blanc croquant fondue d'endive et radicchio. Noix tailees aux chataignes, puree de brocoli au raifort was the second course. The souffle of haddock was more of a mousse than a souffle and the flavor was disappointing. The Grosse poularde de Bresse rotie entiere le supreme est enrobe du jus de cuisson lie de tamrain, oignons grelots, vuleta, topinambours. Le gras de cuisse croustillant, gratin de poire, celeri-rave et crozets au Blue de Termignon, a large hen roasted whole with pear gratin and blue cheese from Termignon was oily and bland despite an excess of cheese.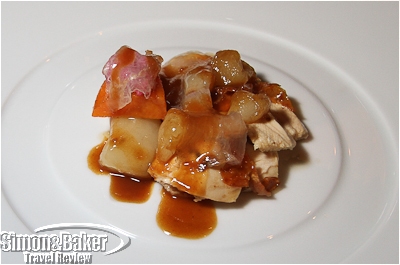 Hen roasted with pear gratin and blue cheese.
For some reason the service level dropped steeply after the appetizer. Our bread plate remained empty for a long time as did our wine and water glasses despite our calling the server to our table. Rather than refilling our wine glasses or asking if we wished to try something else, he called the wine steward who had been chatting with our nearest neighbor for the better part of thirty minutes in such a loud voice that we could hear his part of their conversation. A few minutes later, the man disentangled himself and took the two steps to reach our table. By then, we no longer wanted any wine.
The desserts
Dessert did nothing to improve the situation. It was the first time I ever remember leaving a top rated restaurant hungry and so unhappy with the service.