Article and photos by Elena del Valle
Homosassa Springs Wildlife Park
Yuma, the Florida panther cub (click to enlarge)
Florida's state animal, the panther, is one the most endangered mammals on Earth. With population estimates at less than 200 they are near impossible to observe in the wild. According to the U.S. Fish and Wildlife Service, there are between 100 and 160 adult panthers in the wild in South Florida. These animals once ranged throughout most of the southeastern United States. By the late 1800s the Florida panther had been run off from much of its historical range because its habitat had been destroyed or by human attacks.
They are beautiful animals. When I found out I might be able to see a four month old cub in a wildlife sanctuary I jumped at the opportunity. The drive, several hours long, took me across the state from the southeastern corner of the Florida peninsula northwest to the Ellie Schiller Homosassa Springs Wildlife State Park (4150 S. Suncoast Boulevard, Homosassa, Florida 34446, www.floridastateparks.org/homosassa, +1 352 628-5343, Susan.Strawbridge@dep.state.fl.us) in Citrus County where the cub found a permanent home. I stayed at the 68-room Hampton Inn Crystal River (1103 N Suncoast Boulevard, Crystal River Florida, 34429, +1 352-564-6464, www.crystalriver.hamptoninn.com, Chris@mymaverick.net) a clean, newly built (completed in 2013) property conveniently situated a few miles north of the park.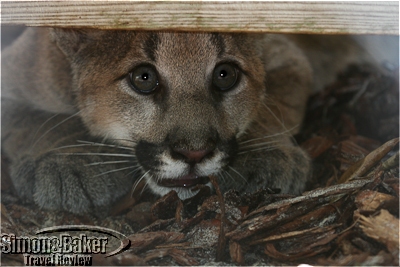 The cub was playful and in constant motion
When he was one week old he was rescued by wildlife personnel after his mother abandoned him or met an unknown fate herself. Having been brought up by humans, he would not be able to survive in the wild. Instead, his home will be a 80 foot by 120 foot special enclosure at the state park which was still under construction when I visited the area.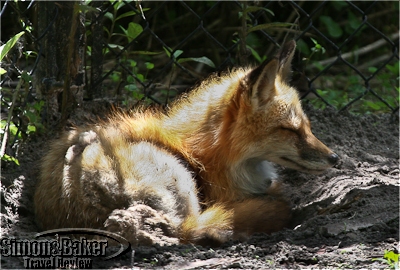 This cute red fox was sleeping in the partial shade
One of several eagle residents
Yuma, meaning son of the chief in a blend of Native American languages, was playful, energetic and mesmerizing. I could have watched him all day, racing across one side of his temporary fenced in enclosure to the other, climbing, chewing on his toys, eating, leaping against the fence or sitting in the shade.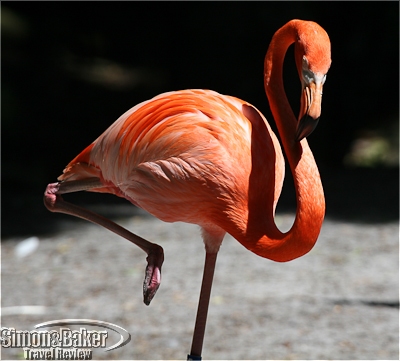 A pink flamingo
In typical hippo fashion, Lu spends his day submerged and barely visible
With 300,000 annual visitors, the 210 acre Ellie Schiller Homosassa Springs Wildlife State Park is said to be the most visited state park in Florida. At the time I was there, it was home to fifty Florida animals such as black bears, bobcats, river otters, red wolves, Key deer, American alligators, gray fox, red fox, roseate spoonbills, eagles, herons, egrets and whooping cranes. There were several resident West Indian manatees which could at times be seen from a floating observatory that sits in the middle of Homosassa Springs. Perhaps the most famous resident of the park was Lu, a hippopotamus who was made a Florida citizen by a governor's decree so that he could live out his days in the park when it was converted to an exclusive home of native wildlife.