Article and photos by Josette King
The lounge was an eclectic mix of safari antiques, rustic furniture, local crafts
On my first visit to Southern Africa a decade or so ago, my very first guide predicted: "Once the red dirt of Africa gets into you hiking boots, you will never get it out." Now, a couple of pairs of boots later, I understand what he meant. But, the power of iron saturated clay dust notwithstanding, what keeps me going back is that every so often on those safaris, I come across an exceptional guide who can make the wonder of the natural world come alive, someone like Hearold Mgiba, the guide I had the good fortune to meet on my recent visit to Motswari Private Game Reserve in South Africa.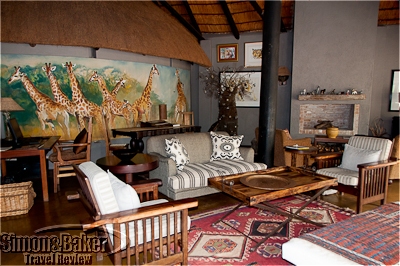 The library and art gallery
Wedged in the northern corner of the famed 54,000 hectare (209 square mile) Timbavati Nature Reserve, one of the oldest and most pristine in South Africa, and with an open boundary with Kruger National Park, Motswari is reputed for its density of game. The Big Five (buffalo, elephant, leopard, lion and rhino) roam there. So I expect it would have been relatively easy for Hearold and Difference Hlophe, an excellent tracker, to ensure that I enjoyed what is considered the gold standard of African safaris: repeated Big Five sightings. And I did enjoy those, daily. But one hour into our first drive, I was beyond counting. We were driving into thicket so dense I didn't imagine we could possibly get through it, much less see anything of note, tracking a leopard. Hearold and Difference knew their big cats and found the one they were searching for in the end, concealed in the rocks near a water hole. We followed it around its territory to the tree where it had stashed its recent impala kill.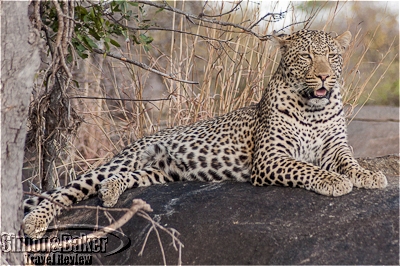 A large male leopard surveys its domain
The next morning found us among leopards again as we watched an old male go in the blink of an eye from snoozing in the high grass to snarling menacingly from the top of a 20 meter (65 foot) tree at his nonplussed pursuer. In fact, in my three days at Motswari, I was able to observe at length and at close range more leopards than I had seen in all of my previous visits to Africa. And there were also lions: a fascinating interaction between two males feeding on the carcass of a buffalo calf, and a whole pride going about its daily business; and elephants, a large breeding herd of them on the move with nursing calves; and mud encrusted rhinos crashing their way out of a water hole; and cheetahs on the prowl, and a whole supporting cast of mammals and birds. And in most instances, these weren't mere sightings but unique opportunities to enjoy an authentic bush experience.
My Bungalow was decorated in relaxing neutral tones
The lodge itself reinforced this feeling. With its neat guest room rondavels scattered in a mature grove along the river, the homey atmosphere of its public areas and its large boma for dinners around the flames of a central fire pit, Motswari had the feel of a family country estate. I especially enjoyed the relaxed simplicity of my airy rondavel, with the creature comforts and modern amenities I could wish for in the bush, such as a king size bed under a romantic white netting canopy, mission style armchairs with thick canvas cushions, a good writing desk and chair, a sunny modern bathroom, ceiling fan and air conditioning, and round the clock electricity with plenty of outlets to recharge my electronic equipment. Returning there after long, exciting game drives, I appreciated all the more that Motswari had eschewed the edgy chic and flamboyance that has become a trend in recent years and sometimes gives me a sense of disconnection from the wilderness.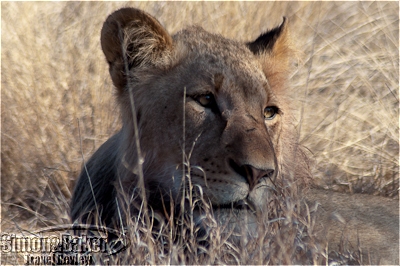 There was a large resident pride in Motswari
Beyond creating a welcoming haven for its guests, I also valued Motswari for its ongoing commitment to nature conservation and responsible tourism, which has been the guiding principle of the Geiger Family since it acquired the property three decades ago. From the onset, the original owner, the late Paul Geiger, focused on wildlife conservation and environmental management, and on creating employment and growth opportunities for the local communities; thus practicing the key tenets of responsible tourism and sustainable development long before they were articulated by the international community.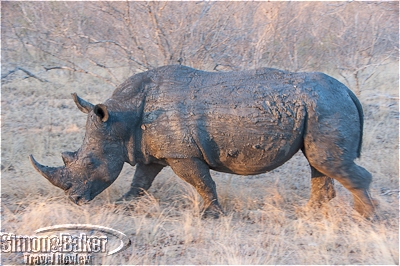 A rhino was caked with mud after a visit to a water hole
In recent years, Motswari has been repeatedly recognized for its achievements in that arena, such as its ongoing accreditation by the prominent Fair Trade in Tourism, South Africa (FTTSA), a distinction the property first earned in 2008. In early 2013, Motswari also achieved Gold Class status on the Heritage Environmental Certification Program (based on internationally recognized sustainability and responsible business initiatives), making it the only environmentally certified lodge in Timbavati. I especially appreciated the property's concern for its people. Over and again its policies set the stage for responsible tourism. There appeared to be no gender discrimination for any position. Individuality and initiative were encouraged and acknowledged with a wide range of recognitions from Employee of the Year to Most Valuable and Most Popular and Best Dressed (staff members were given the opportunity to design their own uniform).
Dinner was served in the boma
Because the property was located deep into the reserve, it was necessary for all staff members to live on site. The family friendly staff village included accommodations for visiting spouses. I enjoyed hearing about some of the success stories, such as that of Godfrey Mathebula who grew up on the property and started out in the maintenance workshop. When he became interested in tracking and guiding, Paul Geiger sponsored his education. Mathebula went from guide to head guide to assistant general manager. In 2012, he was nominated for South Africa Guide of the Year.
Motswari also reached out to the community at large. As well as supporting local (Hoespruit) organizations with donations, the property had designated staff members to work with these organizations on issues of basic healthcare, nutrition, HIV education and testing. I left with the impression that the property's responsible tourism ethos created a tight knit community among the management and staff of Mostwari, and an all around friendly atmosphere that directly influenced the exceptional quality of my bush experience there.