Article and photos by Laura Scheiber
Consumed by the hustle and bustle of New York City, I needed a break, something to make me feel relaxed and pampered. I scheduled two signature spa treatments at the Valmont Spa for Plaza Athenee.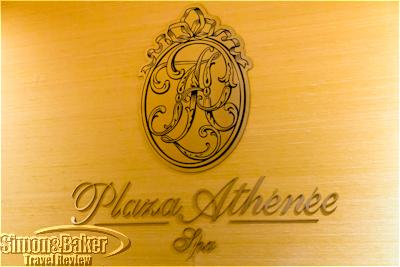 The entryway to the Spa
When I arrived at the spa, on the second floor of the elegant Hotel Plaza Athenee on the upper east side of Manhattan, I stepped out of the elevator, walked down a carpeted corridor and entered the intimate reception area of the spa. My esthetician, Miranda Sturce, met me with a smile at the front desk and escorted me to Suite Number One. The 320-square foot private space was divided into three main areas: a treatment room with a massage table, sitting area and private bathroom. Miranda confirmed the treatments I was scheduled for, a 30-minute Valmont signature Peaks of Slimness Body Treatment and a 60-minute signature L'Elixir des Glaciers Facial Treatment. Valmont is a high-end Swiss skin care products company best known for its anti-aging products and treatments.
My esthetician, Miranda Sturce
Though not mandatory, Miranda welcomed me to take a shower with a special Valmont shower cream called Fresh Dew Cleanser, which complimented the body products she was to use during the treatments. I followed Miranda's suggestion and enjoyed steaming hot water under the soothing rainwater showerhead while lathering up with the light and refreshing Valmont shower gel.
After I wrapped myself up in a robe, Miranda began the treatment in the sitting area by giving me a footbath. She filled a turquoise water basin that had lemon and lime slices on the bottom with hot water. She massaged my feet and legs with a lemongrass exfoliate. I relaxed as she scrubbed away the stress of city living.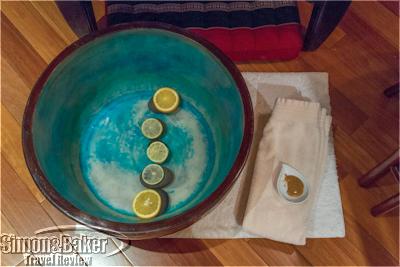 The water basin for the foot bath
I then hopped on the massage table in the treatment area, which was lined with an electric blanket to keep me warm. I was glad to feel so comfortable around Miranda when getting an intimate anti-cellulite full body treatment. Her sweet disposition made her approachable and unintimidating. Miranda started with the body slimming and firming, Peaks of Slimness treatment. For the first part, she applied Valmont's D. Solution Booster, a gel created to address cellulite build-up. She relied on deep twisting motions in her massage technique to break down fatty cells.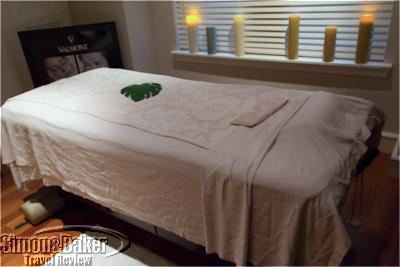 The massage table in my treatment room
While massaging my stomach, Miranda mentioned that the treatment was not safe for pregnant women because of the high concentration of caffeine in the gel. Miranda repeated the process along my arms, legs, buttocks, and back. For the second half of the treatment, Miranda used Valmont's C. Curve Shaper, an anti-aging firming solution. Using long strokes, mixed with kneading motions she worked her way up and down my limbs, stomach and back. The Valmont slimness and firmness products were icing on the cake, as I would have been happy with this massage alone. Throughout the treatment, Miranda asked if the amount of pressure she applied was to my liking and whether I was comfortable in terms of temperature because she knew the Valmont products would leave my skin cool and tingly. I took her up on her offer for another blanket.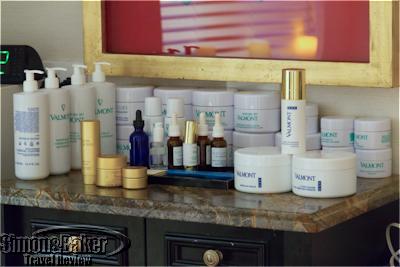 The products she used during my treatment
While the slimming and firming treatment felt nice, I slipped into an even deeper state of relaxation when she began the facial. She began with a cleanser, followed by a toner, exfoliate and rebalancing mask designed to leave my skin glowing and radiant, according to Miranda. She utilized a massage technique called the butterfly motion designed by Valmont to stimulate blood circulation and enhance the effect of the products. Next, she added a moisturizing mask followed by a collagen mask. The extra concentrated formula left me with a tingly sensation as if all of my facial nerves were being softly tickled.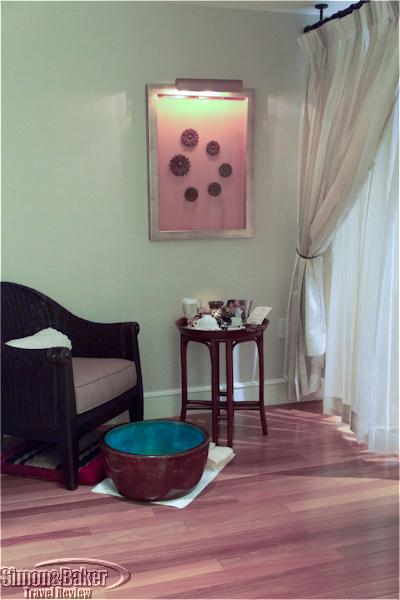 The sitting area of my treatment room
While the collagen mask was doing its magic, Miranda gave me a soothing neck, hand and foot massage. For the grand finale, she applied Valmont's exclusive L'Exlixir des Glacier anti-aging serum (Sérum Précieux), anti-aging eye cream (Vos Yeux) and face cream (Votre Visage). During each step of the facial, Miranda explained what she was doing and the treatment's purpose, though, I must confess I dozed off about half way through because it was so relaxing. When all was said and done, my skin felt dewy soft. The effect lasted for several days.
The Spa reception desk
At the end of the treatment, she invited me to relax in a lounge chair in the sitting area and to help myself to the goodies on the table. While an assortment of hot teas was available, I opted for a cold glass of water in a wine glass and worked my way through the mini plate of desserts. I nibbled on dried raisins, dried sweetened papaya and pineapple, as well as tasty bite size chocolate truffles, coconut macaroons, dark chocolates with lemon zest and muffins.
My morning at the Spa Valmont for Hotel Plaza Athenee (37 East 64th Street at Madison Avenue, New York, New York 10065, United States, + 1 212 606 4675, fax + 1 212 772 0958, http://www.plaza-athenee.com/spa-en.html, spa@plaza-athenee.com) was pleasant and soothing respite in the midst of hectic New York City. I appreciated having a private room and not feeling rushed. The staff was friendly and accommodating. The body treatment was relaxing with the bonus of firm feeling skin. I was especially happy with the facial.