By Laura Scheiber and Matthew Harris
Photos by Matthew Harris
Crossing the Luangwa River
We arrived at the bank of the Luangwa River, at the end of a game viewing drive in Zambia's South Luangwa National Park from our previous safari lodge. After loading our luggage into a small boat, we were ferried across the river by one of our hosts, Finlay Hunter. On our arrival at Chinzombo, a luxury safari camp, Finlay and his wife and cohost, Wendy offered us cool washcloths to freshen up, served us fruit cocktail drinks and made us feel at home. It was a sign of things to come. The young, energetic, professional and attentive couple went out of their way to ensure our stay was perfect.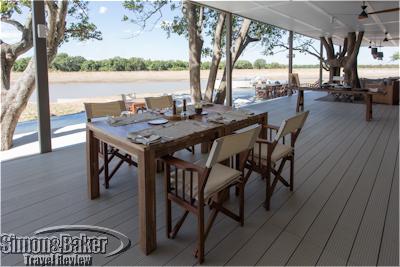 View of the Luangwa River from the dining area of Chinzombo camp
The camp, on the Luangwa riverbank opposite the beautiful South Luangwa National Park, is a one hour drive from Mufwe Airport, which is a quick hour flight to Lusaka. Being close to the national park meant that we were able to enjoy great game viewing drives and walks with our charismatic guide Shaddy Nkoma. With years of guiding experience, he provided fascinating insight into the African bush. He also regaled us with stories of his youth in Zambia including having to swim to school through crocodile infested rivers. One time he even lost his clothes in the process.
Our room with a pool view
The newly opened camp was a joy for us as guests. The architecture was modern with a nod to safari camps of old, with leather, wood and brass fittings. The handsome open bar and dining area also had a section of paraphernalia from the late Norman Carr, a safari industry veteran. In it were some wonderful prints of him with two male lions he raised from cubs.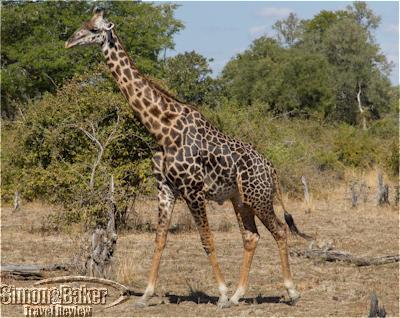 A giraffe we saw on a drive from Chinzombo camp
Our open fronted luxury tented accommodations with a personal plunge pool and views out onto the Luangwa River were superb. Amenities that made us feel pampered included bathrobes, slippers, hot water bottles the staff placed in our bed during the evening room service, and complimentary drinks in the fridge.
River viewing from the couch
The cuisine at the camp was delicious, fresh and plentiful. We especially enjoyed the sundowners and cakes served on safari drives. It was a wonderful way to watch the sunset. Chinzombo had the feel of a modern luxury boutique hotel with safari influences and access to the amazing African bush at its doorstep. We thoroughly enjoyed our contemporary safari experience.