Article and photos by Josette King
La Petite Venise was once home to tanners and fishmongers
Alsace, this strip of fertile plain stretched along the western bank of the Rhine River in the northeastern corner of France, is a region long on history and charm. The object of a millennium-long tug-of-war between France and Germany, it has successfully integrated elements of both cultures into a unique personality: decidedly French but with a noticeable German flavor in its architecture, arts, cuisine and traditions. And in spite of its troubled past, it has managed to preserve most of its cultural patrimony. Nowhere is that more evident than in Colmar, the medieval architecture gem in the heart of La Route des Vins, the much-visited hundred-mile country road that meanders north to south through the Alsatian vineyards.
Antique wrought iron signs are still a common sight in Colmar
Mainly spared the destruction of the French revolution and two world wars, Colmar has an exceptionally large and well-preserved historic center for a city its size (population 65,000). I appreciated its laidback small town joviality and its easily walkable cobblestone streets lined with architectural treasures that span eight centuries of combined French and German evolution. At the edge of the historic town, the especially picturesque La Petite Venise (Little Venice) neighborhood is clustered around a network of canals from the River Lauch, where tanners and fishmongers quarters were once located. Farmers also used these waterways to ferry their products to the town market in small pole-propelled wooden barges. Similar barges are in operation today, with silent electric motors, to allow visitors a close look at the ancient (and still inhabited) riverside homes.
Romantik Hotel Le Maréchal opened onto a private courtyard
One of the finest historic properties of La Petite Venise is the picture perfect Romatink Hotel Le Maréchal. The luxury hotel was created from four adjoining 16th century half-timbered houses with their steep tiled roofs and neat rows of windows underlined with flower boxes overflowing with red geraniums. The rear of the hotel abuts the edge of the river, while the façade opens onto a small private courtyard. Inside, common walls have been opened and passageways link the various common areas with a maze of cozy nooks filled with antiques. An elevator is discretely tucked in a remote corner. My room, located under the eaves at the very top of the property, had slanted beamed ceilings and dormer windows that overlooked the roofs of the old town.
With its rustic Alsatian décor (discretely enhanced by 21st century amenities) it was a charming nest that beautifully captured the romance of the historic city. Equally appealing L'Echevin Restaurant occupied the entire rear of the first floor. There the space had been cleverly distributed to form a long, intimate dining room lined with picture windows that overlooked the river. It provided a worthy setting for the excellent cuisine of Chef Thierry Chefdeville, who has officiated in the kitchen for over a decade, earning such coveted recognitions as two toques from Gault et Millau and three forks from Michelin along the way, and firmly establishing L'Echevin's standing as a noted destination for Alsatian gastronomy.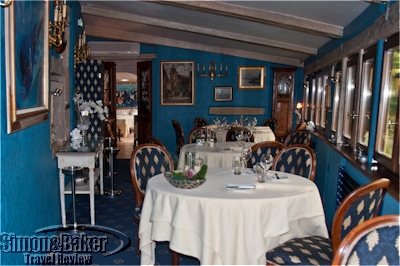 The restaurant, L'Echevin, overlooked the river Lauch
The pleasure of my stay at Le Maréchal, along with a couple of superb dinners at L'Echevin and the opportunity to wander at leisure around neighborhoods of meticulously maintained medieval houses would be reason enough for a weekend break in Colmar, especially now that several daily TGVs (Train à Grande Vitesse) have made it an easy three-hour and twenty minutes ride from Paris. But on this recent visit, there was also the lure of the town's foremost artistic treasure: the Unterlinden Museum. Housed in a 13th century Dominican Sisters' convent that is in itself a fine example of Gothic conventional architecture, the Unterlinden Museum holds a rich collection of Upper-Rhenish medieval and early renaissance sculptures and paintings.
Matthias Grünewald's masterpiece, the Isenheim Altarpiece is on display at the Unterlinden Museum
In addition to works by Lucas Cranach the Elder and Albrecht Dürer, it features several notable altarpieces by 15th century native son Martin Schongauer, and above all what is widely acknowledged as early 16th century master Matthias Grünewald's greatest achievement: the Isenheim Altarpiece. Originally painted in 1512-1516 for the Monastery of Saint Anthony in Isenheim near Colmar, this unique oil on wood triptych has a center panel 2,70 meter (8 foot 10 inches) high by 3,10 meter (10 feet) wide depicting an especially poignant crucifixion scene. It was customary at the time for such triptychs to open to reveal additional scenes inside.
In the case of the Isenheim Altarpiece, there are actually two sets of wings, therefore two interiors. The first is a set of four panels depicting various scenes featuring the Virgin and Christ. The second interior is a carved shrine containing a polychrome sculpture of Saint Anthony flanked by Saints Augustine and Jerome, by sculptor Nicholas von Hagenau, with two more paintings (the Meeting of Saints Anthony and Paul, and the Torment of Saint Anthony) on the wings to the left and right respectively. In anticipation of its 500th anniversary, the masterpiece had been removed from view for restoration in recent years, and returned on display earlier this year.