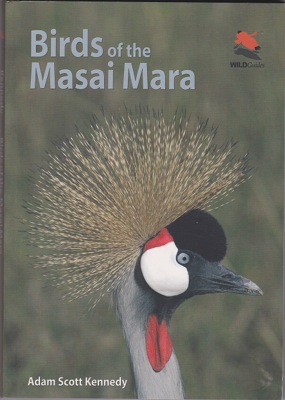 Birds of the Masai Mara book cover
In 2010, after arriving in the Masai Mara, Kenya's famed national reserve, Adam Scott Kennedy, a private safari guide, discovered information and photos about birds in the area were hard to come by. He began taking photos of birds he saw daily to share with guides and before he realized it a book was born, Birds of the Masai Mara (Princeton University Pres, $27.95), this year.
"The biggest challenge in producing this book was completing the species accounts while running a busy luxury camp in the Mara (Naibor), but thankfully my wife Vicki offered to take on the lion's share of the office work during that period which freed several hours of time for me each day to write," said Kennedy who already had an extensive image library before the concept of this book came about, from Kenya. "That image library contains around 25,000 images (offline) and our website has around 3,000 images that can be perused at leisure. When we refined the species list for the book, I realised I was missing a few species so had to put myself 'on assignment' to get the images required."
The 176-page softcover book full of color photos mostly taken by Kennedy (some of the photos are from WorldWildlifeImages.com) is divided into Birds of the Plains; Birds of the Marsh and Water; Birds of Woodland, Scrub and Garden; Birds of Acacia Scrub; Village Birds; Forest Birds; Birds of the Air; and Night Birds.
"I began birding at the age of 4 so I guess the biggest reward for me is the response from my friends and family, who are seeing me achieve, what I guess, they always expected me to do with my life," said Kennedy.
Each bird listing is accompanied by at least one photo and a description. The book lists 300 bird photos and 200 bird species in the area known widely for its wildebeest migration.
Kennedy, also author of Animals of the Masai Mara, and his wife Vicki specialize in photographic and wildlife safaris. According to his website bio, he has seen a third of the world's 10,000 known bird species.
---
Click to buy Birds of the Masai Mara
---