Article and photos by Josette King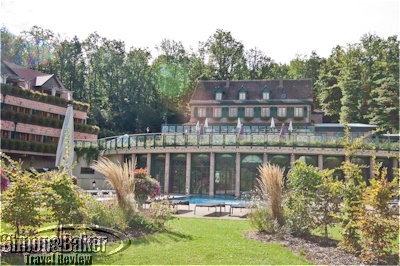 The property was located on three terraced levels
The Romantik Hotel and Spa les Violettes was the last stop on the itinerary of my recent visit to Alsace, France. I had spent a few days taking in the rich medieval art and architecture for which the area is renowned and enjoying its glorious wines and traditional cuisine (Paté de foie gras originated here in the 18th century). Les Violettes was just the right place to unwind before returning to Paris. Nestled in the densely forested foothills of the Vosges Mountains at the edge the Route des Vins (Alsace's famed Wine Road), yet a mere 25 kilometers (16 miles) from Colmar, the property boasted superb spa facilities. In addition to three saunas with various heat and moisture levels, a steam room and whirlpool bath, there was an unusual halotherapy salt-cave and a grand counter-current indoor-outdoor pool that was a swimmer's dream. The spa also had six private treatment rooms where it offered a range of massages, facials and body treatments.
The Les Violettes bar sat in the corner of the open plan lounge
Then there was Le Jardin des Violettes, the property's outstanding restaurant. In a region that has long held bragging rights for being home to an exceptional density of noted chefs and multi-award restaurants, Le Jardin des Violettes exceeded my expectations. The elegant dining room was decorated in warm shades of cinnabar and taupe that gave the formal space a cozy atmosphere. Subtle indirect lighting filled the room with a faint rosy glow that enhanced the formal table setting and provided just the right touch of romance to showcase the exciting creations of Chef Jérôme Jaeglé.
Chef Jerôme Jaeglé
Before taking over at Le Jardin des Violettes in early 2012, this talented young chef still in his early thirties, accumulated impressive credentials, including working as chef at Jean Yves Schilinger (a Colmar institution) and at Christian Têtedoie in Lyon. He found time to excel in some of the most respected French and international culinary competitions. A two-time winner of the National Taitinger Competition (in 2006 and 2008), recipient of a bronze medal in the Paul Bocuse European competition in 2010, he went on to take fourth place in the 2011 Bocuse Worldwide event. But through it all, this Colmar native maintained his passion for the bounty of the Alsatian countryside. During my visit, he explained that he lets the seasonable availability of locally sourced products guide his creativity. And he leads his team into foraging expeditions in the forests surrounding Les Violettes to gather the wild mushrooms and commercially unavailable greens that give his cuisine its unique cachet.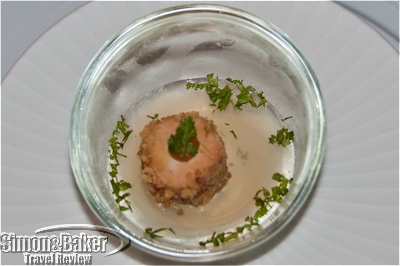 Foie gras on jellied green tea
I dined twice at Le Jardin des Violettes, and from amuse-bouche to dessert, each dish was an imaginative creation that delighted the eye and the palate. A light base of jellied green tea offset a rich nugget of paté de foie gras; chestnuts enhanced a wild mushroom duxelle, a simple mousseline of potatoes rose to the culinary stratosphere when whipped with walnut oil and garnished with oxalis (tiny wood sorrel leaves with a tangy, peppery taste). I can still taste a divine grilled filet of red snapper served with its skin deeply scored into julienne strips and caramelized crackling-style, while the tender white fish beneath was cooked to delicate perfection. And how could I forget his sublime cassolette (small casserole) filled with a fricassee of freshly gathered wild mushroom that concealed a farm-fresh egg softly poached in mushroom juices? Small wonder that Le Jardin des Violettes was awarded Two Toques from Gault et Millau in 2012.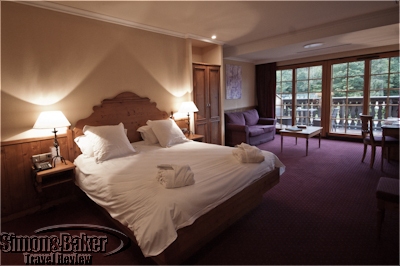 My room opened onto a large deck
The service was equally superb, unfailingly attentive yet unobtrusive. The extensive wine list included a wide selection of Alsatian wines as well as other wine-growing regions of France. From it, Alexandre Figenwald, the knowledgeable young sommelier, assisted us in selecting just the right bottles to enhance our meals (including a memorable Riesling Grand Cru Schlossberg 2010, Domaine Weinbach, Kayserberg). The one drawback of having experienced Chef Jaeglé's cuisine is that it has become a personal benchmark against which most restaurants I have visited since Le Jardin des Violettes find it hard to measure up.