Article and photos by Elena del Valle
The unique exterior of the Soumaya Museum
During a recent trip to Mexico City, Mexico (see A weekend in Mexico City) I had an opportunity to visit the Museo Soumaya, one of the city's fine arts museums and home of 400 Auguste Rodin and 60 Salvador Dali pieces among other fine arts works. The museum, named for a businessman's deceased wife (said to have been an art lover and the inspiration for the collection), was the newer of two Soumaya museum buildings in the Mexican capital. Its 60,000 square feet of exhibit space housed ten percent (about six thousand items) of the extensive European and Mexican art collection of Mexican billionaire Carlos Slim Helu.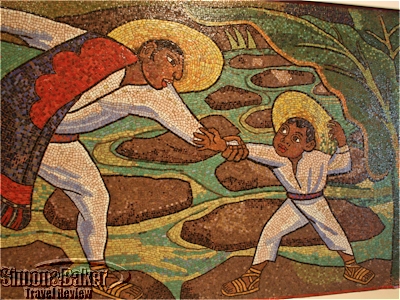 A section of a Diego Rivera Mural
Before entering the museum I was struck by the building's exterior appearance, reminiscent to the Guggenheim Museum in Bilbao, Spain. Fernando Romero, Slim's son in law, was the designer of the hourglass shaped building sandwiched between a mixed used building and shopping center and tall office towers. The light filled interior with a predominance of white was minimalistic and without windows.
The interior features suffused natural light
Attracting a mainly domestic audience, 70 percent, thanks to ongoing free admission, the museum had had a million visitors in the 14 months since its inauguration. For many Latin Americans, someone later shared with me, the museum provided access to the works of famed European artists such as El Greco, Van Gogh, Matisse, Degas and Picasso that they might not otherwise be able to see without a journey overseas.
Guide Alsacia Lorena Herrera Ojeda
Alsacia Lorena Herrera Ojeda, our well informed English speaking guide, first showed us The Thinker and a two-sided Diego Rivera mural she explained was originally commissioned for a pool area, in the museum entrance level. The seventh of twenty-four The Thinker sculptures by the famous French artist occupied a prominent place in the sparsely populated floor. The Rivera faced the bathroom en route to the museum's gift shop and restaurant.
The Thinker
She then escorted us up a broad spiral staircase from the lobby to the top floor where we had a chance to view a number of Rodin and Dali sculptures. Rays of sunlight filtered down from the glass ceiling, illuminating the dozens of artworks on display. On the way down she stopped to shows us a few pieces and pointed to a handful of display walls with color. The museum was in the process of adding color to the exhibit space, she explained. The guided visit to the museum was a culturally rich way to spend tourist time in Mexico City. Museo Soumaya Fundacion Carlos Slim, Plaza Carso, Blvd. Miguel de Cervantes Saavedra 303 Col. Ampliación Granada, Miguel Hidalgo C.P.11529, México, D.F. , + 52 55 1103 9800, museosoumaya.org