Article and photos by Elena del Valle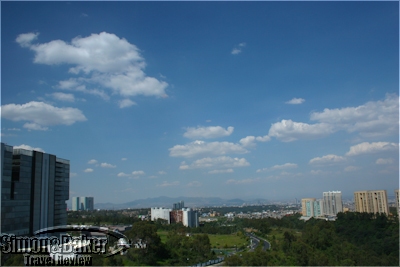 The view from the rooftop of our Santa Fe hotel
It had been years since my last visit to Mexico City. After the immigration desk I made my way into the customs area where I first noticed the new airport building. I later discovered Terminal 2, spacious and new looking, was only several years old and said to already be struggling to accommodate traffic. After a few minutes my suitcase rolled out and I walked to the customs area where my luggage, check-in and carry-on, had to pass through an x-ray machine. Then I was asked to press a green button before I could continue. Depending on the response I might be subjected to further inspection, one of the customs staff explained.
From the rooftop of The Westin I watched the sunrise over Santa Fe
No further inspection was required although my wireless keyboard attracted the customs staff attention for some reason. As I exited the customs area I searched the crowd for someone with a sign. Fidencio, my driver that day, and an assistant greeted me warmly. From the airport to The Westin Santa Fe Mexico City (Av. Javier Barros Sierra # 540, Lomas de Santa Fe, Mexico City 01219 México, DF, +52 55 50 89 80 00, fax +52 55 50 89 80 58, www.westin.com/santafe, westin.santafe@westin.com), my hotel for the first night, the private transport took 90 minutes. As we drove I looked around and realized I hardly recognized the traffic jammed buzzing metropolis. From my tenth story 34 square meter Deluxe Room, on a Starwood Preferred Guest floor, I had a splendid view of Santa Fe, a recently built booming business neighborhood. The hotel itself had only been established in August 2010.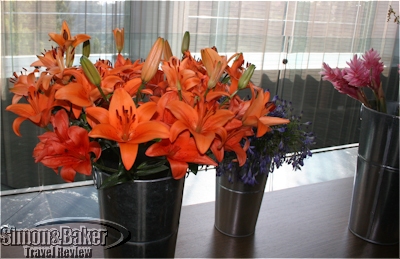 There were flower arrangements in the hotel common areas
Dinner with the group of four I was joining, wasn't for several hours so I ordered a room service club sandwich with fries. Within minutes I was munching the hot and yummy comfort food and a few welcome sweets I found in my room to tide me over until dinner. From Santa Fe to the La Roma neighborhood multi-level home of Chef Monica Patiño where we were having a private dinner it was an hour's drive, less on the drive back once the traffic had quieted down.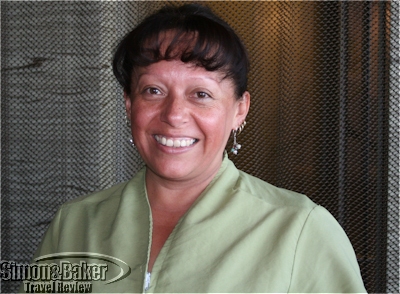 Griselda, my masseuse at Heavenly Spa
The following morning I rose early to catch the colorful sunrise view and work out at the hotel gym on the top floor before heading to the buffet breakfast at the ground floor restaurant. By 10:30 a.m. I was enjoying a good deep tissue massage with mini facial (not a favorite) courtesy of Griselda at the Heavenly Spa Westin, the hotel's penthouse spa.
The exterior of the Soumaya Museum
By midday we checked out, leaving Santa Fe behind, making our way through heavy traffic for one hour to Museo Soumaya (Soumaya Museum), a 14-month old six-story structure housing fine art originals, mostly European and Mexican.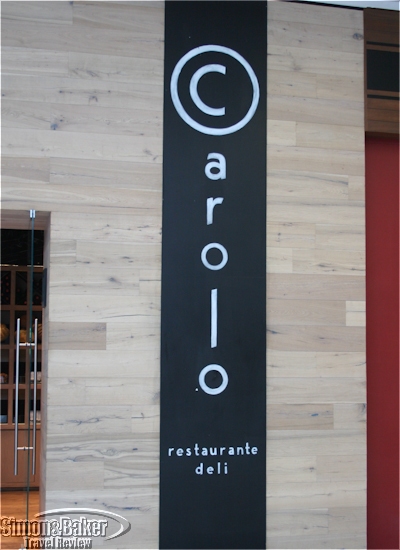 The entrance to Carolo Carso within a shopping mall and mixed use complex
From the museum we walked to Carolo Carso (Miguel de Cervantes Saavedra 303, Polanco, Mexico City, D.F., 11529, Mexico, +52 55 49 76 01 34, www.carolo.com.mx, info@carolo.com.mx), a Mediterranean style open air casual restaurant with an upper level view of the museum, within a large mixed use complex. It was one of several Carolo restaurants in the Mexican capital. Lunch consisted of a series of appetizer style dishes shared by the table occupants: Ensalada Chop (Chop Salad), Cuadritos de Atún (Tuna Squares), Mosaico de Salmones (Salmon Plate), Carpaccio de Res (Beef Carpaccio), Tacos de Rib Eye (Rib Eye Tacos), Tacos de Pato (Duck Tacos), Pizza Margarita (Margarita Pizza, a favorite), Risotto de Alcachofa (Artichoke Risotto, a favorite), Tostadas Orientales (Oriental Toasts), and Carmarones a los Tres Chiles (Shrimps in a Three Chili Sauce). Desserts too were set in the middle of the table for communal sharing: Pastel de Coco (Coconut Pie), Príncipe Alberto (Prince Albert Cake), Key Lime Pie, and Pastel de Tres Leches (Three Milks Cake).
Artichoke Risotto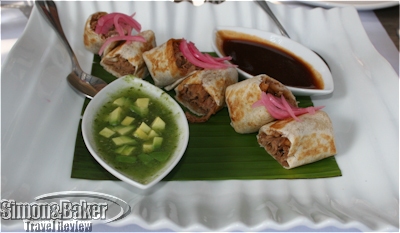 Lunch at Carolo Carso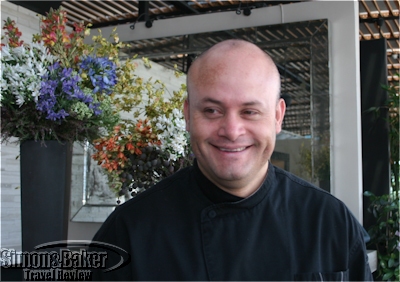 Marco de la O, executive chef, Carolo Group
At the end of the meal we had an opportunity to meet Marco de la O, executive chef, Carolo Group. A native of Puerto Vallarta, Jalisco he studied at the Universidad Anáhuac and at Panamericana de Hotelería in Mexico. De la O, who strives for excellence in quality, flavor and presentation, started his career at the Nikko Hotel in Mexico City. Later he worked at the Four Seasons in New York before returning to Mexico City.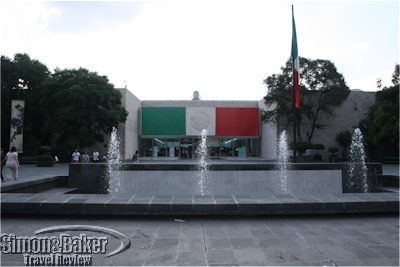 The entrance of the Anthropology Museum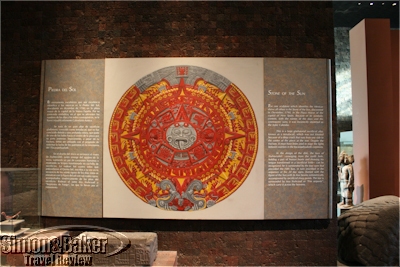 A representation of the Stone of the Sun at the Anthropology Museum
After lunch, we headed to the famous Anthropology Museum (Museo de Antropología) where Laura, a knowledgeable and patient guide escorted us to the Sala Maya (Maya Hall) for an outstanding, though brief because we arrived late, guided visit. A thirty minute drive saw us at the entrance of The St. Regis Mexico City hotel (Paseo de la Reforma 439 Colonia Cuauhtemoc Mexico City, Federal District 06500,Mexico, +52 55 52 28 18 18, fax +52 55 52 28 18 26, www.stregis.com/mexicocity, mexico.city@stregis.com) facing the Diana the Hunter (Diana La Cazadora) roundabout water fountain for check-in on the third floor of the tall building.
My room at The St. Regis Mexico City
The hotel's spacious common areas were filled with sunlight, works of art and pretty flower arrangements. Friendly uniformed staff greeted us when we reached the lobby and escorted us to our respective accommodations following check-in procedures. The floor destination had to be selected on an outer panel with the electronic key card before entering the elevator, my staff escort explained.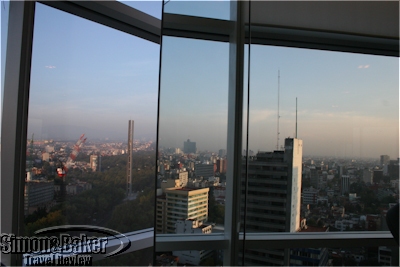 Mexico City seen from the St. Regis gym
Among my favorite features of the hotel were the lobby level views of the water fountain and the panoramic views of the city from the 15 floor work out rooms and adjacent pool area. From my twelfth story 50 square meter (538 square foot) Deluxe Room, on a Starwood Preferred Guest floor, I had a splendid view of Paseo de la Reforma and the surrounding neighborhood. Muted city sounds reached inside. Complimentary amenities on my floor were butler service, on demand 24-hour complimentary hot beverage service and the pressing of two items during my stay, my butler explained. The dimly lit room decorated in natural colors had thick double curtains to fend of the harsh sunlight, two double beds with thick plush mattresses and feather pillows, and a spacious marble bathroom with bathtub and separate shower, as well as a small remote controlled television screen built into the oversize mirror behind and between twin sinks. The new looking hotel dated to August 2009.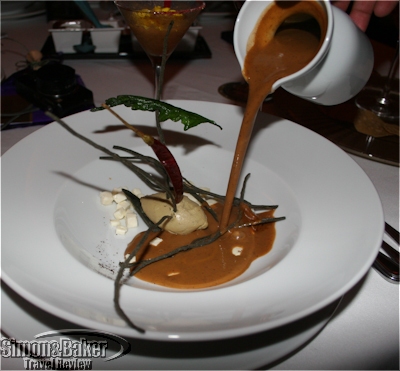 A black bean and foie gras appetizer at Dulce Patria
Dulce Patria restaurant (Anatole France 100, Col. Polanco, 11560, Mexico City, Mexico, +52 55 33 00 39 99, fax +52 55 33 00 39 95, www.dulcepatriamexico.com, kosberg@dulcepatriamexico.com), where we had a refined Mexican meal, was only twenty minutes from the St. Regis. Shortly after breakfast the following day we drove forty-five minutes across town to the Mercado de San Angel, a large covered odorous market filled with fruit and vegetable, fish, meat and a variety of other vendors.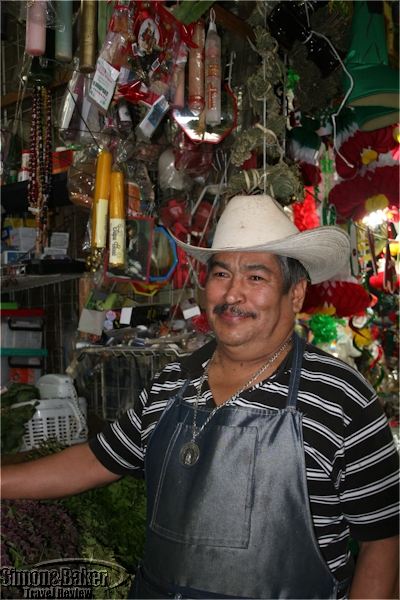 Margarito Angeles Ramirez sold herbs at the market
Our first stop was at the stall of Margarito Angeles Ramirez who, after learning the skill from his grandmother, for 22 years had sold herb blends at the Mexico City market. A large mound of fragrant fresh herbs occupied the front of his stall which was chock full of items all the way to the rear wall and from the ceiling down. A variety of amulets, candles, dried herbs and plastic wrapped items took up most of the small space that was sandwiched between other market vendors down a narrow passageway. While we learned about his services, in Spanish, from Margarito several customers came by, squeezing through the tight space where we stood, to pick up their herb blends and orders.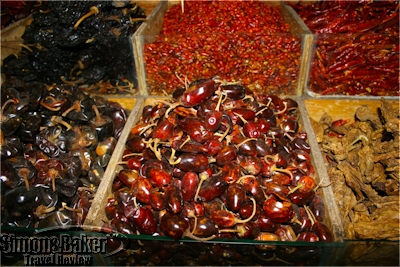 Vendor stalls at the Mercado de San Angel
With herbal blends, Angeles Ramirez said, he could, like a pharmacist, alleviate ailments such as allergies, migraines, headaches, indigestion and minor aches. He also provided mystical or magical white magic Santeria potions for good luck charms, attraction, and love. Prices ranged from five pesos to twenty thousand pesos. Some blends could be prepared while the customers waited while others required twenty days to be ready.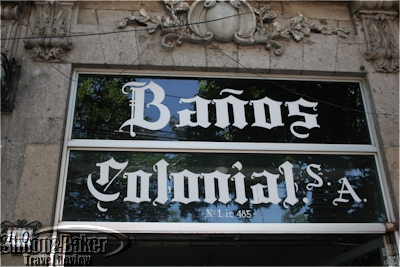 An unusual stop
From the market a short walk led us to the Public Baths (Baño Público), a fee based public steam and Turkish bath facility the owner kindly, if reluctantly, allowed us to visit. The San Jacinto Parrish (Parroquia de San Jacinto) was our next stop. Built atop an Indian temple the church, our guide explained, was important because it was at commercial crossroads of the 1500s. The church, as many others in the city, he said, had suffered severe damage in the early twentieth century although several original structures remained.
From the church we walked back a few blocks to the Saturday Bazaar (Bazaar del Sábado), a popular weekly indoor and outdoor arts and crafts market, where we spent the better part of an hour before heading to lunch at Azul Condesa, one of several Azul restaurants headed by Chef Ricardo Muñoz Zurita, in the Condesa neighborhood.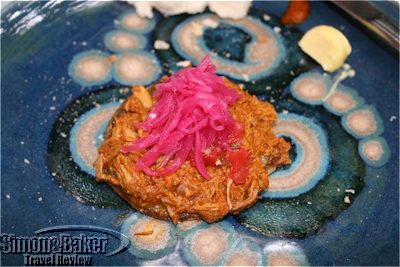 Favorite dishes at Azul Condesa
At lunch, we sat in an open air interior courtyard. Every table was full and the volume was so loud I could only hear my immediate neighbors at the table. Appetizers included several Yucatan dishes: Sope de Cochinita Pibil, a bite size morsel of succulent shredded pork topped with red onions that had been marinated in Yucatan bitter orange atop a sope, corn made bread cooked on a skillet; Sope de Hongos, a mushroom topped sope; and Salpicón de Venado, a European venison morsel made with onion, tomato, spicy chilies served with avocado and tortilla chips. My favorite was the Sope de Cochinita Pibil.
For starter I ordered the creamy Cream of Cilantro Soup served with toasted almonds, one of few non hot items on the menu. I sampled my neighbor's juicy Duck Confit served with a red berry and plum sauce (a favorite) and my own dish, Roasted Skirt Steak served with home fries. From the dessert menu the server recommended Soursop Foam with a red berry sauce. Chili candies were served with coffee at the end of the meal.