Article and photos by Elena del Valle
Marc Meneau (third from the left) and his chefs
While I was at Domaine de L'Espérance Marc Meneau in the village of Saint Pere sous Vezelay in Burgundy, France I had a chance to visit the kitchen and see two chefs, including Marc Meneau, the executive chef and owner, at work one morning. I had dined at the restaurant (see Garden side dining at famed Burgundy restaurant) during my stay at the hotel (see Boutique Burgundy hotel offered elegant accommodations, gourmet meals, area tours) and was intrigued to watch the kitchen staff in action. I was the sole visitor to take advantage of the restaurant cooking demonstrations that day. It had been raining almost incessantly since I arrived in France and I imagined the quiet ambiance at the hotel would disappear once the skies cleared.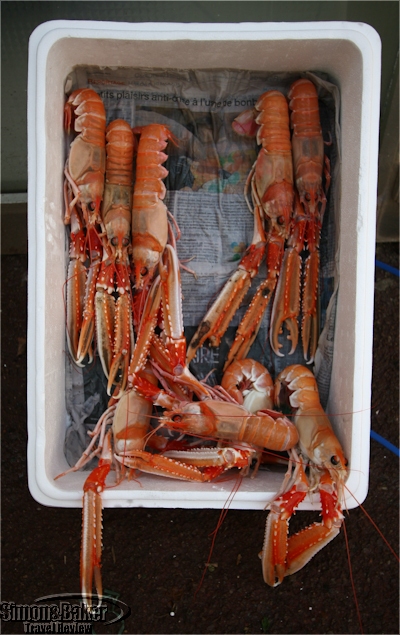 Inside the insulated boxes was a treasure trove of seafood
Shortly after I arrived in the kitchen the seafood delivery truck staff began unloading their precious coastal cargo and the chef asked if I was interested in watching them process their order. I would be delighted to observe, I responded, and we descended a few stairs to the back of the restaurant, making our way toward a stack of Styrofoam containers that had just been delivered.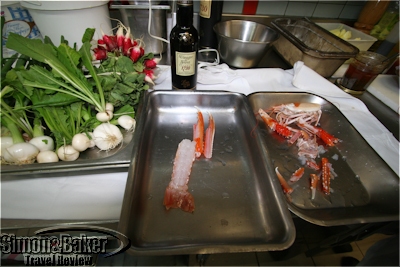 The ingredients for that morning's dish
Almost at the same time a handful of diligent staff members began counting, sorting and storing the chilled seafood. Within minutes everything was organized and the truck had departed. The chef selected three langoustines from the just arrived boxes for that morning's demonstration which I had the pleasure to observe and taste hot just off the stove.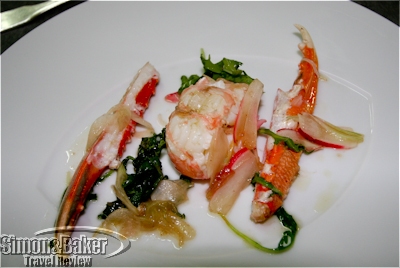 From delivery to ready in minutes
Just as I finished tasting the langoustine dish, standing in a corner of the kitchen, Chef Meneau arrived. A tall imposing figure with seemingly infinite amounts of energy he walked at a brisk pace instructing staff as he moved from one side or the other of the brightly lit kitchen like a whirling dervish. One moment we were in the kitchen and the next we were walking in the chilly outdoors, visiting his organic garden. Most of the fruits, herbs and vegetables served in the restaurants, he explained, were grown on the property. As we walked we met one of the gardeners tending to the budding greens. That explained the tender, crispy and flavorful produce I had tasted at meal times.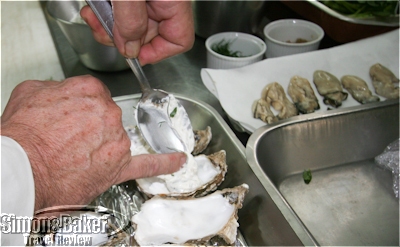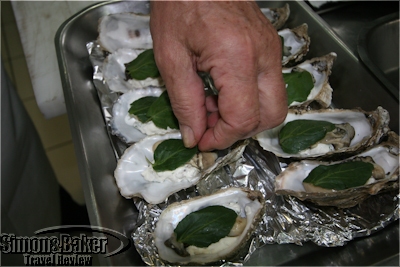 Marc Meneau demonstrates the preparation of his popular Huites en gelée d'eau de mer oyster dish
Moments later, we were back in the warm kitchen and the chef invited me to watch him prepare his well known oysters in sea water dish. The secret, he said as he began, is never to wash the oysters but instead allow them to keep their natural ocean flavor. The ingredients were fresh oysters and their washed, brushed shells; gelatin sheets, shallots, white wine, cream, lemon juice, chopped watercress leaves, toast and Camembert cheese.