Article and photos by Elena del Valle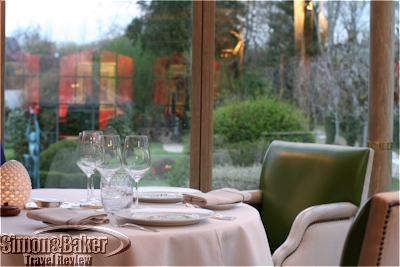 The view from our table
My visit to Burgundy earlier this year began with a brief stay at Domaine de L'Espérance Marc Meneau in the village of Saint Pere sous Vézelay (see Boutique Burgundy hotel offered elegant accommodations, gourmet meals, area tours). While there I dined at the owner's namesake gourmet restaurant twice and met the famous chef and Francoise, his wife, who together developed the hotel and restaurant concept. The chef and Pierre, his son, about to open his own restaurant in Paris, had just returned from an international culinary event in the United States.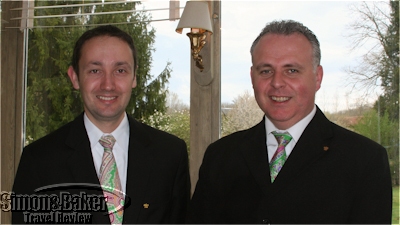 Senior staff at L'Esperance Marc Meneau
I loved the setting. The restaurant occupied the right rear corner of the hotel's main building, facing the Serge Gainsbourg Garden named for a friend of the chef's. In the chill of early spring glass walls allowed diners to enjoy the comfort of indoor dining with the views and ambiance of a garden side meal.
Green asparagus appetizer
Pretty tables with elegant dinnerware, silverware and glassware and attentive staff enhanced the experience. Dinner at L'Esperance Marc Meneau was well prepared, artfully presented, and served with great care. Some of the dishes, such as the John Dory, were prepared at the dinner table or table side, lending the meal a festive flare.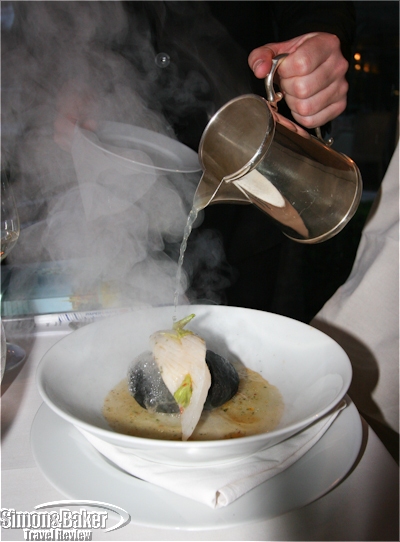 Fillet of John Dory on a hot stone from "St. Pere" prepared at the table
Dinner began with pre-appetizer bites of Couteaux farcis avec poulpes, bulots et crevettes, Guimauve concombre and tararna d'oursin. The meal proper started with Asperge Verte de Petuis a la Goret, a green asparagus appetizer; followed by fish cooked at the table atop a hot river stone from the nearby Saint Pere River, Le fillet de St.-Pierre Cuit sur "la pierre chaude de St. Pere." A 2009 comté and 2010 Gruyere cheese course from Mr. Antony served with a small mixed salad was next.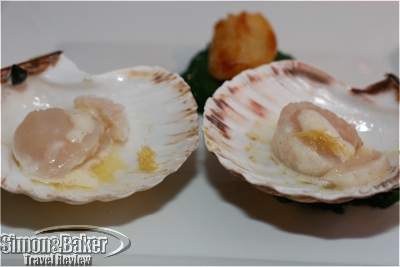 Scallop appetizers at L'Esperance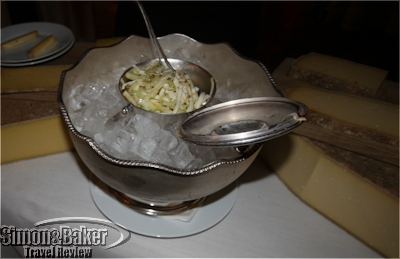 A small salad with the cheese course
To accompany the food we were served 2010 Vezelay "les vignes blanches" Marc Meneau and 2008 Chablis Bougros Domaine Brocard. For dessert I sampled La Fraise Marie-Antoinette, a dish the chef created for a Sofia Coppola film about the famous queen. Petit fours completed the meal: Meringe praliné, Pate de fruit poire, Macaron chocolate, Financier orange et cerise confite, tartellette a la pomme and tuille.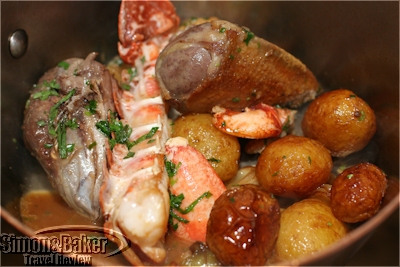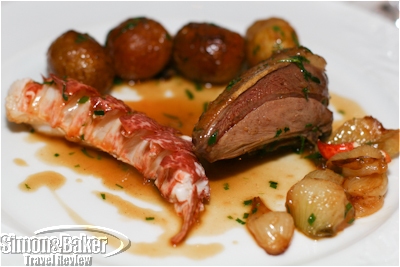 The main course was prepared table side and assembled at the table
The following night, I had lightly cooked scallops for the starter and for mains a sea and land combination with potatoes and sweet onions. An Epoisses cheese was next followed by a mille-feuille (Napoleon pastry) dessert.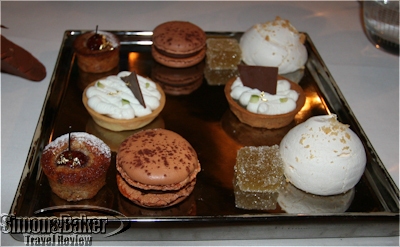 Petit fours at the end of the meal
Both meals at the restaurant were outstanding. L'Esperance Marc Meneau Grand-rue, Saint Père sous Vézelay, 89450, France, +33 (0) 3 86 33 39 10, fax +33 (0) 3 86 33 26 15, www.marc-meneau-esperance.com, reservation@marc-meneau.com