Article and photos by Joachim Castellano
I arrived in the middle of winter
Visitors to Japan often make similar observations. I could treat myself to a decent shopping spree if I collected 100 yen for every time that I've heard, "Japan is clean! The people are very courteous! Japanese food is delicious!" In addition to positive responses, I have noted other surprises "Hotels here have small rooms. Trains sure are crowded." And here's my favorite, "I didn't expect to walk so much!" With Japan's excellent public transportation, people can cover the country and its massive cities with relative ease. However, for travelers used to touring by car, exploring Japan on foot can be unexpectedly tiring. Adding small hotel rooms to the mix can produce an even more tired traveler in Japan.
View from my room
For these reasons, a visitor's experience in Japan would be incomplete without lodging in a ryokan, a Japanese inn. Ryokans offer much needed refuge from the road, and have comforted weary travelers in Japan for hundreds of years using the same formula: a healthy Japanese dinner and breakfast included with the room charge, spacious rooms, a warm public bath, and a fluffy Japanese futon spread on tatami-matted (bamboo reed mats) floors. Ryokans provide a wonderfully Japanese way of relaxing and recharging.
The men's communal bathroom
While ryokans are very similar in service and amenities, none are constructed in cookie cutter fashion like many western hotel chains. A ryokan charms its lodgers with its unique characteristics related to design, location, and history. Some have been serving customers for hundreds of years while others have opened recently, designed in contemporary architectural styles, sometimes even blending Japanese customs with foreign ones, such as Arcanza Izu, which I previously wrote about (see With video – modern Japanese ryokan Arcana Izu creates magic in the mountains.)
I had tea to warm the soul in the large lobby area.
For my friends exploring east and west Japan, I recommend staying at Wanosato, a delightful traditionally styled ryokan, at the crossroads of Japan. Little did I know at the time that I became part of a historical pattern of travelers seeking refuge in central Japan, where Wanosato is located. For thousands of years, travelers crossing the eastern and western power centers of Japan passed through what is now Gifu Prefecture. Lords, samurais, merchants, and other vagrants lodged at ryokans before resuming their journeys.
Wanosato icicles
To reach Wanosato I departed Tokyo Station for Takayama Station, near the Ryokan. After about a five hour train ride I took a 20-minute shuttle arranged by the inn. The driver pointed out the traditional architecture in the area and the Japanese Alps in the distance. Days before I had just been frolicking on sun kissed beaches, and now I was transported to an icy-world, blanketed with freshly fallen snow. I certainly could use some rest.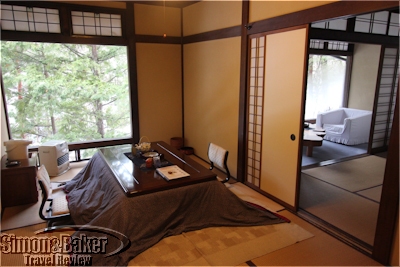 The sitting area in my room
I could have been fooled by Wanosato's construction which took place only twenty years previously. The buildings were modeled after traditional Japanese architecture that emphasized nature. No concrete or steel there. Instead, buildings had distinctive thatched roofs on the outside and earthen floors and exposed wood on the inside.
One of the main dining rooms features large panes of glass
When I entered the lobby of the main building I felt as if I had time traveled back to an era of samurai. The lobby was rectangular, framed by wood beams that appeared strong and beautiful. A raised hearth in the center warmed the room with a gentle fire while a massive iron pot rested above its flames. I sat on the tatami mats bordering the hearth and sipped on freshly brewed plum tea while I checked in. There was enough space around the hearth for well more than seven samurai.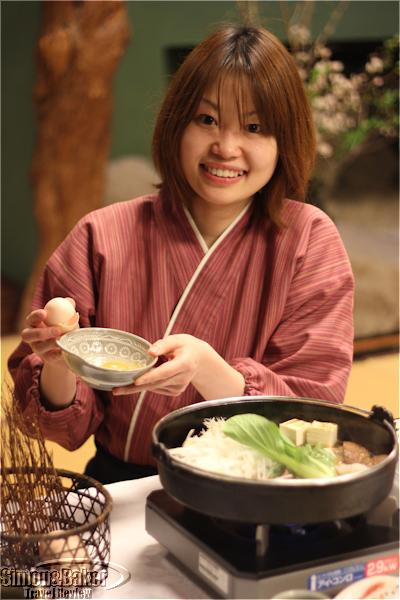 Aya Tochimoto took great care of me
I had not been feeling well upon arrival. With the first sip of Wanosato's warm tea I felt calmness envelop my body. At my first dinner, I told Aya Tochimoto, one of the two English speaking staff members, about my health condition. After that, I felt as if I had been taken under the wing of a caring family. She adjusted the menu to include gentle foods. For the first two days I was confined mostly to my room. However, Aya constantly checked on my condition and asked if I needed anything. Despite being low on energy, I felt that a steady diet of traditional Japanese food, cooked with locally grown vegetables and freshly acquired meat and fish, and daily dip in the ryokan's beautiful public baths couldn't hurt.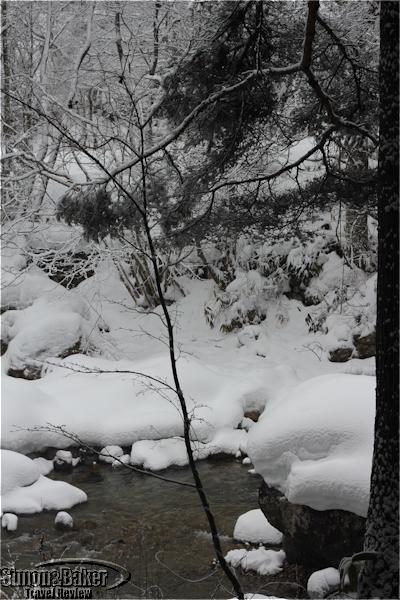 The Miya River
Eat, bathe, sleep, relax, repeat. I couldn't feel more at ease in my room. It was divided into three sections: a main room where I slept, a living room with a delightful kotatsu, a Japanese table with blankets to keep warm, and a bathroom. I spent a lot of time nestled in my fluffy Japanese futon watching the spectacular view of the Miya River across the ryokan. On the second day, snow fell gently, coating the trees along the river.
A beautiful vase on the third floor of the main building
On my third day, I finally felt enough energy to explore. I noticed fine examples of Japanese art throughout Wanosato. In the corner of the second floor hallway stood an exquisitely designed porcelain vase. In the main dining room hung elaborate scrolls. Next to the scrolls thought provoking ikebana, Japanese flower arrangements, stood proudly. Elaborate pictures were painted on sliding doors, making me pause contemplatively before opening them. On the way to the bath I noticed shisa, or stone guard dogs, whose slightly scary faces were thought to chase away evil spirits.
Mythical dogs were thought to drive away evil spirits
On the morning of my departure, I felt ready to hit the pavement again. The entire Wanosato staff accompanied me to the shuttle bus and bid me a safe journey home. The incredibly healthy traditional Japanese food, bone-warming baths, and the staff's personal care energized me for my next adventure. Wanosato was exactly what this road weary traveler needed. Read more about my visit to Wanosato ryokan on the Simon and Baker Travel Review.