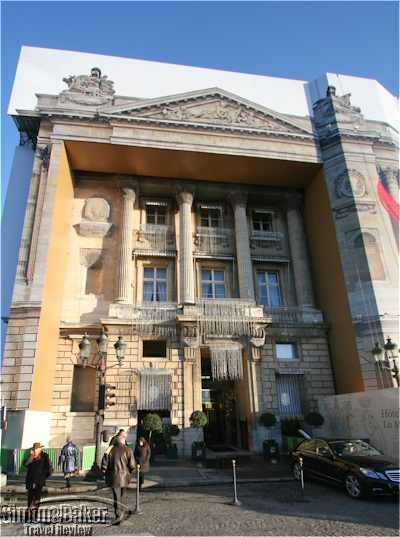 The tarpaulin above the entrance while the Hotel de Crillion was renovated
The last time one of our teams visited the Hotel de Crillon the icon property in the Golden Triangle of Paris, France was shielded by a large tarpaulin while renovations to the historic building took place. Following a year of meticulous renovations under the supervision of Etienne Poncelet, lead architect and head inspector of Historic Monuments, the luxury property designed originally by Ange-Jacques Gabriel emerged at the end of 2011.
Once the work was completed what was the hotel to do with the 1,300 square meters of tarpaulin that covered the scaffolding during the many months of renovations? Instead of tossing the material the Hotel de Crillon teamed up with Bilum to create Recycled Bags from the Hotel de Crillon, an exclusive line of 450 made in France bags and accessories that recently became available for purchase. The line includes three designs: Pouch for 25 euros, Clouch for 35 euros and Shopping Bag for 65 euros each (plus shipping for mail orders).
Our Shopping Bag, made in France with the discarded tarpaulin
Our Shopping Bag, 12 inches wide by 14 inches tall, has plastic reinforced corners at the bottom, two Crillon/Bilum tags, and a sales tag that identifies the bag as an original. The tag also says the bag was made in 2011 in a studio, "specialized in bagagerie and saddlery," close to Paris.
The preparation work, carried out in Choisy-le-Roi, focused on the artistic and graphic aspects of sizing the tarpaulin into pieces fit for the line. The actual crafting of the bags and accessories took place at three specialized workshops in the Greater Paris region and the south of France. The project's recycling, fashioning and finishing phases included the participation of a social integration and outreach program in the Greater Paris region.
The one-of-a-kind items, sold exclusively at the hotel gift shop (http://www.crillon.com/#atyourservice/theboutique, +33 44 71 1592, boutique@crillon.com), allow hotel guests and fans of the historic building to take home a piece of the Hotel de Crillon's former tarpaulin facade while contributing 3 euros per item to the National Museum of Natural History association, which strives to preserve plant and animal biodiversity. Kudos to the hotel for its recycling efforts supported by local manufacturing and design.
A tag explains the origin of the bag