By Elena del Valle and photos by Gary Cox
The Fairlawns pool
One of the first things we noticed on arriving at the Fairlawns Boutique Hotel & Spa in an upscale residential neighborhood of Johannesburg, South Africa was the scented saringa flowering tree at the entrance. Once cleared through the obligatory guarded gate we were surprised to find a quiet property dotted with manicured gardens. In addition to spacious and luxuriously appointed one-bedroom suites, the growing hotel (a new building was under construction) had meeting rooms, a work out area, a swimming pool, a restaurant and spa on site.
Reception and the restaurant were in a single story main building. Within a two-minute walk several separate two-story buildings housed the spa and fitness area and guest suites. After checking in we were led past the restaurant and central gardens to our respective suites within one of the two-story new looking buildings. Our ground floor one bedroom suites, suites 13 and 15 named for Emily Hobhouse and Nelson Mandela respectively, were spacious and handsomely decorated, each one with a different interior design style (during a second visit we stayed upstairs in the Oppenheimer Suite).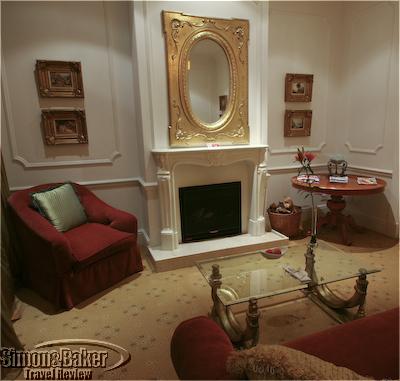 Living area of the Emily Hobhouse Suite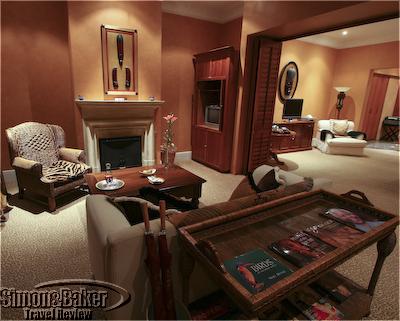 Living area of the Mandela Suite
The suites were well appointed including complimentary WiFi Internet access and spotlessly clean. My favorite, suite 15, was divided into three distinct areas, a living area, a sleeping area and a bathroom. Decorated in an Africa theme it had animal print accents and a comfy sofa facing a fireplace (underfloor heating kept my suite toasty too). For the media minded there were two television sets, including a large flat screen television and DVD player across from the king bed in the bedroom.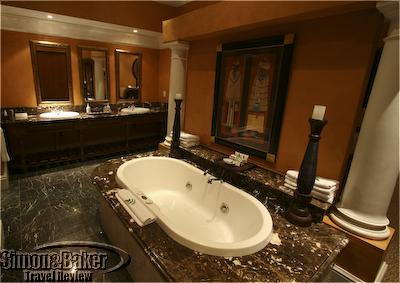 The Jacuzzi bathtub in the Mandela Suite
The bathroom too was spacious with marble counters and floors, twin sinks, shower, water closet with bidet, and Jacuzzi bathtub. Tall built-in closets with an ironing board and electronic safe took up one entire wall opposite the sinks.
Additional amenities included fresh flowers, complimentary fruit bowl, complimentary in room sherry, Irish Duke and Forsyth travel size toiletries (conditioning shampoo, shower gel, body lotion, nail kit, shower cap and soap) and, at turn down, a small bottle of water and a nougat. The ambiance was serene although there were meeting guests at elegant hotel, owned by John and Anna Thacker.
Inside the Fairlawns Spa
The spa building, across the lawn from our building, had a work out room accessible at guest convenience with the electronic room key. I was pleased to be the first to arrive, at 6 a.m., for an early work out although I was soon joined by others. The spa itself was mostly in an adjacent walled garden area next to, and separate from, the swimming pool. The shady spa garden was filled with private corners and treatment rooms. In spite of our arrival in the late afternoon (spa treatments were available until 5 p.m.) we were in time to enjoy side by side massages in one of the loveliest and largest treatment rooms in the far corner of the spa garden.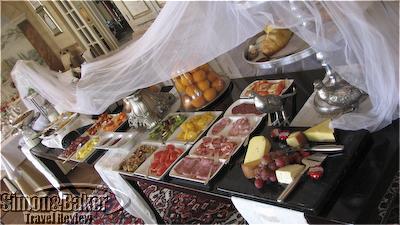 The breakfast buffet at the Fairlawns Boutique Hotel & Spa
While were were there we sampled a couple of items from the room service menu and dined in the outdoor area of the restaurant. Mornings were my favorite meal time at the Fairlawns. There was an ample breakfast buffet with cereals, fruits (fresh and dried), cheeses, deli meats, cold fish, and varied delicious homemade pastries to compete with the made to order breakfast menu. Sitting in the restaurant patio under the shade of large umbrellas we enjoyed the placid view of the nearby pool and flower filled gardens. We look forward to revisiting the Fairlawns Boutique Hotel & Spa, Alma Road, Morningside Manor, Ext. 6, Sandton, Johannesburg, fairlawn@fairlawns.co.za, +27 11 804 2540/1/2/3, http://www.fairlawns.co.za/