By Elena del Valle
Photos by Gary Cox
The Saba Tourist Bureau
I loved Saba, a small Dutch Caribbean island, for its unspoiled and picturesque character. What this volcanic Leeward Island lacked in size it made up for in beauty, natural features and sheer determination. For example, the islanders were told by experts in Holland early last century that it was not possible to build a road due to the steep incline of the mountains. Refusing to accept that ruling one man took a correspondence course and with the help of his fellow islanders built the beginning of what today is called simply The Road.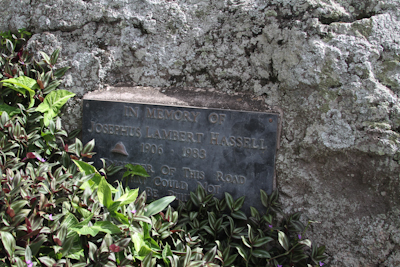 A plaque to Josephus Lambert Hassell, engineer of the road
With a population of less than 1,500 and diminutive (it occupies five square miles), the tourist attractions were mainly scenic, we expected before visiting the island. Cars were scarce in Saba. We had a few hours to see what we could while our ship, the SeaDream I, stopped there and we intended to make the most of it. With a little help from the crew we were able to find a taxi, the only one available that day apparently. The driver, a friendly Irishman who had relocated to Saba only a few months earlier with his van (the windows in the rear of the van did not open we later discovered with disappointment), explained that he would be pleased to show us around the island if we were willing to share space and wait for him.
Saba in the foreground and remote islands on the horizon
Six of us shared the van up the narrow and steep roads. He dropped two of our group at the entrance to a hiking trail (they reported having a wonderful time later when we met up aboard the ship) before leaving us in The Bottom, the island's main urban area. He would take care of local customers (many of the medical school students were going on vacation and there was a wedding the next day) who had booked his services already and return for us about 90 minutes later.
We stopped at this church with a view
When he returned he had a glass of fresh made fruit juice with us before the four of us climbed into his van to see the sights. Minutes later we felt transported back in time when we stopped at a small church with a million dollar view. Although the church was closed there was a kind lady running a simple small cash only shop behind the church. She sold handmade lace in the tradition and style of Saba, a dying art, our driver shared as we departed having bought one of the treasured lace pieces.
The tiny Saba airport
From there we drove downhill toward the waterfront island airport. On our way back our driver showed us the house he rented as we drove by it on way back toward The Bottom and the dock where we had arrived.
Cute little houses and flowers dotted the hills
Earlier while we waited for our guide and driver to return we had made our way around the hilly village, picking up tips and information at the tourist office where a friendly staff person welcomed us, passing a cafe and small indoor market and walking up a steep hill toward JoBean Glass unsure if it was open for business. Our efforts were rewarded when we arrived at the un-airconditioned shop and found it open. A shy young lady inside said we were welcome to browse around at our leisure. Every surface, every corner of the shop was filled with glass items, many made from Venetian glass, we later found out from the friendly owner who popped by for a few minutes.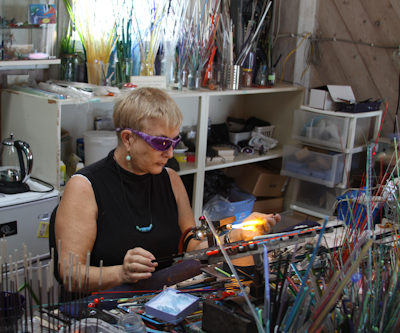 JoBean Chambers demonstrating a technique to fashion colorful glass jewelry
JoBean Chambers, a lively and vivacious American woman who had lived and worked on the island for many years, showed us the glass pieces she was making for the wedding we had heard about, and gave us a brief glass making demonstration. Watching her flame work the thin and colorful glass tubes it seemed easy to create pretty seahorses, turtles, frogs, fish, mermaids, dive flags, starfish and other attractive shapes. She would heat and swirl the glass quickly and easily (for her), then attach another piece of glass in a different color to the incipient shape, adjusting the width and style along the way. In moments we could distinguish a multicolored frog and after that a mermaid. It was hard to imagine the glass melts at temperatures of more than 2,000 degrees Fahrenheit.
Many of her glass creations were sea creatures
A fan of hot glass since 1989 she had learned her skills, in part at El Vetro in Venice, Italy where she studied, according to her website, with Lucio Bubacco and Vittorio Constantini. Her work was exhibited in art galleries in the United States and the Caribbean, including the Corning Museum Shop. She offered glass workshops in her hillside studio for up to five students at a time. Next time we visit Saba maybe we will take one of her workshops.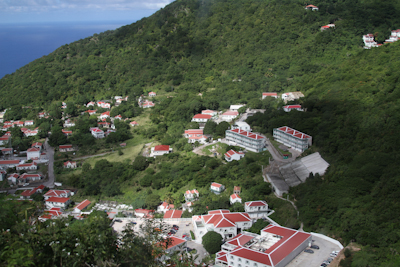 Our visit to Saba was a special treat and one of my fondest memories from our week long Caribbean cruise. This was in part because of the pretty hillside houses in the small towns, the old style lace sold behind the church, our shared taxi tour and fun stop at JoBean Glass Art Studio (Booby Hill, Windwardside Saba, Dutch West Indies,+ 599 416 2490,www.jobeanglassart.com, jobean@jobeanglassart.com).