Article, video, music and photos by Joachim Castellano

Travelers in Japan have the opportunity to stay in ryokans, traditional Japanese inns. Typically ryokans involve sleeping on the floor in tatami-matted rooms, bathing in a communal bath, and consuming an excellent Japanese dinner and breakfast included with the room charge. Recently while traveling in Izu, an area of Japan famous for its ryokans, I stayed at
Arcana Izu
(the hotel writes it arcana izu all in lowercase letters), a luxury ryokan that blends the traditional Japanese ryokan with Western concepts.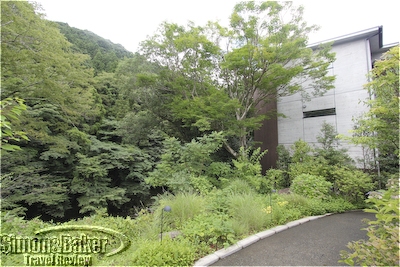 Arcana Izu blends modern architecture with the nearby Kano river
The fusion of East and West began with its name. Arcana is Latin for mysteries. Furthermore, Arcana Izu bills itself as a luxury auberge, and the hotel had a noticeable French influence, exemplified most by its Lumiere restaurant. After my taxi driver pulled into a stony entrance barely visible from a windy, rustic road, it seemed like I had discovered a secret place in the mountains.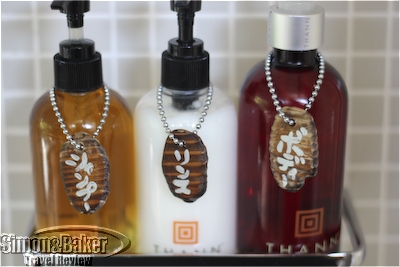 High quality Thann body wash, shampoo, and conditioner
How had this mysterious and luxurious inn in Japan come to exist? Three Japanese entrepreneurs collaborated to create it: A French chef, a designer, and a graphic artist. Good design is about making tasteful choices. And almost every detail at the hotel revealed a discriminating eye, starting with its picturesque location near the Kano River.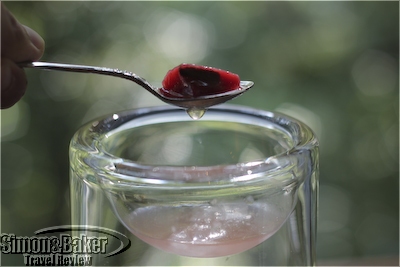 I was delighted by the chocolate center of this berry treat
I was greeted by name at a large entrance gate, and ushered into River View Suite Number 5. A hotel butler checked me in inside the room itself, as there was no traditional front counter. Besides confirming the details of my stay, my butler briefly explained the amenities of the room and asked my preferred dinner and breakfast times. Another staff member entered the room and served me a welcome treat of bubbling fruit juice, ice-chilled berry, and a cookie.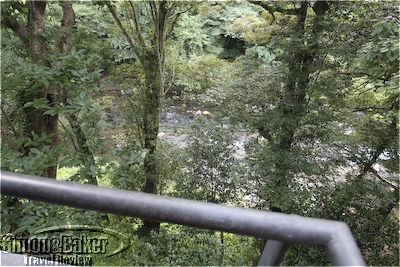 A view of the Kano River
Check-in completed, I had a chance to consider my room while sipping the welcome drink. I was awestruck by the incredible view before my eyes: tall door-length windows wrapped around the room, showcasing Mount Amagi's lush forest across and a rushing Kano River below my room.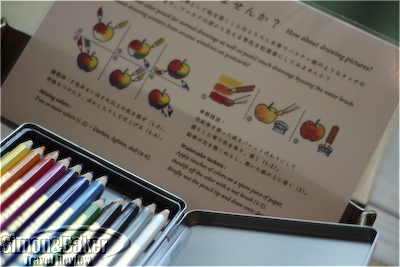 An instruction card suggested drawing and painting techniques
To the left I spotted Arcana's hallmark feature, an outdoor private hot spring bath. This bath was connected to my room via the bathroom, which had three sections. My room was the smallest room offered at Arcana Izu, yet I didn't feel cramped at all; the room was spacious and modern.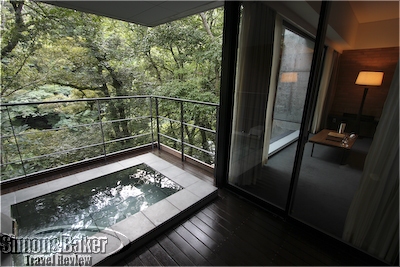 From the hot spring bathtub, I could view of my room and the river below
During my stay I felt relaxed and rejuvenated. The staff were friendly, attentive, and easy to communicate with. Soaking in the views of nature from my bath and from my room soothed my city-worn spirits. Staying at Arcana Izu even inspired me, a technology addict, to include more nature-related breaks in my daily life.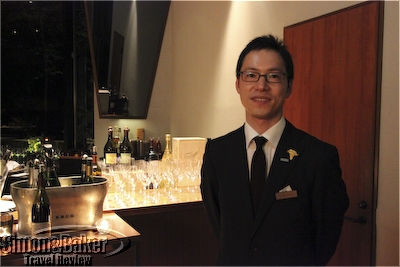 Shinjiro Kobayashi, the sommelier, guided me through Arcana Izu's twelve-page wine menu
Next time, I'll be sure to bring along someone special to share in the wonderful secrets of this magical ryokan. The total experience, the private bath, the view, the French food, and the excellent service added up to artistry in action, a masterpiece in the mountains called Arcana Izu.