Article and photos by Josette King
My room offered a sweeping view of the Manhattan skyline
When visiting New York City, I have a special fondness for Lower Manhattan, the southernmost and oldest part of the city. Although the area has gradually become gentrified in recent decades, the original ethnic neighborhoods have endured (think China Town and Little Italy). And within them new ones have emerged, such as SoHo (SOuth of HOuston Street), NoHo (NOrth of HOuston Street), TriBeCa (TRIangle BElow CAnal Street); and my new favorite, Nolita (NOrth of Little ITAly). Once considered part of Little Italy, Nolita has retained its lived-in cosmopolitan atmosphere and human scale. Here, traditional wrought-iron fire escapes still run down the façades of century-old brick apartment buildings. But old-time bakeries and utilitarian warehouses now mix with trendy shops and restaurants, and most recently, the newly opened The Nolitan Hotel.
The Empire State Building dominated the view from my room
In a town where boutique hotels often emerge from old buildings, The Nolitan grew from the ground up on what was a parking lot at the corner of Kenmare and Elizabeth streets. I loved the low-key luxury and laidback atmosphere of its light-filled lobby and lounge. With its plate glass façade and open plan, it was an inviting spot to linger and enjoy the dynamic street scene unfolding outside. My upper floor room was equally welcoming. The custom-designed contemporary furnishings and minimalist décor made for a comfortable urban retreat that was just the right setting for the jaw-dropping view. The panoramic perspective reached across the neighborhood rooftops, all the way to the Midtown Manhattan skyline dominated by the towering Empire State Building and the Art Deco spire of the Chrysler Building.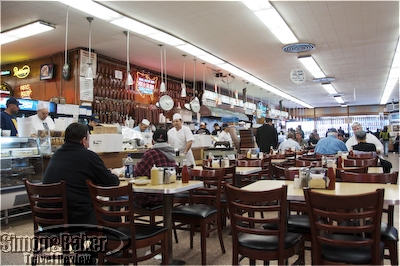 Katz Delicatessen
The Nolitan was ideally located to offer an easy all-around Manhattan experience. It was just a few minutes' walk from the colorful chaos of Chinatown, the hip downtown shopping of SoHo and the popular delis of the Lower East Side (Katz's Delicatessen of When Harry met Sally fame was a few blocks away on Houston Street). And when I felt like joining the Midtown crowds for a look at the famed Rockefeller Center Christmas tree (I visited in early December), or catch a Broadway show, a quick, direct subway ride whisked me there, and back home to the Nolitan faster than I could have hailed a cab. Visit the Simon & Baker Travel Review to read more about my stay at The Nolitan Hotel.