Article and photos by Elena del Valle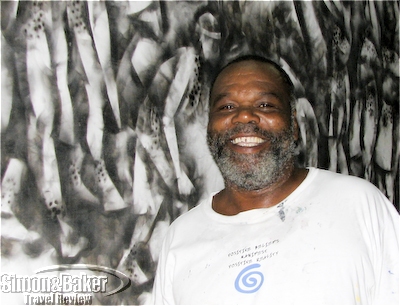 Artist Earl Darius Etienne
Earl Darius Etienne, one of the Dominica's best known painters, loved art from an early age. For eleven years he created art in the Windward Island before studying at Edna Manley Art School in Jamaica. Today he experiments with unexpected techniques like kerosene torch and banana latex in search of new and distinctive styles. He describes his work style as social realism.
I first saw his work on the street in the town of Massacre on the island's west coast where he was born in 1957. The large Massacre Mural commissioned in 1988 is considered by some to depict part of Dominica's history and island life.
The Massacre Mural is on the main road in Massacre (click for larger view)
Later during my stay I had an opportunity to meet the artist for a few minutes thanks to an introduction by Kurnel Simon, his cousin and my guide on the island. Etienne was preparing to exhibit his paintings at an art gallery the following day. He chatted briefly, showed me a couple of his large paintings and discussed his innovative technique of painting with the aid of a flame.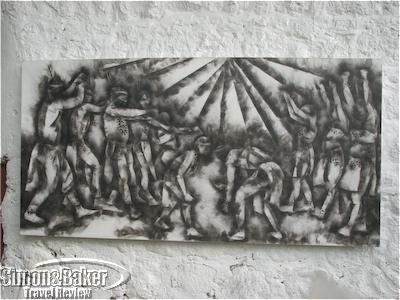 The Kalinago Ritual was painted with fire
His work, originals and limited edition prints, was priced between $100 and $25,000 and was on exhibit at Tiffanys Art Gallery on the Canefield Highway next to the Old Mill Cultural Centre in Canefield and Everybody Gallery on Hillsborough Street in Roseau in Dominica. Online his art could be seen at earletienne.com/ and fineartamerica.com/profiles/earl-darius-etienne.html . For more about Dominica see My week in Dominica.