Article by Laura Scheiber
Photos by Matthew Harris
Galapagos marine iguana on the islet of Las Tintoreras
In October, my travel partner and I went to the Galapagos Islands, a UNESCO World Heritage natural site. We found the islands to be a fascinating place because of the unique wildlife. Throughout our trip we saw a myriad of animals that exist nowhere else on the planet, the outcome of adapting to the unique conditions of these isolated islands over millions of years. It was easy to understand why this "natural laboratory" inspired Charles Darwin's theory of natural selection and evolution.
Small ground finch, in Garrapatero Bay on Santa Cruz Island
After traveling to Ecuador, getting to the Galapagos Islands entailed an hour and a half flight from Guayaquil, Ecuador. Our land-based tour lasted six days, hopping between Santa Cruz Island, Floreana Island and Isabela Island. From the moment we landed, we noticed that the islands were teeming with wildlife. We spent our first afternoon on the white sandy beaches of Garrapatero Bay on Santa Cruz Island watching pelicans fish in perfect synchrony, while cheeky finches hopped on our legs, attempting to steal a bite of bread from our lunchtime sandwiches.
Throughout our trip, there was wildlife even in the most mundane places. While waiting for a boat on Floreana Island, for example, we shared the dock with sea lions basking in the sun, pelicans overlooking the sea and a curious iguana that wanted to get a closer look at our camera.
Pelicans fishing in Garrapatero Bay on Santa Cruz Island
Our most memorable encounters were with the famous giant Galapagos tortoises. Weighing up to 500 pounds and measuring 1.5 meters in length, it was amazing to think that some were over 130 years old and had lived during Queen Victoria's reign, two world wars, the invention of computers and spaceflight. Most of the time these gentle giants were content munching slowly on grass, but we unexpectedly came across two tortoises having a particularly "romantic" moment at the Rancho Primicias tortoise reserve on Santa Cruz Island. I will never, ever, forget those prehistoric sounds.
Giant tortoise at Rancho Primicias, Santa Cruz Island
An especially distinctive place that we visited was Las Tintoreras, just off of Isabela Island. Made of lava rock, the islet had a moon-like appearance, made even more surreal by the hundreds of marine iguanas piled on top of one another. These lizards were a good example of evolution in action. In order to survive they have evolved to be semi-aquatic, eating marine algae and staying under water for up to one hour without air.
Las Tintoreras also had a lava-made water channel about three meters wide, where at least twenty white-tip reef sharks rested. Other highlights included snorkeling in crystal clear turquoise water where a sea lion circled my travel partner, and a green sea turtle gracefully swam past me. As we headed back to Isabela Island, we saw some blue-footed boobies, famous to the Galapagos Islands, standing on some rocks.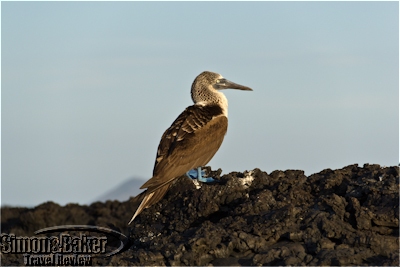 A blue-footed booby near Isabela Island
Because 97 percent of the Islands are part of the Galapagos National Park, visitors must be accompanied by an accredited naturalist tour guide. To be licensed by the Directorate of the Galapagos National Park, these guides had to first pass an intensive course followed by a difficult exam. We booked our land based trip, Darwin's Triangle Long 3 islands tour, with Red Mangrove Galapagos & Ecuador Lodges (Avenida De Los Shyris 344 y Eloy Alfaro, Edificio Parque Central, Oficina 503, Ecuador, + 593 2 382 3941 or + 888 254 3190 for toll free calls from the United States, http://www.redmangrove.com/, salesteam@redgalapagos.com). Red Mangrove contracted Duncan Divine, who provided interesting and informed context to the fauna and habitats we observed, on our behalf.
Duncan Divine, our excellent naturalist guide
Since we wanted to see as much of the wildlife as possible, we were pleased that the Red Mangrove itinerary was well-organized and packed full from morning to evening. We spent the first and last evenings on Santa Cruz Island, one night on Floreana Island and two nights on Isabela Island. We were busy during the days visiting tortoise reserves, volcanoes, going on hikes, snorkeling (Red Mangrove provided equipment and wetsuits for the 65 degree water) and relaxing on white sand beaches with turquoise water.
We liked the Red Mangrove tour because it was a well-organized land-based trip and offered a socially responsible approach to tourism on a medium-priced budget. The staff were exceptionally friendly and the accommodations were clean and comfortable. All of the lodges on our tour were oceanfront properties and the rooms included shampoo, conditioner, and shower gel from a dispenser, as well as hand soaps, a blow dryer, a glass jar full of drinking water, and security box. Most of the meals were buffet style, and the lunches and dinners included a fish, meat, and vegetarian dish, several salads, a soup, and desserts.
The Jade Room at Aventura Lodge on Santa Cruz Island, Red Mangrove Galapagos & Ecuador Lodges
Overall our trip to the Galapagos Islands was an unforgettable experience thanks to the unique animals that we were able to see at close range. I would recommend a trip to friends and family who love wildlife and the Red Mangrove Galapagos tours for those who prefer a land-based tour with an emphasis on environmentally friendly tourism over luxury.