Article and photos by Elena del Valle
Part of the Royal Palace in Phnom Penh
When I visited Cambodia the last time I much enjoyed seeing Phnom Penh and Siem Reap and their salient tourist features in the company of an English speaking private guide. In Phnom Penh, my guide escorted me to Wat Phnom, a hill temple, the Royal Palace and Silver Pagoda, the National Museum, the Killing fields, the Toul Sleng Genocide Museum and one of the city markets. My tours and activities were organized by or held at the Raffles Hotel Le Royal in Phnom Penh and the Raffles Grand Hotel D'Angkor in Siem Reap where I stayed while in Cambodia. I was especially pleased that everyone was punctual and courteous without exception.
One of the many exceptional statues at the Angkor Wat temples near Siem Reap
In Siem Reap, where I had more time, the hotel proposed a variety of activities in house and within the city. At the hotel, I attended a cocktail tasting, tea with a hotel historian, a palm tree demonstration, a wine tasting at Le Grand Wine Cellar with the sommelier and hotel manager, a lotus plant demonstration, a private sunrise visit to Angkor Wat by jeep, a buffet dinner and Apsara Dance Performance, and a visit to Phra Ong Check Phra Ong Chom temple with Mouth Saravann, resident services manager and butler of the hotel.
Lotus flower based drink demonstration and tasting
In addition, I attended a private Khmer cooking class including a visit to the Siem Reap market with Samreth Thai, junior sous chef of the hotel and my cooking instructor that day. Maing Meng Seap, the pastry chef, joined us for the important (for me) dessert course of the cooking class.
A demonstration during the cooking class
Following the cooking class, I had the pleasure of enjoying the meal we learned about in class, prepared by the hotel staff, in the hotel restaurant. And, to help me recover from all the excitement I indulged in a few spa treatments at the hotel's Amrita Spa.
Samreth Thai, junior sous chef, and Maing Meng Seap, the pastry chef, at the Raffles Grand Hotel d'Angkor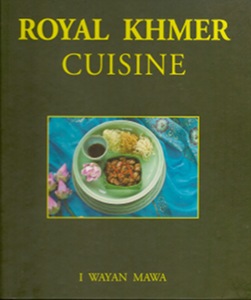 Royal Khmer Cuisine book I received at the cooking class
One night, after a wine tasting at the hotel's cozy "cellar" I enjoyed a cultural performance and dinner at the Raffles Grand Hotel d'Angkor in Siem Reap. The buffet dinner and performance offered copious quantifies of food, a variety of dishes and a live Khmer traditional dance performance. While I liked the food what I enjoyed the most was the performance. A group of young Khmer dancers performed six distinct pieces reflective of the traditions and fables of several regions: Ladies Bouquet, Coconut Shells Dance, Golden Mermaid (Part of the Ramayana), Tea Harvest Dance, Bokator (the Angkorean Martial Art), and Apsara Dance.
Apsara dance performance at the Raffles in Siem Reap